Lia and Odette Pavlova, Fashion's Favorite Identical Twin Models, Don't Agree on Everything
Both girls love nude nail polish, but can't agree on whether or not to wear blush.
---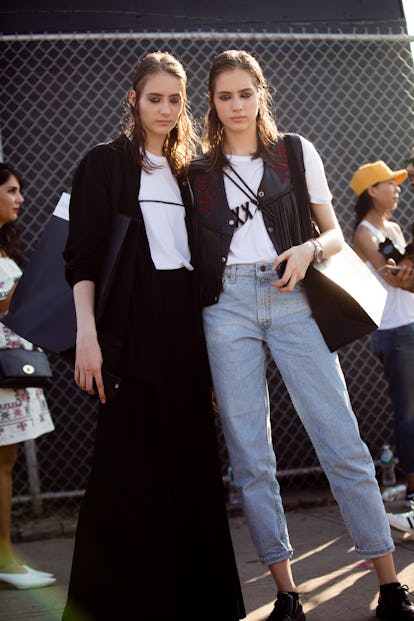 Melodie Jeng
Together, twin sisters Lia and Odette Pavlova dominated the runway last season, walking in 71 and 60 shows, respectively. This week, the dynamic duo was back in action at Stella McCartney's Pre-Fall 2017 presentation. For the show, the Russian models wore a '40s-inspired makeup look, including flushed cheeks, stained red lips, and masculine brows, while their hair was slicked back. Off duty, however, both Pavlovas are much more low-key. Backstage, they shared their individual routines.
Your look in three words: Lia: All black, cozy, and flat shoes Odette: Relaxed, comfortable, vintage.
Medicine cabinet snapshot: Lia: Small mirror, lip balm and Bioderma Micellar Water. I like to keep it simple and not carry too many things. Odette: Bioderma Micellar Water, Embryolisse Lait-Crème Concentrate
A good hair day starts with: Lia: Hair Oil Odette: Goodwill Elixir Oil.
Makeup miracles: Lia: Bioderma Micellar Water-I need it everyday, every minute. Odette: Chanel Perfection Lumière Velvet Foundation, Perricone MD No Highlighter Highlighter.
Nails must be: Lia: Natural/nude. Odette: A nude color.
Bronze or blush: Lia: Neither. Nothing on the cheeks. Odette: Nars The Multiple.
Beauty from the inside out: Lia: Lots of water, even though I don't like, I need it. Odette: I do not drink coffee at all, and it helps me.
Exercise obsession: Lia: I like to tone my abs. Odette: Rocking the press.
Tip that you picked up from the pros: Lia: Don't wash your hair everyday, to keep the natural hair oils. And minimal makeup for everyday, just a little concealer and red lip. Odette: Carmex.
Definite doppelgänger: Lia: My sister. Odette: My sister.
Gigi Hadid may not be a Pavlova, but she does have a signature walk. Find out more here:
Model Odette Pavlova in W Magazine
Photograph by Inez & Vinoodh for W Magazine, September 2016.

Inez
Additional reporting by Stephanie Eckardt