Libby Sellers, London
For this design gallerist, fabulousness is all-encompassing.
---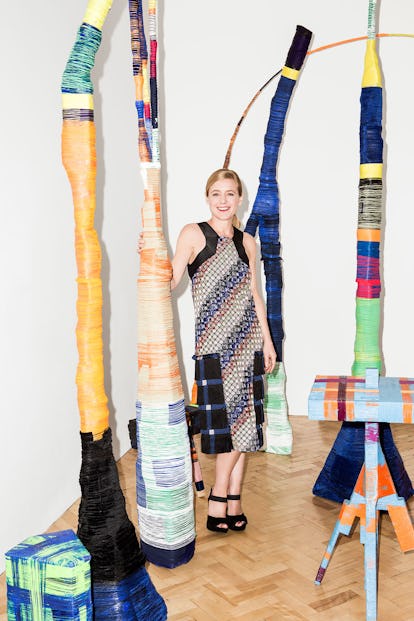 Photographer: Jeremy Liebman Stylist: Gianluca Longo
"Design is a conduit for storytelling," says Libby Sellers, who for the past 14 years has been capitalizing on its narrative possibilities—first as a senior curator at London's Design Museum, where she organized significant shows on such diverse subjects as the graphic designer Peter Saville and the society florist Constance Spry, and then as a dealer and the founder of her eponymous Berners Street gallery, where her idiosyncratic roster included concept-driven talents like Formafantasma, Max Lamb, Stuart Haygarth, and Moritz Waldemeyer. Scouring design fairs across the globe and serving on juries, Sellers often encounters a work before she meets the person who made it, and so she is naturally attracted to the kinds of outgoing pieces that announce something unique about themselves. (The same might be said of her fashion sense.) She's photographed here with Thread Wrapping Architecture 290414, a 2014 installation she commissioned from Anton Alvarez, a young Swedish-Chilean designer of particular yarn-spinning prowess: He developed a machine that creates chairs, tables, and all manner of objects functional and decorative by binding the component parts together in countless yards of colored thread coated in glue. Currently, Sellers is adding a new chapter to her own story. Having realized the limitations of running a white cube space—and faced with the fact the her building is slated for demolition—she's looking to reinvent her role in the design world. She will still represent the young stars whose careers she has helped nurture, only "less like a gallerist and more like an agent."
Hair and makeup by Carolyn Gallyer for MAC Cosmetics at CLM Hair & Make-Up; fashion assistant: Wojtek Warzecha.