Also Known As @LibertyLndnGirl
The fashion blogger-turned-cookbook author shares her recipe for social media success.
---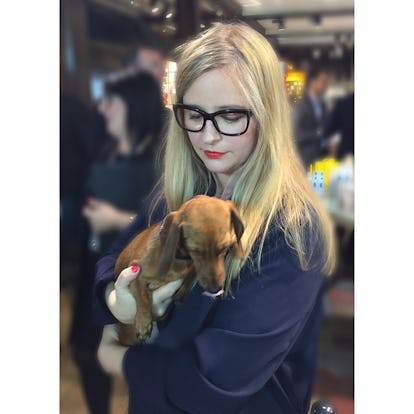 Sasha Wilkins has been a social media pro since before Instagram even existed. "When I started LibertyLondonGirl in 2006, I was a wholly anonymous fashion editor, writer and cook—and stayed that way for four years," she says. "Now I'm an ex-fashion editor, writer and cook and my readers know who I am!" And she's even launching an offline project—the cookbook "Friends, Food, Family: Essential Recipes, Tops & Secrets for the Modern Hostess from LibertyLondonGirl.com" (published by Quadrille). Here, she opens up about the differences between gramming fashion and food, her secrets to success online, and more.
Define your Instagram style in three hashtags:
gatheringslikethese
deliciousfood
Englishstyleonthemove
What is your favorite thing to post? Recipe testing results from my home kitchen: love all the feedback and enthusiasm from other cooks.
The one thing you would never post? My kitchen post recipe testing (flour bomb).
Instagram or #latergram? Instagram—because generally I like being in the moment and I'm not one for post-editing my pics. (What I see is what you get.)
What is the most memorable comment you've ever received? "Hello darling, Mummy here" (What on earth was she doing on Instagram?! My mother is not known for her technical prowess.)
Most geo-tagged location: Sasha's Kitchen—because it's where I cook, and feed all my friends on a regular basis.
Your first Instagram: A bunch of pink roses and lilac scented stocks from the designer Suzannah whose dresses I've worn on the red carpet. (And I'm still posting pictures of roses and stocks 225wks later.)
Your favorite artists or art spaces to post: Love photographing beautiful spaces, especially in modern museums and galleries. Both Richard Meiers' MACBA in Barcelona and The Getty in LA are particularly wonderful.
Your secret to social media success? Being yourself (on a good hair day).
5 favorite accounts to follow: Only five?! @FADsite: An always fascinating arts and culture feed from the eponymous website. @Cherrybombemag: Girl power + food = winning combo. @LondonBallerina: My friend Lauren Cutherbertson, Principal with the Royal Ballet, posts wonderful insider pics. @slanteddoor: Inspirational modern Vietnamese food from my favourite restaurant in San Francisco. @PutnamFlowers: Beautiful NYC florist – a Constance Spry for the 21st century.
Social media pet peeve: Plagiarism sucks. What I love about social media is that it celebrates creativity and originality .
How are food Instagrammers different from fashion Instagrammers? Too much cake isn't *that* great for bikini shots.
Photos: Also Known As @LibertyLndnGirl