Liev Schreiber
The brainy stage and screen idol opens up about panic attacks, fatherhood and his highly anticipated role in the upcoming WWII film Defiance.
---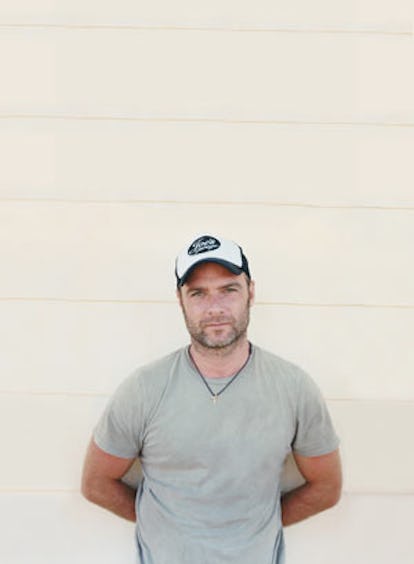 When Liev Schreiber pulls up to a clam bar near the beach town of Montauk, New York, a surfboard strapped to the top of his black hybrid SUV, he bears little resemblance to the slightly nebbishy veteran of independent film and theater that Manhattanites are used to seeing cruising around Astor Place on his bicycle or standing in line for lox at Russ & Daughters on the Lower East Side. Ambling up to one of the restaurant's outdoor tables, a gold shark's tooth pendant hanging from his neck, "the finest American theater actor of his generation" (as The New York Times has called him) is bronzed and brawny, like a man who spends more time in the gym than pacing the stage as Hamlet.
Schreiber (at right), with Daniel Craig, in Defiance.
Pretty quickly, however, any fear that New York's favorite neurotic screen idol after Woody Allen has turned into a mellow surfer dude dissipates. If he seems a little out of it, Schreiber explains, it's because he and his companion of three years, Naomi Watts, were up all night with their one-year-old son, Sasha. "Oh, my God, he didn't sleep at all," he says. "He's really sick—I think he has a cold."
Indeed, the words seem to be coming to him rather s-l-o-w-l-y today. "I've never worried so much as I have since I had him," he says of his son. "I was always kind of a worrier, but now I really worry a lot. Like, he's been having trouble sleeping, and it turns out that he's got that cold, you know? But I'm running in my head things like, He's crying because he's frustrated because I'm a bad father!" He pauses, a slightly zombielike expression on his face. "And then, I'm thinking, Oh, my God, he's got all these deep issues already!"
Earlier this year, the family spent three and a half months in Australia, where Schreiber filmed the new X-Men movie with Hugh Jackman (scheduled for release next spring, it's called X-Men Origins: Wolverine) and, in his free time, learned how to surf. Now, with Watts pregnant with their second child, the proud parents are enjoying a couple of months at their new beach house in the Hamptons. Although they've mostly been laying low, rarely even venturing out to restaurants ("It's such a schlep with the baby, so we cook a lot at home"), Schreiber and Watts did host a "huge party" at the house recently for Sasha's first birthday. "Well, Naomi threw it. She loves a big party," he clarifies. "I'm terrible with big parties. It was like a land mine, I mean, a minefield, of children. There were little babies everywhere and adults—people I didn't know. I was horrified. Terrified." Although it seems at first that he might be joking, it soon becomes clear that he's quite serious. "I get panic attacks in big crowds," he explains.
The family also had a smaller celebration for Sasha a week earlier in Virginia, where Schreiber's mother lives. Even that occasion, explains the actor, caused him some anxiety. "I'm kind of an obsessive-compulsive person, like, neat obsessive," he says. So when, as many one-year-olds will do, Sasha got a little hands-on with the cake, smashing it with his fingers, Schreiber says he sort of "freaked out."
"Naomi was like, 'That's what's supposed to happen.' But I'm like, 'This beautiful cake my mother bought! Don't do that!' Yeah, I got really uptight—I'm such a putz."
Schreiber and Naomi Watts at Swarovski Fashion Rocks in London, 2007.
At 41, Schreiber is comfortable embracing his inner "nut"—a word he often uses to describe himself—and his hyper self-analytical tendencies have informed many of the characters he's portrayed, from the quietly suffering to the clinically villainous to the otherwise totally screwed-up. Since his breakout role as Jason Robards's lazy son in the Harold Pinter play Moonlight at the Roundabout Theatre in 1995, Schreiber has had a stage career nothing short of dazzling. A Yale School of Drama grad, he's delivered bravura performances for the Public Theater in the title roles of Hamlet (1999) and Macbeth (2006) and as Iago in Othello (2001). In 2005 he won a Tony for his depiction of a salesman in David Mamet's Glengarry Glen Ross, and last year, after starring as an egomaniacal shock jock in Eric Bogosian's Talk Radio, he was roundly heralded as theater's great salvation. (The New York Times' Ben Brantley called his performance "the most lacerating portrait of a human meltdown this side of a Francis Bacon painting.")
Movie audiences, on the other hand, are less apt to see Schreiber as a leading man. Although he was nominated for an Emmy in 2000 for his portrayal of Orson Welles in the HBO film RKO 281 and has held his own onscreen opposite heavyweights like Denzel Washington and Meryl Streep (as a brainwashed assassin in 2004's The Manchurian Candidate), he's pretty much been a second banana. That may change, however, with the release of Schreiber's next film, Defiance. He costars with Daniel Craig as one of four brothers leading a brigade of Jewish resistance fighters during World War II. Directed by Edward Zwick (Blood Diamond, The Last Samurai), the film is based on the true story of the Bielski brothers, Belarusians who battled German occupation forces, rescuing hundreds of fellow Jews from the Nazis. Craig plays Tuvia, the leader of the secret community the brothers establish in the woods, and Schreiber is Zus, who proves to be the fiercest fighter. Even though Craig gets top billing, it's Schreiber's volcanic performance that's attracting early Oscar buzz. As Zus, who seems most alive when he's firing a machine gun, Schreiber is utterly compelling (even speaking with the thick Eastern European accent Zwick had the actors use). And, for the first time in his film career, he gets to play the hero.
Not that Schreiber initially leapt at the opportunity. "I was really scared of it," he admits. "Those Holocaust movies terrify me—even having acted in two [1999's Jakob the Liar and 2003's Hitler: The Rise of Evil, a made-for-TV biopic] and directed one that could arguably be called a Holocaust film [2005's Everything Is Illuminated, based on Jonathan Safran Foer's novel]." His hesitancy wasn't, as one might expect, about doing justice to the enormity of the events. "It's that I think the genre is overdone. I question the intent a lot of times," he says. But he admired the fact that Defiance wasn't another narrative focusing on victimhood. "These guys, the Bielskis, were really violent guys. They were bullies before the war, and during the war they become heroes," he says. "I thought that was a fascinating concept."
Zwick says that he liked the idea of putting Schreiber, whom he calls "an enormously intellectual actor," in the role of a man of very primitive strengths. "Asking him to do this part was asking him to throw a lot away," says Zwick. "Liev took a very intuitive approach, letting his instincts rule, and he was really able to inhabit Zus."
According to Schreiber's costar Craig, who also has a stage background, the two felt an almost instant synchronicity. "There's a shorthand you have with each other that comes from years of sitting in [theater] rehearsal rooms. We understood each other very quickly," he says. "And when you're working opposite somebody as good as Liev, it just cuts your job in half."
Schreiber has never been the sort of actor who keeps his head down and simply follows direction, and he admits that in the past he's had "explosive" arguments with other actors and producers. But Zwick, he says gratefully, took all his kvetching in stride. "I had a relationship with Ed where we could argue and talk about things. I love arguing," he says. "I love having that creative discussion where, at the end of the day, you both feel better for having done it. Maybe it's a typically Jewish thing, where you sort of go at each other."
"One does well to listen to what he has to say," says Zwick. "It's never narcissistic with him. It's always about problem solving or exploring the intention of the scene."
Superbad director Greg Mottola, who directed Schreiber in the 1996 comedy The Daytrippers, recalls that the actor was constantly peppering him with questions about his character's motivation during the 16-day shoot. (Schreiber played Parker Posey's hilariously pompous boyfriend.) "It's the kind of thing that can get misinterpreted as, 'This actor's a pain in the ass,'" says Mottola, now one of Schreiber's best friends. "But I wish to God every actor I worked with cared that much."
Even as a kid, Schreiber says, he was very analytical. "I was always curious about motivation and intention, and really, that's a lot of what acting is," he explains. "I was a little bit different." That's hardly surprising, considering the unusual nature of his childhood. His parents split up when he was young, and he was raised by a hippie mom (she now lives on an ashram). They lived for a brief time on an upstate New York commune and then in an East Village apartment with no electricity or hot water. Schreiber followed a vegetarian diet, meditated and watched only black and white movies. (As an act of rebellion against his mother's daffy ways, Schreiber, at around age eight, started stealing; he even broke into the safe at the yoga center where his mother worked.) "Since I've had Sasha, I've completely identified with everything my mother went through raising me," he says today. "And I think her choices were inspired."
Schreiber in Defiance.
Thanks, perhaps, to his consciousness-raising childhood, Schreiber is nothing if not in touch with his feelings. So even though he has lately learned to guard his family's privacy (TMZ.com has a clip of him going berserk after a photographer got too close to his newborn son), his natural instinct is to let it all hang out. "He's a deeply feeling guy," says Foer, who's become a close friend. "He wears his heart on his sleeve. I don't think it's easy to be Liev in this world, because he's not satisfied with the kinds of things that I imagine a lot of Hollywood people are satisfied with. He's incredibly ambitious, but not for money or fame. He has so many different interests, and you could just as easily see him being a novelist or an artist. I think he probably feels the pull of those other lives."
For the foreseeable future, however, audiences can count on seeing a lot more of Schreiber. When photos of him on the set of Wolverine were posted on the Internet, even die-hard fans of the comic book had to admit that Schreiber's transformation into an X-Man mutant was convincing; he sports an untamed thicket of facial hair, some lethal-looking claws and biceps the size of Ukrainian hams. "Of course, I managed to eat my way out of that physique within a couple of weeks," the actor cracks. But he's already back in training for his next role, though it's hardly an action movie: He will play a drag queen in charge of security in Ang Lee's upcoming film, Taking Woodstock, which is currently in production. "You know, whenever you cast a six-foot-three, 200-pound man as a woman, there's a certain bit of irony in that," he says. "Ang said that he would like me to try and be a bit more muscular, and I think it's a good idea."
According to Mottola, Schreiber is a natural in these humorous parts, despite his serious reputation. "I couldn't ask him to play a teenager in Superbad, but it's one of my goals to do a comedy with Liev," says the director. "Even his Iago was incredibly funny."
As for becoming an honest-to-goodness Holly­wood leading man, though, Schreiber seems more than happy to take his time. "I have a really weird idea about what's interesting and what's not," he says as he prepares to leave, with a lobster roll to go for Watts. "I have a hard time getting interested in uncomplicated people, and romantic leads tend to be uncomplicated people. Also, it needs to be this natural evolution of me as an actor. I believe you go where you go naturally—you don't try too hard to be something you're not."
Grooming by Mark Anthony for Exclusive management. Defiance: Karen Ballard/Paramount Vantage; Schreiber and Watts: Jon furneiss/wireimage.com