Free and Easy
Hair goes free and easy with weightless products and cutting-edge cutting techniques.
---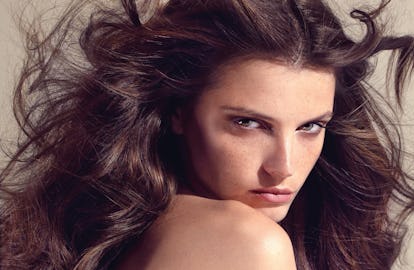 Photographer: Santiago & Mauricio
There's a major shift taking place in the hair-care world. After years of forcing locks into stick-straight submission with professional chemical straighteners and goopy at-home balms, companies are releasing a new generation of lighter products that nourish but don't weigh hair down. Next month Pantene launches its Pro-V Aqua Light line, including a conditioner formulated to rinse out quickly, leaving no residue. Kérastase's Fibre Architecte combines repairing and styling in a light gel that makes even the most rebellious mane feel spun-silk soft. Frizz-Ease Sheer Solution is John Frieda's alternative to the kind of traditional smoothing serums that can wreak havoc on fine hair. To make the most of your newly liberated tresses, seek out a stylist adept at the up-trim. New York salon owner Valery Joseph "undercuts" by starting at the ends of the hair, then snipping away upward, layer by layer. "When there's a lot of weight, the roots have a hard time holding up," says Joseph. "By cutting into the hair, you allow it to move more naturally—and I love the way the ends turn out piece-y. The look is softer, fresher, more bohemian."
Hair By David Von Cannon. Makeup By James Kaliardos. Photography Assistants: Alessandro Zoppis, Evan Browning.