Bella Thorne, Pete Wentz and More Mourn Rapper Lil Peep's Tragic Death
The 21-year-old rapper died of a suspected overdose Wednesday night.
---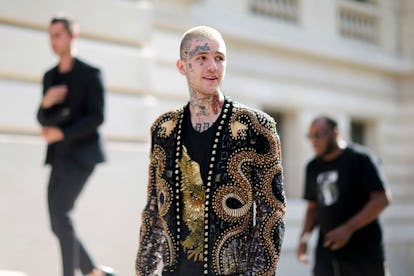 Edward Berthelot/Getty Images
On Wednesday night, 21-year-old rapper Lil Peep reportedly passed away from a suspected drug overdose before he was scheduled to perform in Tucson, Arizona. Just hours before his death, Lil Peep posted a photo of himself with what appear to be pills, and just one day ago he posted a photo with the caption, "When I die You'll love me."
Originating from YouTube and SoundCloud, the rapper's success skyrocketed this year as he proved himself to be one of the most promising talents in the alternative hip-hop world. Pitchfork once called Lil Peep, born Gustav Åhr, the "future of emo." His music often touched on the subjects of suicide and drug use.
The rapper was also leaning into the fashion world, attending the Balmain Menswear Spring/Summer 2018 show and sitting front row at Paris Fashion Week. In regards to his personal sense of style, Lil Peep once told GQ, "Eventually I want to have my own clothing line. A lot of people are afraid to do what I'm not afraid to do in fashion, so I think the fashion world really needs me right now… Breaking boundaries is my main goal." Lil Peep did break boundaries, and couldn't be placed in a singular category as either a rapper or a rock star; he was both.
Fall Out Boy bassist Pete Wentz expressed his sadness to hear of Lil Peep's passing, tweeting, "We have to talk about mental health in open way… Have to help each other we all have struggles, none of this is easy." Actors and musicians who were friends and fans of Lil Peep opened up on social media this morning to mourn Lil Peep's death, with an outpouring of support and respect for the rapper on Twitter.
Related: They Came From SoundCloud: Lil Uzi Vert and the 6 Rappers Who Could Be Rock Stars
See W's most popular videos: