About That Yacht Life: How Teen Rapper Lil Yachty Made It Big
Meet the 18-year-old Atlanta rapper and Yeezy model making waves.
---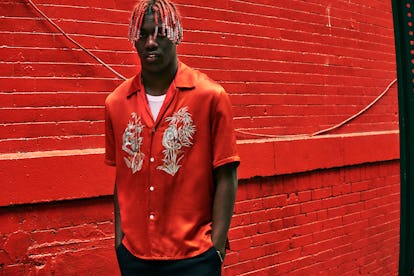 It was 3 p.m. on a Wednesday in New York, and the 18-year-old rapper Miles Parks McCollum, known to everyone as Lil Yachty, could not stop yawning. His bedazzled grill caught the overhead light of a Chinatown hotel room with each Wookie-like yawp; beneath his beaded red braids, it was almost impossible to tell whether or not his eyes were open.
His voice, which had the hypnotic drawl of a Novocaine-induced stupor, only reinforced the appearance of sleepiness. Only when the subject of Supreme surfaced did he perk up: "It went from me going in there to shop, to them playing my music now," he declared. His friend Chalis, who came up with Yachty in Atlanta, reminded him that they once saw Joe Jonas in the store. Everyone in the room, including other core members of the "Sailing Team"—producer "Burberry Perry" and "Bloody Osiris," plus Yachty's manager, who goes by "Coach K"—busted out laughing.
"I forgot we seen him," Yachty recalled with a smirk.
Yachty, who came to seemingly everyone's attention when he modeled in Kanye West's Yeezy Season 3 show, wore a velvet Supreme sweat suit and Gucci slide sandals. On his neck hung a sizable diamond-encrusted gold medallion with the letters "QC," which stand for Quality Control. Having only started making music a year ago, this is apparently the prize for going from no one to someone, boy to man, boat to yacht.
"In high school, there was a group of older kids who called themselves the 'Yacht Club,'" Yachty said of his stage name. "I was trying to get in the club." They eventually let him in, but he had to start from the bottom as Lil Boat, which has since become his alter-ego. "They're the same person," Yachty continued. "Same soul. Same body. But one is more calm and the other is more aggressive."
Chalis, who is two years older, was one of the charter members of the Yacht Club. "We were starting waves," he said. "We used to record in my closet in Atlanta. We had a bum-ass mic and we put a sock on it. We had nothing." After graduating, Chalis sailed off to New York. Once he was installed there, Yachty sent him a list of kids he followed on Instagram for Chalis to befriend. The advance team set the table for last summer, when Yachty arrived in town to stay with Chalis; together, they broke onto the scene, successfully networking with the likes of Ian Connor and Eileen Kelly.
"I just thought I'd give it a shot," said Yachty. "I just wanted to get cool." He shrugged and then paused, as if his rapid success had finally just hit him. "I was just in a dorm room. I was at Alabama State—I was literally just there!"
Last week, Yachty attracted a crowd so large at his VFiles show that the police had to barricade the street. He then went on to perform at the Museum of Modern Art, followed by a show in Philadelphia with Young Thug. On Tuesday, he released his music video for "1 Night," which is quickly making its rounds on the Internet for its meme-friendly visuals. "He's one of the most focused young guys I've ever met," said Coach K, who's worked with stars like Young Jeezy, Migos, and Gucci Mane. "He's going to be really big."
When he's onstage, Yachty comes to life. In one clip of a performance posted to his Instagram, he jumps up and down so energetically that his sweatpants practically fall off. His hair thwacks his face in sync with the beat. He dives into the audience. He is buoyant, like, well, a yacht.
"He's got a lot of little white boy fans," Osiris said of the usual crowd.
"Like lemme-get-a-pic-for-the-gram!" Burberry Perry chimed in.
Music is something that Yachty simply tried, and found that he had a knack for it. "Growing up, my dad used to play India Arie, Coldplay, and Paul McCartney," he recalled. His father, Shannon McCollum, is a photographer who's worked with everyone from Outkast to Dead Prez, so maybe the spotlight is the beam by which Yachty was meant to chart his route. His raps, which have the same hazy quality of his speaking voice and are infused with nonchalant humor, have little to do with the trap artists—like Migos, Young Thug, Young Jeezy, and Future—that came before him in Atlanta. In fact, Yachty claimed he's not interested in the genre; instead, he described his sound as "colorful" and "soft."
Meet Lil Yachty, the Teen Rapper Making Waves
"When you think of trap, it's like hard, gutter stuff," explained Chalis, whose job description seems to be happily filling in Yachty's long silences. "But we're young kids; we're not like that. Obviously, we love trap and are influenced by where we come from, but Yachty is fun. His voice is angelic! A lot of rap you can't relate to, but Yachty is young. Not even a year ago he was a regular civilian."
While Yachty claimed the only music he listens to is his own, his friends name-dropped people like Lil Uzi Vert, who is 21. "Why so many Lil's?" I asked.
"It's because everyone wants to be a kid again," explained Osiris.
I turned to Yachty and asked him what else he might hope to accomplish next. He stretched out his arms and yawned deeply, and then mumbled something in his drowsy baritone.
"You want to what?" I asked.
Yachty stuck his hand down his Nautica boxer shorts and closed his eyes: "I just want to be mainstream."