Lila Grace Moss Hack, Kate Moss's Daughter, Just Scored Her First Modeling Gig
She's the new face of the Braid Bar.
---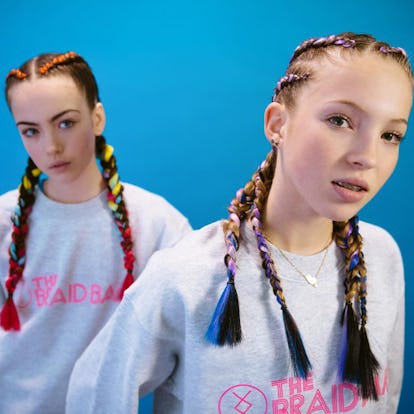 the_braid_bar/Instagram
As the daughter of living legend Kate Moss, it's no surprise that Lila Grace Moss Hack just scored her very own ad campaign.
The 14-year-old supermodel spawn is the newest face of U.K. hair brand the Braid Bar. She appears in its summer ad campaign rocking rainbow braids and a fierce, brace-faced scowl alongside Stella Jones, daughter of rock star Mick Jones and longtime friend of Lila Grace's.
Though this is her first ad campaign, Moss Hack is no stranger to being in front of the camera. She appeared on the cover of Vogue Italia with her mom last year and signed to the Kate Moss Modeling Agency shortly afterward. In fact, the young model is the same age that Kate Moss was when Moss was discovered in an airport with her father.
Lila Grace Moss Hack is the latest in a string of second-generation models making strides in the industry, joining the likes of Cindy Crawford's daughter Kaia Gerber, and Christie Brinkley's daughter Sailor.
She's also not the only young Moss venturing into fashion. Kate's 19-year-old half-sister Lottie Moss has also been modeling for the past few years.
As for Lila Grace, modeling is not the only profession she has in her blood. Her father is fashion editor and Dazed Media co-founder Jefferson Hack, and she's already racked up a bit of experience as a journalist as well. Along with Jones, she interviewed Gigi Hadid last year for an issue of Dazed.
Related: Lottie Moss, Kate Moss' Half Sister, Takes in Her Very First Marc Jacobs Show
Kate Moss Opens Up To W: