Lily Aldridge Loves a Red Lip
The Victoria's Secret Angel reveals her beauty secrets.
---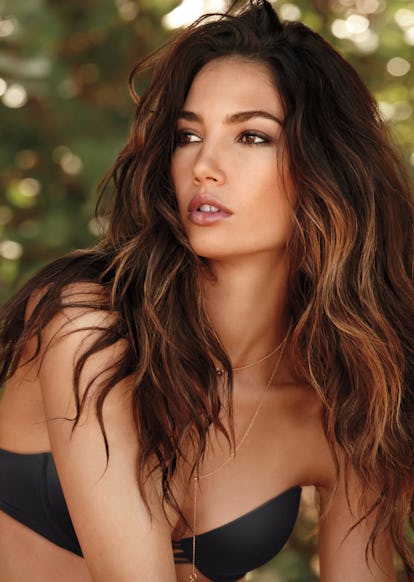 This week, Lily Aldridge will join her fellow Victoria's Secret Angels Candice Swanepoel, Joan Smalls, and Alessandra Ambrosio in the brand's first Swim Special. While you'll have to wait to watch it (the show airs February 26th on CBS at 10 p.m. EST), you can learn about the 29-year-old model's beauty secrets here.
Five-minute routine: Highlighter and mascara.
Daily indulgence: A bubble bath.
Exercise Regime: Ballet Beautiful.
Beauty Essentials: Windsor Edward lip balm.
Skincare secret: Proactiv plus.
Day to night look: Add a red lip.
Manicure or pedicure: BOTH!
Pilates or yoga: Pilates.
Best advice from mom: Giving back is what life is about.
Best advice from the pros: Work hard, play hard.
Drugstore favorite: Burt's Bees facial towelettes.
Beauty icon: Audrey Hepburn.
Canice Swanepoel, Alessandra Ambrosio, Behati Prinsloo, and Lily Aldridge. Courtesy of Victoria's Secret
Alessandra Ambrosio. Courtesy of Victoria's Secret
Candice Swanepoel and Adriana Lima. Courtesy of Victoria's Secret
Joan Smalls and Behati Prinsloo. Courtesy of Victoria's Secret
Candice Swanepoel and Adriana Lima. Courtesy of Victoria's Secret
Alessandra Ambrosio. Courtesy of Victoria's Secret
Adriana Lima. Courtesy of Victoria's Secret
Joan Smalls and Behati Prinsloo. Courtesy of Victoria's Secret
Candice Swanepoel and Behati Prinsloo. Courtesy of Victoria's Secret
Alessandra Ambrosio. Courtesy of Victoria's Secret
Behati Prinsloo and Joan Smalls. Courtesy of Victoria's Secret
Alessandra Ambrosio, Canice Swanepoel, Behati Prinsloo, and Lily Aldridge. Courtesy of Victoria's Secret
Alessandra Ambrosio. Courtesy of Victoria's Secret
Candice Swanepoel. Courtesy of Victoria's Secret
Joan Smalls. Courtesy of Victoria's Secret
Joan Smalls. Courtesy of Victoria's Secret
Alessandra Ambrosio. Courtesy of Victoria's Secret
Candice Swanepoel. Courtesy of Victoria's Secret
Lily Aldridge and Behati Prinsloo. Courtesy of Victoria's Secret
Lily Aldridge. Courtesy of Victoria's Secret
Candice Swanepoel and Joan Smalls. Courtesy of Victoria's Secret
Adriana Lima. Courtesy of Victoria's Secret
Alessandra Ambrosio, Joan Smalls, Candice Swanepoel, Behati Prinsloo, and Lily Aldridge. Courtesy of Victoria's Secret
Joan Smalls. Courtesy of Victoria's Secret
Behati Prinsloo and Joan Smalls. Courtesy of Victoria's Secret
Adriana Lima. Courtesy of Victoria's Secret
Candice Swanepoel. Courtesy of Victoria's Secret
Candice Swanepoel. Courtesy of Victoria's Secret
Candice Swanepoel. Courtesy of Victoria's Secret
Joan Smalls. Courtesy of Victoria's Secret