Lily Allen's Game of Thrones
Watch out, Gaga and RiRi—the former pop queen is back with a vengeance.
---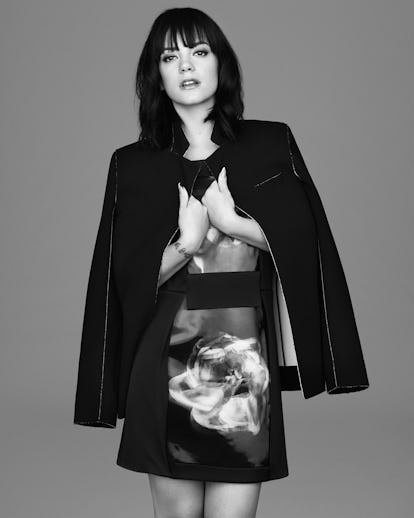 Photographer: Ward Ivan Rafik Stylist: Hanna Kelifa
It's springtime in New York, and the British pop star Lily Allen, all five feet two inches of her, is in town. The last time she came here to promote an album was in 2009, and she was pursued by a constant swarm of paparazzi eager to catch the witty and vulgar enfant terrible, who had no problem telling Elton John to "fuck off" on national television. That was a wedding and two kids ago.
This evening, outside the Mercer Hotel, all's quiet. Her most constant companions on this trip have been her daughters, Ethel Mary, 2, and Marnie Rose, 1. "I just put them on a plane," Allen says as she settles into a booth off the hotel lobby. Bundled in a denim jumpsuit, with her huge eyes and slightly upturned nose, she looks a decade younger than her 29 years. She says that she still feels like she's 12, despite the fact that she has sold more than 5 million albums, won a Brit Award for Best Female Solo Artist, and pulled off a rare famous-person double play by punching a paparazzo, and winning a retraction from London's Daily Mirror after the tabloid insinuated that her song "Not Fair" ("He's not like all them other boys, they're all so dumb and immature/There's just one thing getting in the way/When we go up to bed, you're just no good, it's a shame") was about her former flame, the 50-year-old gallerist Jay Jopling. "And though I know I shouldn't, I feel like an underachiever," she adds.
It's hard to feel sorry for her. Allen, who took a five-year hiatus after releasing a No. 1 album (2009's It's Not Me, It's You debuted at the top of the U.K. albums chart), has always done exactly what she wanted, when she wanted. Which is why she's calling her comeback record, out now, Sheezus. "People immediately thought I was taking the piss out of Kanye," she says. "But it's actually an ode to him. What I love about Kanye is that he'll talk about whatever he wants—whether it's leather jogging pants or sex with his wife on a motorbike—and he'll talk about it with passion. If that's what makes him Yeezus, then I sure as hell want to be Sheezus."
Like Kanye, Allen has never been one for self-censorship. But the intimate, sweetly profane way in which she practically confesses her songs to the listener has always allowed her to get away with being a "bitch"—her word for a girl who tells it like it is. She gets familiar very easily: Her bare feet (when did she take her shoes off?) are tucked beneath her bum, and she is forking macaroni and cheese into her mouth. "I wish I were a better mum," she admits. "My own mum was a working mother"—Alison Owen is a film producer; her father, Keith Allen, is an actor and comedian—"and I fully did not want to be like her. I was going to be there for my kids 100 percent of the time! I was going to wake up, feed them, pack their lunches, and take them to school! And, in reality, I'm not that person. I need to create. I need to vent."
On Sheezus, there is a painfully honest song about motherhood ("Life for Me"), but there is also a lot of venting. The smooth funk track "Insincerely Yours" greets the media fuss around It girls like Cara Delevingne and Jourdan Dunn with the world's fakest smile. "Mm-hmm," Allen murmurs when I bring this up. "Well, it just happened that 'Delevingne' rhymes with 'magazine.' "
And then there is the title track, in which Allen calls out all the divas who've dared lay a hand on the pop throne since she's been away: Bey, RiRi, Gaga, Katy Perry. "I'm not threatened," she insists. "I think all the women in the song are fabulous—but I also quite like putting that song out there and letting people confuse themselves." The song also reveals a vulnerability that Kanye could appreciate: "I'm kinda scared…/The game is changing/Can't just come back, jump on the mic, and do the same thing." But, like her play for Yeezus's crown, is it all just savvy marketing? "I just want enough people to buy the album so I can do it again," Allen says. She sounds solemn, but she's smiling.
Hair by Federico Ghezzi for Bumble and Bumble at CLM; makeup by Lucy Burt for MAC at D +V Management; manicure by Michelle Humphrey for Maybelline at LMC Worldwide; prop stylists: Andrea Cellerino and Georgina Pragnell; photography assistants: Bryan Monaco, JP Woodland; fashion assistant: Guy Rugeroni.