Lily Cole's New Magazine Stars Paul McCartney, Vivienne Westwood, and Joss Whedon
Print media is the actress and ex-model's latest venture, and she's starting out with a bang.
---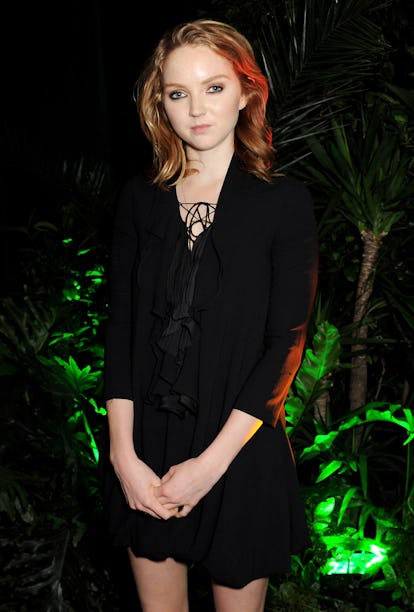 The actress and former model Lily Cole was at the London ICA's rare book fair a few years ago when a title caught her eye: an old punk fanzine called Impossible to Dream, not too far off from the name of the online community she runs, Impossible. "I loved the magazine, the boldness of the anarcho-punk, feminist f— you thinking met with brilliant creative direction and a sense of humor," she said.
So she took it as inspiration for her own magazine, Impossible to Print, which she made "as a fun side project" in her spare time – not that Cole has much of the latter these days. Even now that she's given modeling a rest, having spent a decade as a favorite of Jean Paul Gaultier and Christian Lacroix on the runway, and Prada and Chanel in campaigns, Cole, now 28, has been acting full-time ever since, with this summer's long-awaited Absolutely Fabulous: The Movie being her first film after having a baby last year.
Impossible, though, has been her real number-one priority since it launched in 2013. Essentially a social network, it allows users to negotiate services in return for each other rather than exchanging money, a semi-quixotic idea Cole says is about "quiet optimism, everyday activism, creative questioning, random acts of kindness." Its new hard-copy counterpart, then, would ideally be available to purchase by offering a service to the vendor, but since "we're not there yet!," as the intro quips, it's priced at £1.75, or less than a cup of coffee.
"We didn't want it to feel like a luxurious and glossy magazine," Cole said, explaining why she and the issue's editor, a writer friend named Graham Erickson, decided to print it on newspaper stock. Still, the magazine's content is not throwaway: It features Cole's interviews with the likes of Paul McCartney, who talks songwriting; Vivienne Westwood, who discusses her ties to environmental activism; and Joss Whedon, who meanders on about his creative ideologies.
All three, in fact, approached Cole: Westwood asked her to stage an Impossible "happening" at her spring 2014 show, which Cole did with a dance and film focused on refugees, while McCartney and Whedon both asked if they could give impromptu workshops through her group. But there are also features Cole sought out herself, like an interview with the "Moneyless Man," or former businessman Mark Boyle, who Cole met up with in Dublin after hearing that he'd been living there without money for several years. That's alongside what's essentially a how-to guide to activism, the occasional London vignette, and an interview with two U.K. politicians on climate change.
"I feel very politically motivated, but often quite demoralized and put off by the institution of politics itself," Cole said. So though she long campaigned for Brits to vote in the E.U. referendum, she mostly encourages what she calls the "micro-political" – actions like how you treat strangers, plus where and how often you shop.
As for why she's chosen print to address those concerns, Cole is adamant that the medium isn't dying, but simply changing: "I kind of draw an analogy to the shift that art went through in the early 20th century when photography and film were becoming the mainstream ways of representing images, and art was forced to define what it uniquely did, which is what [the art critic] Clement Greenberg argued gave birth to Pollock and Rothko," Cole said. (She studied art history at Cambridge.)
"So I think now that digital has replaced books and magazines for simple written informational communication, they'll have to have a purpose in the object that's not only about information," she went on. "And that's a good challenge."
Photos: Lily Cole's New Magazine Stars Paul McCartney, Vivienne Westwood, and Joss Whedon
Lily Cole at her talk with Paul McCartney in London. Photo by Brian Rasic/Getty Images.
Lily Cole in "Dominica," photographed by Juergen Teller, styled by Camilla Nickerson; W magazine March 2009.
Lily Cole with Vivienne Westwood in London. Photo via Getty Images.
Lily Cole performing in Vivienne Westwood's Red Label spring 2014 show. Photo by Ian Gavan/Getty Images.
Lily Cole in London. Photo via Getty Images.

Getty Images
Inside Impossible to Print.
Inside Impossible to Print.
Inside Impossible to Print.