For Lily Collins, Emily in Paris is About Self-Love
The actress is obsessed with finding out about people's deepest wishes of how they want to live their lives—and is determined to do the same for herself.
---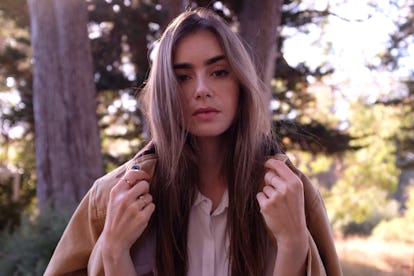 Lily Collins photographed by Charlie McDowell.
The actress Lily Collins recently found peace sitting on a surfboard in the Pacific Ocean, waiting for a wave to come. Of all the activities Collins took up while quarantining at her home in Los Angeles over the summer—jamming through stacks of books about meditation and self-reflection; listening to podcasts from Brené Brown and Jay Shetty, a former monk; going on road trips to Northern California—surfing became a particular favorite. After some lessons on land from her boyfriend, Charlie McDowell, an avid surfer himself, she'd wade in. When the swell came, she'd hop up on her board, trying to be as strong as she could, focused on simply getting on her feet and staying there. She realized she had no control over the water, which would sometimes completely take her over, swallow her up in its power, and then spit her back out onto the shore. Whenever that happened, Collins just let it ride out, face-planting into sand, often in front of other beach-goers. What else could she do?
On the phone a couple months later, Collins is one of the few people you'll hear describe her experience in lockdown as "amazing, actually."
"I know it's super strange, but I haven't been stationary in one place for this long in—I can't remember how long," 31-year-old Collins says. But like most others, she spent the time forced to do a fair amount of reflection on what she wanted from her life: without the distractions of traveling, work, spending time with friends and family, going outside, a metaphorical mirror was placed in front of her, forcing her to dig deep and look at the things about herself she might have usually ignored.
There were, however, lighter moments in quarantine: her father, Phil Collins, for example, experienced a spike on the musical charts, after two twin YouTubers, Tim and Fred Williams, better known by their handle Twinsthenewtrend, posted a video in which they listened to In the Air Tonight for the first time. It went viral, racking up millions of views, and shooting the elder Collins' record, originally released in 1980, to the top of Spotify's and Apple Music's lists. Soon after the video went up in August, Lily Collins' phone started lighting up with texts, e-mails, and DMs on Instagram from people sending her clips of the video. She sent it to her father.
"I was like, 'Dad, I'm sure you've literally received this so many times, but please watch this,'" she says. "I remember having this conversation with him when I was younger. I would share with him the music and the new bands that I was listening to at the time. He was just as inspired by young musicians and young artists, just as much as when you read interviews of up-and-coming artists and they talk about who they admire. So I think he really gets a kick out of seeing how his music, which I'm sure sometimes he thinks is so past irrelevant, comes around again."
Although Collins has few qualms discussing her family life now, this wasn't always the case. Coming from such a legendary background caused her to pass her teen years—after she'd moved from her hometown in Surrey, England, to Los Angeles, at the age of six—in a state of anxiety, worried that people expected her to be a certain way: spoiled, charming, talented, successful, perfect. She took these assumptions and put them upon herself, trying to fit in, attempting to please others. Collins tweezed and shaved her thick eyebrows, she hid her British accent. And in past interviews, she's shied away from speaking about her upbringing, noting there are just some topics in her private life that are off the table in terms of what she's willing to discuss.
Collins has been adamant about creating her own path, perhaps in a marked attempt to distinguish herself as an individual from the famous names attached to her. And indeed, she's built a career on her own, starring in films like Bong Joon Ho's Okja, and To the Bone, the story of a woman with an eating disorder (a narrative that mirrored Collins's own life; she herself struggled for years with extreme dieting, bingeing and purging, and abusing laxatives and pills). In a departure from these darker, more Gothic roles she's used to playing, Collins will star in the upcoming Netflix series Emily in Paris, which debuts on October 2. It's a rom-com about a beautiful dream girl living in Chicago whose work takes her to France—where she encounters pain au chocolat and handsome men waiting to sweep her off her feet. Produced by Sex and the City's Darren Star, and costumed by Patricia Field, the same designer who worked on Carrie Bradshaw and co., the show has an upbeat, sunny, quality. It feels like the anti-reality, especially now. Emily's world is a fantasy, and Emily herself is utterly unflappable, in a typically American-in-Paris way: she requests her steak be well-done, and asks to speak to the chef when the server refuses to give her anything but rare; she doesn't try to learn how to speak French until she's told to, and immediately upon landing in her new office, she begins to give unsolicited advice on how to revamp the company's social media presence (in English). While I watched Emily flounce around in floral ball skirts and purses with the Eiffel Tower on them, I was equal parts horrified and entranced. I cringed at the steak part—just take it rare! Don't be rude!—and wondered what the hell kind of show this was. But each time a new episode automatically began, I couldn't turn it off. Emily in Paris is binge-worthy, aspirational cinema at its finest. In my own life, I'm unsure of the next time I'll be able to travel, unsure of the future—but in the show, I can watch Emily's adventures on the Champs-Elysées, meeting people, feeling the first flush of a new romance, taking a huge bite out of a buttered baguette. Simply put, it's a fun show. It makes you feel good. And in a deeper sense, Emily feels no amount of confusion, never questions what's to come—in fact, she's excited for what may be. When was the last time you felt that way?
During this round of press to promote the show, Collins says, lots of reporters have asked her why she decided to take on a role that's so different from her past ones.
"I do love darker roles," she explains. "I definitely feel like I get to explore different sides of myself with every job that I do. And I've never wanted to be put into a box as one specific type of character that I get known for playing, or that I think I can play. I'd been looking for a fun, comical, witty, fashion-y, loving-life type of character for a long time. But those roles are very specific and they come around every once in a while. I needed the character to also have smarts, and a heart, and not to just be one thing. Playing Emily, for me, was a release, because I'd never gotten to really show that side of myself before.
"A big thing, for us, in the development of Emily was that we never wanted it to seem as thought she had to have this transformation in order to be accepted," she continues. "She's like, 'I'm not going to change who I am, but I'm going to wear that Eiffel Tower shirt if I want to. And I'm going to carry that Mona Lisa bag, because I'm obvious and that's great.' She's proud of who she is, but she's not afraid to adapt to where she is as well. Throughout the series, her confidence grows. She doesn't worry about what people are thinking. At the beginning, she takes to heart the judgments that people in the office are giving her, but by the end, you can see that she's endearing to them. She knows it doesn't matter what people say or think."
Collins is obsessed, she says, with examining the human experience. It's why she studied broadcast journalism at USC, went into communications, started her career by covering the 2008 election as a host on the Nickelodeon series Kids Pick the President. She liked doing interviews with people, asking them questions, seeing their souls, their values, their deepest wishes, coming out in small ways. She was curious to know them, to understand them.
The actress is also obsessed, it turns out, with looking inward. A morning spent drinking cups of coffee, reading her meditation books, practicing introspection, is one of her most-loved activities. (Lucky for her to enjoy such a task, since understanding the self is often a lifelong journey for most people.) But for Collins, learning about herself and what she really wanted from her life was a way for her to escape the clutches of expectations put upon her as a kid. In 2017, she wrote a book called Unfiltered: No Shame, No Regrets, Just Me, that, she says, allowed her to shed all of that—let it go and leave it in the past. And in quarantine, she began work on another book, jotting down the lessons she's learned in isolation.
"I can't remember the last time I tried something new with that fear of failing in the back of my mind," Collins says of learning to surf during this time. "But with something like surfing, you put yourself in that vulnerable position to fail. It gives you that feeling of letting go and knowing that it's okay, any moment that's new and fresh as an experience, is a good thing." Collins says acting is a little bit like that; it forces her to be present. It is practice as a form of meditation, to sit in stillness, if only for a moment.
Related: Netflix's Emily in Paris Trailer Has Guilty Pleasure Binge Written All Over It