Dispatch: Lima and Cusco in Peru
Peru has a lot more to offer by way of culture than just Macchu Picchu. Michael Slenske visits two of its cities and takes note.
---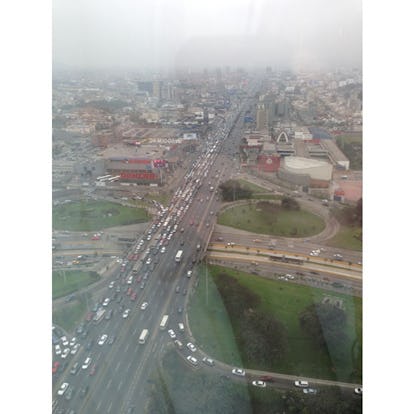 "We call it grey Lima in the winter, because the sun never comes out," says the New York-based Limeño seated beside me on our descent into the Peruvian capital. True, an ashy pall casts over the South American metropol most days and the dusty hardscrabble doesn't dispel these drab notions from overhead. But make no mistake, en la calle Lima is red hot.
After my driver scoops me up from Jorgé Chavez International, we wade into a fulminating, Crayola-colored stream of combis and micros — little vans, which are the desired public transport of locals, with the stops (La Paz, Miraflores, Surco) hand-painted on the side. Forty-five dizzying minutes later we're at the 30-floor, $130 million glass-and-steel tower that is the Westin Hotel & Convention Center, which looms large over the San Isidro financial district as the city's tallest building. The desired retreat of visiting celebrities and diplomats, it's ringed by the military green human chain link of Peruvian soldiers for Secretary Clinton's visit.
From my 27th floor aerie the grey fog enveloping the city is still palpable — and panoramic — but there's plenty of color just an elevator ride away. In addition to the oceanic Heavenly Spa on the second floor, the lobby plays host to the clubby, Chesterfield-lined library bar, Insitu, as well as boutiques selling wares by Giuliana Testino (Mario's sis), not to mention the award-winning Maras Restaurante from El Bulli-alum Rafael Piqueras. Named after the Sacred Valley mining town outside Cusco, world-renowned for the pink and purple salts drawn from its milky patchwork of terraced evaporation ponds, the tunnel-like fusion Maras features a chica purple tiled bar, splashy neon paintings, and lots of mirrors and glass which — much like Piqueras's oxtail ragout corn tart and Peruvian tuna carpaccio with cushuro (caviared seaweed) — puts a distinctly 21st century spit shine on ancient Andean ingredients.
While Piqueras is making a play for Lima's next top chef slot, he's got some stiff competition from Lima's other Rafael, (Osterling, of the Miraflores hot spot, Rafael) and 35 year-old Lima-born wunderkind Virgilio Martinez, a former pro-skateboarder who — after breaking his collarbone as a teenager en route to the X Games circuit — trained at Toronto's Le Cordon Bleu and André Soltner's iconic New York eatery Lutèce before opening the Madrid outpost of Astrid y Gaston for Lima's haute cuisine eminence grise, Gaston Acurio.
"When I got back five years ago I was very scared to go for what I wanted, but then I realized there were tons of people coming to Peru for a gastronomic experience, even a Peruvian experience, because something very, very strong was happening in Lima," says Martinez, who got his break with Acurio in 2004 by blindly approaching the star chef at the bar of Astrid y Gaston, starting work the day after. "I wasn't proud of Peruvian cuisine at that time. Nobody was, but I thought my cuisine was missing something: my identity."
With Acurio's help, Martinez learned to apply his globalized influences — French, Italian, Spanish, Japanese — to the local fare, including nearly 200 salts, 4000 potatoes, and a wide range of indigenous animals like alpaca, guinea pig (cuy), and the rich Amazonia fish, Arapaima (paiche). That practice culminated four years ago with the opening of Central Restaurante, Martinez's two-story glass-and-stone-walled jewel box (with its own bakery, 800-bottle wine cellar, chocolate room, and an organic rooftop herb garden watered by the in-house reverse osmosis operation) in the tony neighborhood of Miraflores.
Though his first two years were plagued by culinary missteps and a mayor-led effort to shut down the restaurant, Martinez emerged with a locally-sourced, tightly-edited, artfully-plated, and wholly delicious 10-course tasting menu dubbed Experience Origin. That experience kicks off with an indulgent bread medley — I could literally spread the black salt butter on everything — and a brilliant Bahia scallop and algae tiradito (Peruvian sashimi, more or less), crescendoing with a sinfully decadent 21 day-old baby goat from Pachamanca. The tour concludes with a serving of local herb teas and a soursop, coffee and cacao dessert which is meant to evoke the surrounding resources of the native graviola tree.
"I think the energy is here," says Martinez, explaining the gestalt of Central. "If I get distracted, I will miss it." As a result, he's returning to cook full time at the restaurant after two years spent of globetrotting to open the more casual London outpost Lima, and the hyper-localized Senzo in Cusco's haute hacienda-style Hotel Palacio Nazarenas, which features its own secret herb garden, and a spa with floor windows onto the ancient Incan irrigation canals below. There executive chef Karime Lopez Moreno Tagle puts out a smoky alpaca medallion dish with edible cassava charcoal, an ethereal custard apple, dulce de leche and chia seed confection, and various dishes and drinks infused with cleansing Andean mint tea (muna), which you can buy at the luxe delicatessen Kushka…fe on Cusco's Calle Choquechaca.
While in Cusco, book a room at Palacio del Inka hotel (nee Libertador) (It's one of three Luxury Collection hotels in Peru — including Urubamba's Tambo del Inka and Hotel Paracas in Ica — each of which are supremely dialed in to the chic side of the local adventure circuit.) Housed in conquistador Francisco Pizzaro's Casa de los Cuatros Bustos, the soon-to-be-renovated Palacio is seated across from the Temple of the Sun and just blocks from Cusco's main square and baroque LaChappelle-ian cathedral.
Not looking to spend four days hiking and camping along the Inca Trail? Our guide, Danny, from the top-flight T'ikariy Tours notes it's just the "thumbnail" of the 20,000-plus miles of the "real trail", so don't feel bad sandwiching your ascent to the Incan high ground with a stay at Tambo del Inka, a Luxury Collection Hotel. .
Though the name refers to the places of refuge used by the Incas, the resort is anything but an inn. The first and only resort in the country with LEED certification, Tambo is nestled at the foothills of the Andes along the banks of the Sacred Valley's Urubamba river and shaded by a grove of 70 year-old Australian eucalyptus. In addition to its own private Peru Rail train station (for a leisurely ascent to Machu Picchu) the grounds boast a one-acre, crop-rotated, organic vegetable-and-flower garden; a soccer court for the staff's intense round robins; and a forthcoming marketplace where local artisans will be able to sell their wares from 20 tiendas (though as the affable GM Pablo Marconi notes, with the mayor now involved the project is already "getting political").
Perhaps the best place to soak up the view is the therapeutic blue-tiled negative edge pool — straddling the in-and-outside of Tambo's award-winning Spa at Valle Sagrado. Pre-Picchu I indulged in the 12-station hydrotherapy circuit (and its sub-aquatic jacuzzi beds, shaved ice bath, and five shower treatments) followed by a Yucamani hot stone massage, and felt surprisingly relaxed at the Sun Gate summit.
Post-spa, gazing at Bar Kiri's backlit, Richter-invoking onyx wall treatment and the uplit canyon is a must. As are a few of the spicy ginger pisco sours before dinner at the property's glass-shrouded cathedral of a restaurant, Hawa ("Heaven"). The vast space is anchored by two tree-sized-and-shaped sculptures carved from local huanahuaco and a 36-foot high Peruvian blue stone wall showcasing various khipu (or "talking knot") tapestries. The port confit lamb shank over basil-infused corn pepian and quinoa mushroom risotto are not to be missed, nor is the Nutella ice cream bon with crystallized sugar crackers.
"Here it's all about the people," adds Marconi explaining the allure of Tambo (and le tout Peru at large). "There's an authenticity to their service you won't find anywhere else."
It's like the tart buzz of the local lemon verbena fueled Inca Kola: un sabor muy propio.