Linda Fargo's New Bergdorf Goodman Store Is Both A "Shopping Paradise And A Fantasy Closet"
The street style personality dispenses shopping tips, fashion advice and the purchases she's obsessed with right now.
---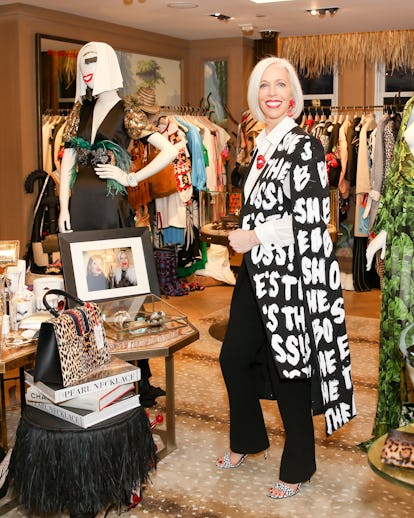 Aria Isadora/BFA.com
Few people in the fashion industry have amassed a resume quite as large at Linda Fargo. By her own estimations, the current senior vice president, women's fashion director and store presentation at Bergdorf Goodman has been a "display person, window director, store design director, interior designer, and fashion director." Phew. Now, with the launch of Linda's at Bergdorf Goodman, a new permanent store-in-store curated by Fargo, there's a new title to add: "I'm a shopkeeper now!"
The store, which opened on May 1, is located on the fourth floor of the department store, and features a revolving stock of Fargo's favorite items, ranging from the expected fashion items (clothes, accessories, et al.) to food and tea. Here, Fargo breaks down how this idea came to fruition, what shoppers can expect, and her favorite personal style moments from over the years.
What would you say is the overall vibe of the store?
It is somewhere between a shopping paradise and a fantasy closet. The shop really coalesces a lot of my skills and obsessions, and a lot of the things that I do already, all in one place. There's an exotic wallpaper pattern by de Gournay called Eden, and it's really like a Garden of Eden, and that sets the tone. There are two golden, high-stepping horses flanking the entrance; a palm tree with ostrich plume leaves; an olive, velvet couch—there's kind of an exoticism. And this is definitively not a pop-up; it's something living and enduring and breathing and ever-changing, meaning even if you come next week, I may have moved things around and taken some things out and gotten new deliveries in. I get to shop [for Bergdorf Goodman], so if I find something I haven't yet fixed on before, I can migrate it in.
How long has the idea for the shop been in the works?
Not that long, really. It came together pretty much in five to six months. I kind of locked myself in my office for a week and really forced myself to articulate everything about it. It was like going into self-analysis, almost. It's no secret that retail is challenged right now, so we were looking for new, experiential retail concepts that only a store like Bergdorfs could pull off, and what would that be? We noticed a pattern of how often I am asked, 'What are you wearing?' That kind of triggered this idea. That was the ignition. There's a very porous line between my life and Bergdorf's. It's very natural. It's a very symbiotic relationship, so all of a sudden the question was asked, 'If you had a corner, what would you put there?'
When you thought about stocking the store, what did you need to have?
I wanted things to be a little bit contrary to the things going on in the industry, where the product cycles have gotten very ahead of the seasons that we live in. That was important to me, to be seasonally and time-specific. Everything [in the store] you can walk out and wear it now. When I hit September, it's going to be very fashion intensive, because I find September and October are when fashion expresses itself in its glory. And then November and December, I'll have more gift items and celebratory clothes and getaway clothes. So, must-haves included that component.
I also wanted it to be a sensory experience, with scent and taste, as well as more traditional things. I had to say, 'What are my favorite things? Do I have a favorite chocolate? Do I have a favorite tea?' It had to be a love, and not a like. And then there are components of my wardrobe that I consider essentials, and they timeless and somewhat classic in their nature. So it might be a Sacai top, which is half nautical sweater on the front and poplin shirt on the back. To me, that is an essential classic, but it's also interesting. I like something season-less, like the little black dress, but it might be the little black jacket…Of course, I needed something signature, so leopard or red, and Caroline Herrera has this great little cocktail dress coming out soon that's got both on it.
And I wanted some things that were underexposed brands. This is not shopping by brand; it's shopping by the strength of each individual item. Each one has to be worthy. It's the world less travelled, a bit.
What was the last thing that you purchased that you're obsessed with?
I just bought this Marques Almeida peplum, floral, brocade jean jacket. It's like a jean jacket style, but it's peplum from an empire level. The upper arm is slim and it has these big, bell sleeves, and then cropped, kicky flamenco matching pants. It's really cute, I wore it yesterday.
Do you have a most prized possession in your closet?
That's a tough one. Those things change, but right now, I can't wear enough of my big baroque pearl earrings from Grazia Vozza. They are big lumps, and they are great.
Do you have any favorite outfits you've worn from over the years?
The one that comes to mind is from Naeem Khan, because he's a big go-to for me for important events. It was for the Snowflake Ball, and of course I love a theme. I went as a sparkly snowball, and was encrusted with Swarovski stones and white ostrich feathers. I felt like a fairytale in that thing. I love his wild, beaded flapper dresses, as well. And I love my D.I.Y. costume pieces I make, too. Once, when I was going to the Met Gala for the punk exhibit, I went to the East Village and worked with this dominatrix, and we made a black, rubber Mrs. Edward Scissorhands. I loved wearing that.
Watch W's most popular videos, here: