Paper Tiger
With her sharp scissors—and even sharper wit—the collage artist known as Linder has honed a fierce vision of glamour. Skye Sherwin gets an eyeful.
---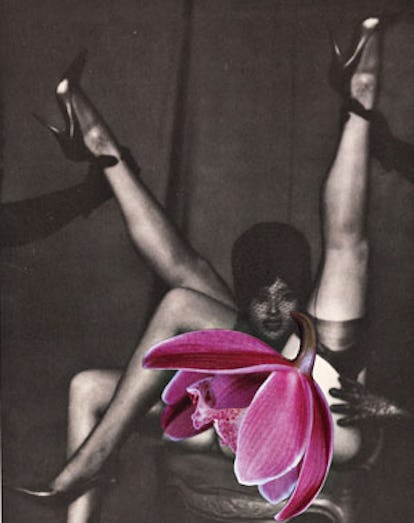 When Linder Sterling was growing up in the '50s in Wigan, a far corner of industrial Northern England, the women she encountered came in three types. There was the ideal housewife enjoying a new, improved life of kitchen appliances and home baking who starred in the pages of her mother's magazines. There were the ballerinas, fabulous creatures who posed and pirouetted on equal footing with their male partners in the ballet books she received each Christmas. And there were the "glamour models" who populated the adult publications her stepgrandfather took pleasure in showing her.
"The ballet annuals provided a necessary antidote to the inappropriate, very sexual imagery," says Linder, taking a break from installing her latest exhibition at the Hepworth Wakefield gallery in Yorkshire (which will be on view through May 12). Loosely inspired by the British modernist sculptor Barbara Hepworth, the gallery's namesake, the show includes new works such as collages of progressive fashion photos and ­conservative ads from the '70s, ballet-infused images mounted on light boxes, and a live performance of The Ultimate Form, Linder's first ballet. "The ballet books showed women very in control of their bodies, inhabiting this exotic world where you dressed up and danced all day," Linder says. "It was a totally different kind of glamour."
A spread from the catalog for "Femme/Objet," with an untitled self-portrait from 1981 (right).
Glamour in its various guises, from glamour models to glamorous fashion, or even in the most archaic sense, the glamour or enchantments cast by witches, is a subject to which Linder has returned over and over again. It's writ large in "Femme/Objet"—a major survey of her 35-plus-year career as a collagist, photographer, musician, performance artist, and all-around feminist firebrand—which opened in Paris at the Musée d'Art Moderne in February. And while much of the work in the Hepworth show is a celebration of beauty—especially the lush, backlit montages of ballet dancers, along with shells, birds, and other elements from the natural world—Linder has a history of going after glamour with a razor blade.
In the '70s, while studying graphic design at Manchester Polytechnic, armed with the books-as-bombs feminist writings of Germaine Greer, and pioneering a music scene Americans called punk ("We hated that word," she says), she shed her surname, reinventing herself as Linder. Her first collages aggressively deconstructed the world mapped out for women in the media at that time, as consumers sustained on a diet of domestic commodities and as objects in pornography. "You can be force-fed a certain language, as I was by my stepgrandfather, and yet become so fluent in this thing called 'glamour.' You realize the mechanics of it and work out how to disrupt it," the artist says.
From top: Linder's cover image for the Buzzcocks' 1977 single "Orgasm Addict"; The Myth of the Birth of the Hero IX, 2012.
In fact, punk owes one of its feistiest images to her. It was Linder who created the sleekly muscular pinup girl with a clothes iron in place of a head and lipsticked mouths for nipples that graced the cover of the Buzzcocks' seminal 1977 single "Orgasm Addict." And in the early '80s, Linder famously played a gig with her band Ludus, at Manchester's Haçienda, wearing a dress made of raw meat to protest the nightclub's use of pornographic projections. This savage sense of humor runs through much of her work: twisted pileups of consumer desires where porn stars pant for outsize phallic lipsticks, their voluptuous curves echoed by the swollen domes of sticky desserts or fast cars. And yet her approach is always playful and belies a deep understanding of the pleasures of seductive imagery and the power of dressing up. "I'm mad about clothes," she admits. Even on this blustery winter day, she's dressed with panache—in a tweed jacket and black suede platform boots swathed with knitted gaiters. Her long brown mane is loose.
Linder still culls her imagery from the pages of vintage magazines. "A lot of the work now is slightly forensic: trying to make sense of the images I saw, either as a child or as a young woman; trying to climb into culture, to find the route through," she explains, adding that the landscape has not changed much since she stepped out in bondage trousers when she was a student. "In fairy tales, transformative clothes protect the heroes. It was actually the opposite for us!"
Recently she was researching food photography from "women's interest" magazines, only to discover that the market had mushroomed. "There are magazines devoted to cupcakes," she says incredulously. "Today there's an illusion of wider choice. You have to be a successful career woman, as well as bake cupcakes and be a mother. The pressures are crazy." Still, looking around her at life in England's chilly North, "where women of every size wear the tiniest of skirts, high heels, fake hair and nails," she finds cause for optimism. She grins: "I think that's glorious, that women will take the type, the dream, and really celebrate it, regardless of how they might look to others."
Photos: courtesy of the Artist and Blum &Amp; Poe, Los Angeles, and Stuart Shave/Modern Art, London; catalog: photographed by Marko Metzinger