Lindsay Lohan Decides Now Is the Time to Announce "I'm Back"
What could she be working on?
---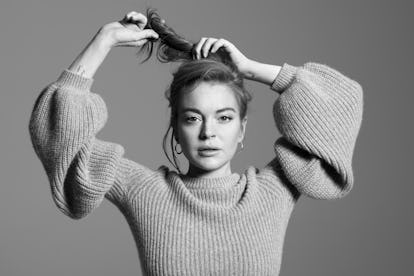 Brigitte Lacombe
Everything seems quite literally gone, but Lindsay Lohan? She's back.
Apparently!
The perpetual source of intrigue posted a cryptic video across her social media platforms this afternoon—the general gist of which states that Lohan has been talked about a lot in the media, which, well, is nothing if not true. Suddenly, television screens explode, and, in voiceover, Lohan announces "I'm back."
What exactly that means was not at first clear, at least from the video.
Lohan has been attempting comebacks for over a decade now. There was the Elizabeth Taylor movie on Lifetime, the Oprah-produced docu-series, the Paul Schrader-directed film The Canyons, the David Mamet play on the West End, the judging gig on the Australian edition of The Masked Singer, the resorts in Greece and their accompanying MTV reality show…You can say a lot of things about Lindsay Lohan over the past 10 years, but you can't say she hasn't remained curiously busy.
Though, a click on the link that goes with her post gives more clarity to which part of her career Lohan is attempting to bring "back." Her official website directs visitors to "PRE-SAVE LINDSAY LOHAN'S NEW SINGLE!" There's a link to Spotify, but it doesn't offer any more information about Lohan's song. Not even its title. Lohan had previously teased the existence of a track called "Xanax," though it's not clear if this campaign is tied to it.
Lohan's musical interludes were never quite the main focus of her career. Just about every young actress who came up through the Disney trenches at the time was expected to at least attempt a TRL hit, and Lohan was no exception.
With five singles spread out across two albums, Lohan never managed to crack the Billboard Top 40. Still, her discography does include some choice camp bops. "Confessions of a Broken Heart (Daughter to Father)" was melodrama incarnate, "Rumors" was a self-aware jam, and "Bossy" remains underrated as a bubblegum club banger.
At a time when Real Housewives release songs, every RuPaul's Drag Race contestant is obligated to drop a track, and even Joe Exotic has albums, why not another Lohan musical adventure? It wouldn't be out of nowhere. Lohan reportedly re-signed with Casablanca Records last year.
Whether or not right now is Lohan's best time to pursue a return to our headphones remains to be seen.
Related: Reintroducing Lindsay Lohan: The Actress Has Found a Sense of Calm, and Is Now Ready to Launch a Beauty Brand
Photographer: Michael Thompson
Atelier Versace sequined blue silk chiffon gown; Vince gray cashmere sweater; Armand Diradourian cap; Prada hosiery; Louis Vuitton boots.

Photographer: Michael Thompson
Yves Saint Laurent sequined black cotton dress; Calvin Klein Collection cotton shirt.

Photographer: Michael Thompson
Photographer: Michael Thompson Stylist: Alex White
Calvin Klein Jeans Original's blue cotton jeans, at Macy's, Dillard' and Urban Outfitters nationwide; XT Trunk by Calvin Klein Underwear's white polyester and lycra spandex briefs, cku.com. Lynn Kiracofe tiara; Frye boots.

Photographer: Michael Thompson Stylist: Alex White
Photographer: Michael Thompson Stylist: Alex White
Photographer: Michael Thompson Stylist: Alex White
Photographer: Michael Thompson Stylist: Alex White
Photographer: Michael Thompson Stylist: Alex White
Photographer: Michael Thompson Stylist: Alex White