Why Buying Bras Should Be Emotional, and Other Shopping Tips From Lingerie Designers
The designers behind favorite lingerie labels La Perla, Agent Provocateur, Fleur du Mal, and Deborah Marquit discuss what to wear this Valentine's Day.
---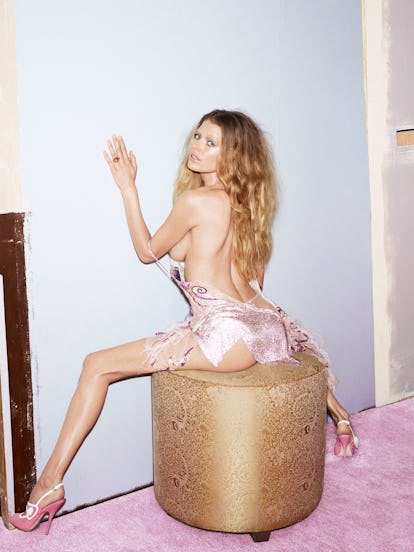 "Valentine's Day is the perfect occasion to break the rules," says Sarah Sutton, the design powerhouse who has helmed Agent Provocateur since 2010. Apparently, however, there is one rule that must never be broken. "Always shop for yourself first," Sutton explains, "I believe that the key to seduction is confidence, if you feel secure within yourself you become very attractive to others."
"Lingerie is a personal purchase," says Julia Haart, the newly appointed creative director of the Italian house La Perla, which is renowned for their chic and sexy intimates. "Don't buy lingerie for someone else."
Flame-haired designer Jennifer Zuccarini, who is behind the relatively new lingerie label, Fleur du Mal, agrees. "I think there should firstly be an emotional response when you try on the right lingerie, that feeling when you know something is working for you, and you're like, 'damn, I look good.'" she said. And Zuccarini would know –even before launching her current covetable line, she co-founded and was the creative director of Kiki de Montparnasse. Or as Deborah Marquit, the go-to designer for colored lace, says simply, "When you feel wonderful, everything is possible."
This Winter, Indulge in the Season's Hottest Lingerie
But, back to breaking rules. "Add some color," enthuses Sutton, who often turns out collections in deep reds and rich jewel tones. "Or just trying something out of your repertoire," Zuccarini adds. "If you usually wear cotton, cutesy things, maybe try something black and lacy or sheer."
It's good to get out of your comfort zone–but above all, make sure comfort comes first. "Do the face test," offers Haart. "Run the fabric of what you are considering purchasing across your cheek. Do this with both sides of the fabric. If the material does not feel good on your face, than three house after wearing it against your skin, you are going to regret it."
With just over a week to go until Valentine's Day, now is the time to shop for lingerie, and to find those special pieces –whether or not you decide to show them to others is up to you.
Why Kate Moss is Always Being Asked to Take Her Clothes Off: