Lion Babe Lights Up
The musical duo performed at the Fendi and Thierry Lasry midnight bash.
---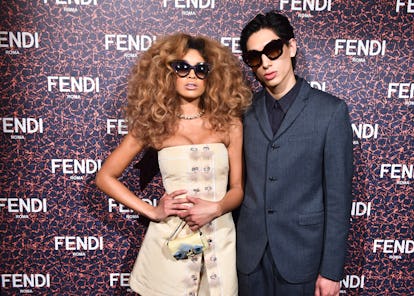 On Thursday night, Fendi's Madison Avenue boutique kept the lights on late—transforming the plush flagship into an after-hours playhouse for a young crowd of downtown tastemakers, fresh-faced models and It girls in celebration of the brand's collaboration with the Parisian eyewear company, Thierry Lasry. The well-heeled crowd gathered for a performance by Jillian Hervey and Lucas Goodman of Lion Babe, an up-and-coming, Pharrell-approved musical duo. Before their funky, soulful show, Hervey and Goodman talked to W about their new album, sources of inspiration, and more.
What is your favorite venue? Hervey: Fendi at night is kind of a dream. I love playing in New York. I hate to say it, but I love New York. It's just nice to see people you know in the audience. We love the intimate spaces where you can feel the connection in the room.
Goodman: We love opening for people of course, but I think we prefer the shows that belong to us, the ones in New York where we know the crowd. When you know that there are people that came for your music it gives you this amazing energy.
Where can you usually be found at midnight? Goodman: I guess it depends on what day it is. Usually we are in the studio working on something, or eating because we just got out. After this album—we are looking to be out more. We can't wait for it to be free in the world.
What inspires you? Hervey: It comes from everywhere. For me, I'm a dancer, so a lot of the things I draw upon come from the dance world. A lot of times, we will look at certain artists we like and think about ways we can create something that no one has done before. Lucas's sonic sound is so different and fresh. I feel like when I sing, he reinvents it.
What about the summer are you most excited about? Hervey: We are excited for everybody to be outside. I'm a summer baby. I always picture music as being on the beach. I just like music that you can listen to in your room and your car or outside. Our new album is made for that. Summer is going to be great.
Photos: Lion Babe Lights Up
Lion Babe's Jillian Hervey and Lucas Goodman. Photo by BFAnyc.com.
Fendi shades at the party
Thierry Lasry and Giovanna Battaglia. Photo by BFAnyc.com.
Lion Babe's Jillian Hervey and Lucas Goodman