Lion Babe's Jillian Hervey Does Her Own Hair
The soul singer, and daughter of Vanessa Williams, shares her beauty tips.
---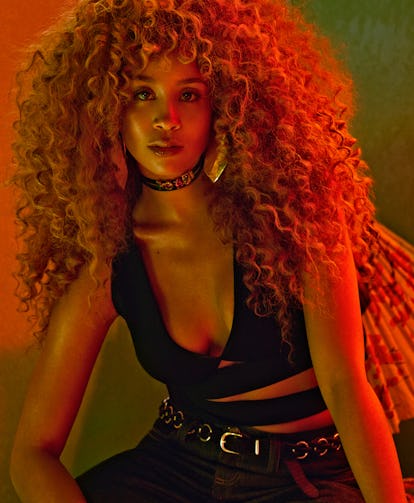 It's safe to say that there wouldn't be a Lion Babe without Jillian Hervey's mane. "It needs its own room!" jokes Lucas Goodman, the other half of the neo soul duo. So how does Hervey take care of that hair day in and day out? "It usually involves curling each individual piece and then messing it up by back combing, blow drying and teasing," she says. Read on for more hair tips—plus advice from her mom, Vanessa Williams—here.
Describe your look in three words: Authentic, vibrant and versatile.
Never leave the house without: My phone, a notebook and wallet.
Beauty from the inside out: I document my life and archive the things that are important and remind me of what my specific energy brings to the world. The best practice though is experience, life experiences, relationships and challenges they always present you with the option to be your best self.
Snack of choice: Popcorn.
Hair routine: My routines vary depending on the day but it usually involves curling each individual piece and then messing it up by back combing, blow drying and teasing. I love to use pieces to add more drama to my length and style as well.
Favorite hair products: I love Pantene's butter cream, it's soft and like a leave-in. Also love Moroccan Oil and Silicon Mix leave-in conditioner.
Favorite hair professional: Chuckie Amos, I have known him since I was a young girl and knew that when I started Lion Babe he had to be a part of it. He has such a vibrant creative spirit who loves to push boundaries and create really artistic hair. He created my mane and I love every time he gets his hands on my hair!
Beauty essentials: Rose oil, rosewater spray, coconut oil, mascara, and lip balm.
Pharmacy find: Baby wipes.
In-tub must-read: Hafiz Poetry or Marianne Williamson "A Return To Love"
Spa-cation: I wish I did that, but I hit up local Chinese massage pallors in the East Village. I did experience Armani's spa at the Armani Hotel in Milano once though and it was so serene and breath taking.
Always in your suitcase: A candle, silver platforms and fishnet tights.
Fragrance of choice: I prefer oils, my favorite scents are rose, lotus and coconut.
Dream destination: I've always wanted to go to Phuket in Thailand.
Beauty icons: Veruschka, Naomi, Josephine Baker, Debbie Harry, Chaka Khan, Brigitte Bardot.
Best advice from mom: Taking risks is a good thing.
Best advice from the pros: Say no more.
Lion Babe: Children of the 90s, Sound of the Future