Uptown Girl: Lisa Maria Falcone
She grew up in Spanish Harlem, where her single mom was on welfare. But these days Lisa Maria Falcone, 40, calls a $50 million mansion off Fifth Avenue home. And she's been raising eyebrows ever since.
---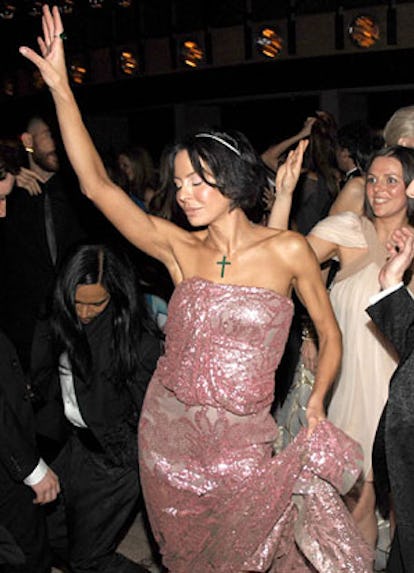 Lisa Maria Falcone's life story sounds like something out of a movie, specifically a Lifetime tearjerker with a happy ending. Raised in Spanish Harlem by an alcoholic mother on welfare, Falcone was discovered in her late teens by a Wilhelmina agent on the street and began modeling. In her early 20s she met her Prince Charming at a restaurant, married him and moved into a studio apartment, where the couple slept atop an air mattress on the floor. Before long, said prince, a former hockey player from Minnesota named Philip Falcone, started to make a little money on Wall Street. Eventually a little money turned into a lot, and then, a few years ago, Philip made a well-timed bet against the subprime mortgage market and—poof!—they were billionaires. Now the Falcones are living happily ever after with their five-year-old twins in a $50 million 27-room mansion off Fifth Avenue.
Pay a visit to that mansion, however, and it quickly becomes clear that life chez Falcone is more like a sitcom than a Cinderella remake. On a snowy day in February, Lisa Maria, whose olive green cargo pants and cardigan are neatly color coordinated with a hefty heart-shaped emerald ring, is nuzzling her pet pig, Wilbur, while a cat purrs in the corner and a veritable flock of tiny dogs yaps away behind a baby gate. "I just love animals, I can't help it!" she shouts over the delighted squeals of the pig, who is being fed a carrot by the cook. Wilbur, Falcone says, can play the piano and will perform spins if prompted with a Cheerio. "I used to walk him to the park until one day I had somebody taking a picture of me and the pig," she says. "I thought, Oh, my God! I can see it now. My husband will lose his whole business, and it will be me, the pig, five dogs, a cat and my daughters out on the street, no place to live!"
Falcone, who has been making a name for herself on the New York philanthropy scene and recently launched a film production company, Everest Entertainment, is not afraid to laugh at her over-the-top quirks. A friend of two decades, fashion designer Zaldy, says she has been known to play soccer with her daughters in Central Park decked out in a Lanvin dress and an opera-length strand of South Sea pearls. "No one would think they're real because it's too outrageous, but she doesn't care as long as it works for her," he says. "That's just Lisa. Same girl I met 20 years ago."
Falcone's lack of a Park Avenue pedigree isn't something she tries to hide. She speaks openly of her father, a busboy who never lived with her. When she was a child, the two spent their weekly visits in a bar. "Nowadays that would be a no-no, but then it was just nice guys playing dominoes," she says with a shrug. Her mother, she offers, was the type to hit first, ask questions later: "If somebody else did drugs and I just happened to have said hello to them, I got beat up."
Scenes from Mother and Child, which Falcone produced.
Falcone, who says she's press shy but agreed to sit for an interview to promote Everest's first film, Mother and Child, in theaters in May, notes that she worked hard to overcome the scars of her childhood—at times with a therapist she refers to as "my Jewish mother." Still, at 40, her early struggles continue to influence many spheres of her life, from the way she's raising her children (who sleep in her bed while she and Philip share an air mattress on the floor—"We've come full circle!" she quips) to how she spreads around her fortune. Growing up, she watched televised performances of New York City Ballet because, she says, "it helped me transcend my situation and go somewhere else." Today she sits on the company's board, and last year she chaired its spring gala.
"The experiences of her youth really affected her view of what access to culture and parks does for people who are not coming from a heavily advantaged background," says actor Edward Norton, who became close with the Falcones through their joint work raising funds for the High Line, a park atop an abandoned railroad trestle on Manhattan's West Side.
Falcone's choice of film projects, in her new role as a producer, is also dictated largely by her history. Mother and Child, directed by Rodrigo Garcia and starring Naomi Watts, Annette Bening and Kerry Washington, weaves together three stories about adoption, a subject that resonates with her. At 16, she discovered that the woman who had raised her was not her biological mother but an aunt. She has never met her birth mother and doesn't know her whereabouts.
In keeping with the movie's theme, a portion of Falcone's take from Mother and Child will go to Inwood House, a charity that assists pregnant teens. The rest will be reinvested in Everest. It's a model she plans to follow with future projects, including her next one, a Tom McCarthy film about a troubled young wrestler. "I'm not making any money out of it. I'm making zero," says Falcone, who had invested in a handful of films before forming Everest in 2008. "I'm not even getting free dresses!"
It's an unusual setup for a business but, as Falcone says, "everyone knows I don't have to work." Instead, she sees her involvement in movies as a way to both support the arts and raise awareness of issues that matter to her. By providing the necessary cash, she says, she can "keep the integrity of the film." This goal might sound naively idealistic, but according to Garcia, it was one she met in her work on Mother and Child. "She wanted to make the best movie we could. The commercial prospects never worried her," he says of Falcone, who saw dailies but let Garcia run with his vision, making only one visit to the Los Angeles set.
Falcone with her husband, Philip, at New York City Ballet's spring gala in 2007.
If Falcone's entrée into Hollywood has been fairly seamless, her adjustment to life among the grown-up Gossip Girls of the Upper East Side hasn't been quite as smooth. With her outré wardrobe—to a ballet benefit in December, for instance, she wore a canary yellow velvet micro-minidress with matching spike-heeled booties—Falcone is never going to blend into the background. And she's not the type to hold back when she has something to say, either. Recently she wanted to get advice from Caroline Kennedy, a public education advocate, about an adopt-a-school idea, so, she says, "I met her through a friend and, being Puerto Rican, I was just like, 'Hey! I have this great idea, and I'd love to talk to you about it!'" Kennedy agreed, and, says Falcone, "I was so intimidated, I must have canceled three times. But I met with her yesterday, and she is the most normal person."
Last June Falcone raised more than a few well-shaped eyebrows when, at a gala for Friends of the High Line, she commandeered the mic in the midst of founder Joshua David's speech to announce that she and Philip were making a $10 million donation. Yet another round of sniping was set off when she hosted a ritzy birthday party for her daughters at a time when most affluent New Yorkers were at least making an attempt to consume less conspicuously. Falcone defends the fete by pointing out that she entertains only twice a year and that it was, after all, a party for two children. "I could throw two normal parties, and it would be the same," she insists. "And I have great friends that helped me put it together, so it's really not as expensive as it seems."
In terms of the High Line, she says she made the dramatic donation with a higher purpose in mind. "We usually give money anonymously—we don't want to get hounded every second," she says. "We only did that for the High Line because everybody kept saying that people who were giving were doing it because they have real estate in the area. That was my way of saying, 'No, that's not true. You can live uptown and still care about building New York.'" According to David, her grand gesture had its intended effect. "Lisa stepping forward has absolutely catalyzed a lot of other support for us," he says.
But while Falcone is happy to explain her supposed gaffes, she's not about to make herself over in the image of Tory Burch just to please her critics. Prominence in Park Avenue circles, she insists, is not her goal. "If I was a socialite seeker, I'd have my own reality show," she says. "I'd pay for it myself!"
Instead, she's happier spending time with friends like celebrity dermatologist Fredric Brandt and hanging out at home. "I don't go out," she says, "although people think that I'm out every night." And with a home like hers, who could blame her? "God's been good to us," she admits, with a glance around her plush cream-colored sitting room. "But you can't take it with you. He's loaned us a lot of props."
Photo: WWD