Come to Carmel
Lisa Moore, the designer behind swimwear label Cover, reveals the source of her inspiration.
---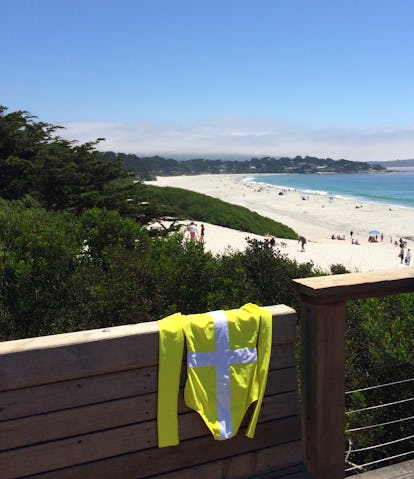 What is your favorite beach? Carmel, California. We take our kids and stay with my parents for at least a month every summer. The weather is cool and crisp, and succulents cover the ground and cypress trees line the beach. We love to be active there and spend time together as a family—walking to dinner, hiking, playing tennis, golf and water sports. Our happiest memories are made in Carmel, for sure.
What is your insider secret? Go to Point Lobos for the best hiking.
What do you always bring to the beach? My kids, of course. And my Sea Bags sailcloth beach bag loaded with my huge Art Production Fund artist-designed beach towels, fashion magazines, Elta UV Clear 47 sunscreen, snacks like blueberries and almonds—and a Cover swim T-shirt. If we're doing a bonfire, I add wine and music! I usually wear Marni, Chloe or Loeffler Randall sandals, and a Rosie Assoulin straw hat is at the top of my wishlist.
How does Carmel inspire your work? I wear Cover every day in Carmel—while walking on the beach to riding horses to swimming at the beach club. Cover keeps my skin protected in a chic and easy way. My active beach lifestyle influences my designs.
Lisa Moore with her family. Courtesy of the designer.
Courtesy of the designer.
Courtesy of the designer.
Courtesy of the designer.
Courtesy of the designer.