School of Rock
The music writer Lisa Robinson toured with the Rolling Stones and introduced David Bowie to Lou Reed. Listen in.
---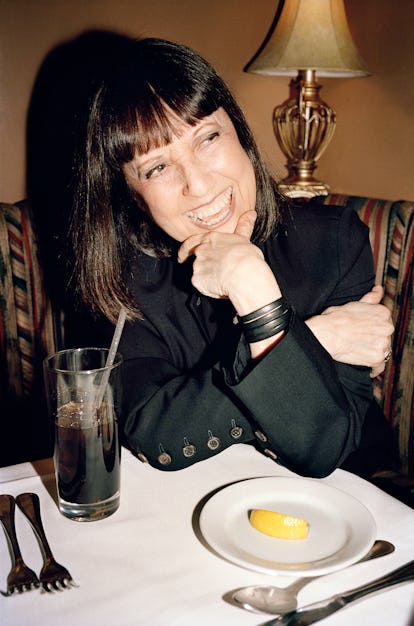 Photographer: Graeme Mitchell
"There really is no reason to have women on tour, unless they've got a job to do," Mick Jagger once remarked in an interview. "The only reason is to fuck. Otherwise they get bored; they just sit around and moan." The year was 1975, and the journalist Jagger was addressing was Lisa Robinson, a young music writer who would be joining the Rolling Stones on their Tour of the Americas. "Was I offended?" Robinson recalls with a laugh. "Never! Because in my mind, he wasn't talking about me. Almost every girl who walked into those rooms was a groupie, but I was there because I had a job to do."
In the age of Twitter, fans have direct access to Kanye West's unfiltered mutterings and Katy Perry's off-the-cuff chitchat. But not so long ago, those wanting to hang with, say, John Lennon in the kitchen of his New York apartment, had to rely on Robinson's well-tuned ear. In the '70s, when she proved she could tour with the hard-partying Led Zeppelin and the Stones and file juicy behind-the-scenes stories without pissing anybody off—or, as she contends, having to sleep with anybody—the New York native established herself as music journalism's ultimate insider. Robinson was the cool girl who introduced David Bowie to Lou Reed and shielded Patti Smith on the side of a Central Park stage so she could pee. She helped the Clash and Elvis Costello get their first record deals ("Never got a thank-you," she notes tartly) and even lent Jagger a pair of her best lace underwear for a show in Toronto because his pants were too sheer.
Her memoir, There Goes Gravity: A Life in Rock and Roll * (Riverhead, out April 22), recounts four decades of such tales. Raised on the Upper West Side, Robinson was 12 when she began sneaking off to jazz clubs. Though she'd studied political science in college, she went to work in 1969 for the music writer and radio host Richard Robinson, whom she ended up marrying. Her first published work was a newsletter filled with industry gossip that she printed herself and distributed in the mail. Soon after, she had her own column in Disc and Music Echo, a music magazine; then, in 1973, came the offer to go on tour with Led Zeppelin. She wrote for Creem, New Musical Express, and the New York Post and, together with Patti Smith, the musician Lenny Kaye, and her husband, edited Rock Scene—a tongue-in-cheek news-and-photo-packed fanzine that was the Us Weekly of the CBGB set. "She was the media godmother of New York City punk and a pioneering woman in rock journalism's sausage-fest," says the Rolling Stone* critic Will Hermes.
The photographer Bob Gruen, who regularly shot for Rock Scene, credits Robinson with "seeing what was next." The Sex Pistols and the Clash, he points out, both made their first U.S. appearance in the pages of Rock Scene. "It was Lisa who sent me to photograph the Ramones," Gruen says. "Another time, she told me to go see a band called the Stilettos. She said, 'Debbie Harry is beautiful, and she's going to be a star.' "
Gone are the days when Robinson wore tube tops and flared jeans and chilled out with Joey Ramone. Seated at a table in her favorite Upper East Side restaurant, she is dressed in all-black Kenzo and Prada, her once wild hair tamed to an ultra-sleek bob. She doesn't go to many concerts anymore—Jay Z at Brooklyn's Barclay Center in January was the exception—but continues to keep rock 'n' roll hours, rarely going to bed before 5 a.m. or rising before noon.
In There Goes Gravity, she shows us the cocky Jagger the world knows well—but also the insecure Mick who cares deeply about his reviews and won't share his costume ideas with Bowie. Michael Jackson, whom Robinson first met when he was 14 at his family's home in Encino, California, used two distinct voices, she says—a "high, whispery" one for public appearances and a "normal, forceful" voice when speaking to record executives. While getting her scoops, Robinson also played a protective role. "When Elton John did not want to be outed, I respected that," she says. "I always believed, and still believe, that people have a right to a private life."
As a woman in the rock world, Robinson understood from the start that she could never slip. "It was a boys' club then, and it still is," she says. Yet she had something most of the boys didn't: unwavering confidence. "Some of those rockers, like Robert Plant, were a bunch of hicks, from farms and stuff. I was a sophisticated New York girl, so I always felt cooler than them. We were on the same level—they were just rich and famous."
Lisa Robinson in New York.

Photographer: Graeme Mitchell
Robinson with Lou Reed, New York, 1976. Photograph courtesy of Bob Gruen.
Robinson with the Ramones and their manager Danny Fields, Paris, late '70s. Photograph courtesy of Robert Robinson.
Robinson with Robert Plant, New York, 1976. Photograph courtesy of Bob Gruen.