At 23, Little Simz Already Has the Blessings of Lauryn Hill and Kendrick Lamar
Before her show at Webster Hall, Little Simz opened up about her chill approach to fashion and the music industry, plus her love of Luke Cage and The Crown.
---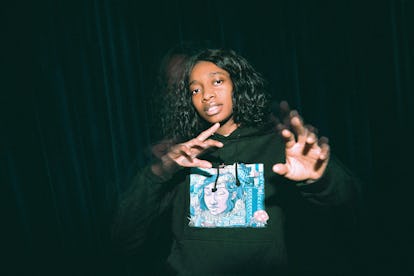 The 23-year-old London rapper Little Simz possesses many talents that most her age lack, the most obvious being a successful musical career and the least obvious being a zen-like patience when it comes to chasing fame.
"I'm 23 and I've got a minute," Simz said backstage before her show at Webster Hall in New York City on Saturday night. She sat cross-legged in Adidas sweatpants, Nike sneakers, no makeup and a nose ring—her usual getup on and off stage. But despite her casual attitude, she's anything but lazy. Since dropping her first mixtape in 2010 from her teenage bedroom, Simz has independently released eight others and two full-length albums—a total of eleven with Stillness in Wonderland being the most recent. She's also collaborated with Kehlani and opened for Lauryn Hill's tour. Plus, Kendrick Lamar declared on BBC Radio 1 that she "might be the illest doing it right now."
When you listen to any one of Simz's songs, you'll realize that not only is she putting out a high volume of work (not to mention all on her own), but also that she's writing like mad—packing each track with fast-paced verses that reflect her mantra. "Good things come to the people that wait and I waited," she raps on "Wings."
Simz was in the studio working on her 21st birthday, so it's safe to say she doesn't have much time for average twentysomething shenanigans. But she's still as down-to-earth as ever, and had a lot to say about Luke Cage and The Crown before heading down to Austin for South by Southwest.
Do you remember when you first met Lauryn Hill?
We first met in Berkeley, where I played a show with her. It was wild, as you can imagine. She was really lovely and down-to-earth. I've idolized her for as long as I can remember. Anyone who knows me knows that she's one of my biggest inspirations. To have the opportunity to tour with her was…insane. Her fierceness inspires me and her ability to be more than one thing; she's able to act, sing, play instruments, rap, give talks at universities. She's a well-rounded human being who's good at everything.
What were you like as a kid?
I've always been the kid who's known what they wanted to do. I can't imagine doing anything else. I've always been very driven, but at the same time I also minded my own business. I wasn't into drama.
What were some of the first CDs you bought?
Obviously, Lauryn Hill. Missy Elliott. Ludacris. Busta Rhymes. Bob Marley. Jay Z. Aaliyah.
Were you always writing songs growing up?
Yes, I've always loved the English language. I just like words, you know. If not raps, I was always writing poems and ideas.
Do you remember any texts that changed the game for you when you were younger?
There was one poem that really inspired me called, "Search for My Tongue" [by Sujata Bhatt]. It was about a woman who was struggling with identity. She was raised somewhere in India and now she was coming to the Western world and she's lost a sense of who she is. I wasn't even aware of how deep it was at the time, I just liked the way she used words.
Your most recent album, Stillness is Wonderland is a reference to Alice in Wonderland.
Yeah, the reason I decided to go with that as a concept is because I felt like my reality and Alice's had agreeable symmetry; there are parallels in both our stories. I'm a fan of concept albums and this one felt fun and also visual. I want the listener to play the album and imagine themselves immersed in Wonderland. You can see things jumping out at you.
What does the Little Simz Wonderland look like?
It's a lot! A lot of people aren't ready for it, I'll tell you that. My Wonderland is not a physical place. It's more of a mental thing; escapism. I consider myself very introverted, and it's almost like a social experiment. Like, what happens when you take someone with those traits and place them in a Wonderland?
I like to imagine you as Alice trying to navigate the music industry and fame, too.
It's not the easiest thing, but I knew what I was getting myself into. I think I'm fortunate that when it gets hard, I have people that tell me, "Don't let these doubts overcome you. We're not doing that. You work too hard for this not to amount to anything." It's a blessing to have people in my ear like that. But also, I'm cool!I don't have it all figured out and I'm not out here trying to pretend like I do. My mom raised me to be a strong person.
What do you like to do for fun?
I'm chillin' at home. I'm good. I don't need to move from my couch when I'm home. I'm watching two series right now: Luke Cage and The Crown. With The Crown, I feel like the actors are actually them. I'm from London, and the image of the royal family is just from the balcony where they wave at everyone. It's cool to know what's going on behind closed doors.
How would you describe your style and what influences you?
Growing up, I didn't have money like that, so I was always thrifting at vintage stores. I don't dress to impress; I've never been that person. I think there's enough cleavage and body parts shown—I'm not coming to enter that. Not all girls are like that. Some girls just want to wear sweats and trainers all day. I'm representing for that type of girl.
You started a clothing brand with your friends called Space Age wear. What's the story behind the name?
We've just always felt like we're not earthlings. Every time we've sat down and had conversations, we just question a lot. It parcels off into our music in terms of what we talk about and our sound.
Where's your head at right now?
I feel so full because I haven't written, I've just lived. I've seen so much that I can't wait to talk about, like on the road and in my personal life. I'm not just trying to tweet. My music is very personal; I don't know how to not talk about what I'm going through.
What are your goals for 2018?
I want to make a really dope third album. I would like my message to be heard by more people. But in time. I'm not in a rush. People catch on to things at different times. I'm patient with this. I've been patient with this. I understand that I'm not an overnight success. I'm aware that it's going to take a minute, but it's cool. I just want to continue to do what I love.
This interview has been edited and condensed.
Inside the Street Style of South by Southwest 2017
Music lovers, film buffs and industry insiders at 2017 South by Southwest music, film and interactive festival, displayed colorful styles in the streets of Austin, Texas.

Photo by Matt Lief Anderson
Music lovers, film buffs and industry insiders at 2017 South by Southwest music, film and interactive festival, displayed colorful styles in the streets of Austin, Texas.

Photo by Matt Lief Anderson
Music lovers, film buffs and industry insiders at 2017 South by Southwest music, film and interactive festival, displayed colorful styles in the streets of Austin, Texas.

Photo by Matt Lief Anderson
Music lovers, film buffs and industry insiders at 2017 South by Southwest music, film and interactive festival, displayed colorful styles in the streets of Austin, Texas.

Photo by Matt Lief Anderson
Music lovers, film buffs and industry insiders at 2017 South by Southwest music, film and interactive festival, displayed colorful styles in the streets of Austin, Texas.

Photo by Matt Lief Anderson
Music lovers, film buffs and industry insiders at 2017 South by Southwest music, film and interactive festival, displayed colorful styles in the streets of Austin, Texas.

Photo by Matt Lief Anderson
Music lovers, film buffs and industry insiders at 2017 South by Southwest music, film and interactive festival, displayed colorful styles in the streets of Austin, Texas.

Photo by Matt Lief Anderson
Music lovers, film buffs and industry insiders at 2017 South by Southwest music, film and interactive festival, displayed colorful styles in the streets of Austin, Texas.

Photo by Matt Lief Anderson
Music lovers, film buffs and industry insiders at 2017 South by Southwest music, film and interactive festival, displayed colorful styles in the streets of Austin, Texas.

Photo by Matt Lief Anderson
Music lovers, film buffs and industry insiders at 2017 South by Southwest music, film and interactive festival, displayed colorful styles in the streets of Austin, Texas.

Photo by Matt Lief Anderson
Music lovers, film buffs and industry insiders at 2017 South by Southwest music, film and interactive festival, displayed colorful styles in the streets of Austin, Texas.

Photo by Matt Lief Anderson
Music lovers, film buffs and industry insiders at 2017 South by Southwest music, film and interactive festival, displayed colorful styles in the streets of Austin, Texas.

Photo by Matt Lief Anderson
Music lovers, film buffs and industry insiders at 2017 South by Southwest music, film and interactive festival, displayed colorful styles in the streets of Austin, Texas.

Photo by Matt Lief Anderson
Music lovers, film buffs and industry insiders at 2017 South by Southwest music, film and interactive festival, displayed colorful styles in the streets of Austin, Texas.

Photo by Matt Lief Anderson
Music lovers, film buffs and industry insiders at 2017 South by Southwest music, film and interactive festival, displayed colorful styles in the streets of Austin, Texas.

Photo by Matt Lief Anderson
Music lovers, film buffs and industry insiders at 2017 South by Southwest music, film and interactive festival, displayed colorful styles in the streets of Austin, Texas.

Photo by Matt Lief Anderson
Music lovers, film buffs and industry insiders at 2017 South by Southwest music, film and interactive festival, displayed colorful styles in the streets of Austin, Texas.

Photo by Matt Lief Anderson
Music lovers, film buffs and industry insiders at 2017 South by Southwest music, film and interactive festival, displayed colorful styles in the streets of Austin, Texas.

Photo by Matt Lief Anderson
Music lovers, film buffs and industry insiders at 2017 South by Southwest music, film and interactive festival, displayed colorful styles in the streets of Austin, Texas.

Photo by Matt Lief Anderson
Music lovers, film buffs and industry insiders at 2017 South by Southwest music, film and interactive festival, displayed colorful styles in the streets of Austin, Texas.

Photo by Matt Lief Anderson
Music lovers, film buffs and industry insiders at 2017 South by Southwest music, film and interactive festival, displayed colorful styles in the streets of Austin, Texas.

Photo by Matt Lief Anderson
Music lovers, film buffs and industry insiders at 2017 South by Southwest music, film and interactive festival, displayed colorful styles in the streets of Austin, Texas.

Photo by Matt Lief Anderson
Music lovers, film buffs and industry insiders at 2017 South by Southwest music, film and interactive festival, displayed colorful styles in the streets of Austin, Texas.

Photo by Matt Lief Anderson
Music lovers, film buffs and industry insiders at 2017 South by Southwest music, film and interactive festival, displayed colorful styles in the streets of Austin, Texas.

Photo by Matt Lief Anderson
Music lovers, film buffs and industry insiders at 2017 South by Southwest music, film and interactive festival, displayed colorful styles in the streets of Austin, Texas.

Photo by Matt Lief Anderson
Music lovers, film buffs and industry insiders at 2017 South by Southwest music, film and interactive festival, displayed colorful styles in the streets of Austin, Texas.

Photo by Matt Lief Anderson
Music lovers, film buffs and industry insiders at 2017 South by Southwest music, film and interactive festival, displayed colorful styles in the streets of Austin, Texas.

Photo by Matt Lief Anderson
Music lovers, film buffs and industry insiders at 2017 South by Southwest music, film and interactive festival, displayed colorful styles in the streets of Austin, Texas.

Photo by Matt Lief Anderson
Music lovers, film buffs and industry insiders at 2017 South by Southwest music, film and interactive festival, displayed colorful styles in the streets of Austin, Texas.

Photo by Matt Lief Anderson
Music lovers, film buffs and industry insiders at 2017 South by Southwest music, film and interactive festival, displayed colorful styles in the streets of Austin, Texas.

Photo by Matt Lief Anderson
Mahershala Ali Spent His Best Birthday Stranded with Video Games at Circus Circus