Little Women Miniseries Debuts First Trailer
Starring Angela Lansbury as Aunt March and Emily Watson as Marmee.
---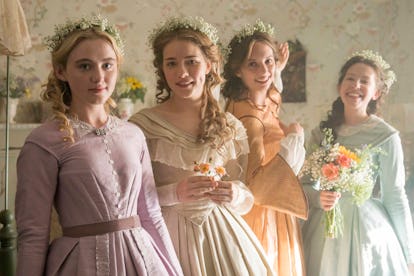 MASTERPIECE on PBS/BBC/Playground
Two years ago, the CW announced it was making a dark, gritty, sexy reboot of the most unlikely intellectual property yet: Louisa May Alcott's Little Women. As reported by Deadline, the series would drop now-half-sisters Meg, Jo, Beth, and Amy in a post-apocalyptic Philadelphia, where they would try to uncover a widespread conspiracy while trying not to murder one another.
The trailer you're about to see is not for this series. Unfortunately, we'll never get to see this alternative version of Little Women, as it was killed by the CW last year because "the script just couldn't get there." Instead, this trailer is for PBS's decidedly dystopia-free miniseries remake of Little Women, airing next spring. Starring Angela Lansbury as Aunt March and Emily Watson as Marmee, the Masterpiece adaptation of Little Women is a lot closer in tone and accuracy to the '90s movie with Winona Ryder and Christian Bale.
The first trailer, which dropped on Monday, is only 30 seconds long and offers just a glimpse into what Masterpiece viewers can expect come May 13 and 20, 2018. It begins with Aunt March declaring, "Four small children is a recipe for heartache, headache, and indigestion" as the March sisters lob snowballs at one another. We get a first look at a rather dapper-looking Laurie (Jonah Hauer-King), Meg (Willa Fitzgerald) having the time of her life at Annie Moffat's ball, and Jo (Maya Thurman-Hawke, who, yes, is the daughter of Uma Thurman and Ethan Hawke) angsting about not having been born a boy. There's not much of Beth (Annes Elwy) or Amy (Big Little Lies' Kathryn Newton), but it seems like they'll get just as faithful of a treatment as their sisters.
This isn't the only Little Women adaptation coming next year. According to Deadline, there's a movie version in the works at ABC that puts the March sisters in modern times. Who knows, Little Women might be getting the Riverdale treatment after all.
Related: Uma Thurman and Ethan Hawke's Daughter, Maya Thurman-Hawke, Becomes a Model