Liv Tyler Swears by Tokyo's Supreme Store, and Other Japanese Travel Tips
The actress, currently on HBO's The Leftovers, has a few tips for vacationing in Tokyo.
---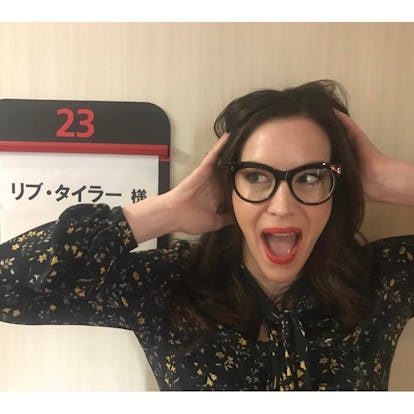 It's a fair estimate that Liv Tyler has racked up plenty of frequent flyer miles over the years. Just look at her Instagram: she's in London one day, New York City the next. Recently, Tyler embarked on a far away journey, even by her standards, heading to Japan for the opening of Belstaff's flagship store in Tokyo. "It's one of my favorite places to visit," said Tyler, who acts as a global ambassador for the brand and designed a capsule collection for Spring/Summer 2016, available in stores and online now. "It's different every time depending on who you are with." Here, the actress, who currently stars in the final season of HBO's The Leftovers, shares her best tips for visiting the city.
When was the first time you went to Tokyo?
The first time I ever went to Tokyo was when I was 19 to film a Japanese hair commercial for Lux Styling.I was a New York City girl, but Tokyo really blew my mind. I have been back many times throughout the years for different films. Each time was its own amazing adventure. The most memorable was for Armageddon with Ben Affleck and Bruce Willis. Ben and I went to Kiddy Land Toy Store together for the first time, and I bought the whole store. The Lord of the Rings was so fun, too, with all of the hobbits and the boys. Also, with Edward Norton and the Incredible Hulk; Edward speaks Japanese and took us all to these amazing traditional restaurants.
What i it about Tokyo that you love?
I just love the Japanese culture. Everything they do and make is with so much love and detail. Tokyo is so alive and bright and has such incredible history, food and shopping all crammed into one.
What makes Tokyo different than any other destination?
They have very clean bathrooms with heated toilet seats everywhere, even in public toilets. Love that! Wish the whole world could take a leaf out of their book. And I just love the taxi cabs. The drivers wear white gloves and there are little white, lace seat covers.
Where are your must-visits when visiting Tokyo?
The new Aman resort has the most beautiful, huge pool, and my favorite cocktail I have ever had, called a sakura-yuzi martini with cherry blossom and yuzu. They also have a gorgeous spa and big Japanese baths with the best smelling Japanese cyprus bath salts. I always try to get traditional children's kimonos for my babies—their cotton little shorts and tops are so cute. The oriental bazaar is great for all of those traditional bits.
I love going to Supreme. Even though they have one in New York too, the Tokyo one just feels super cool. Sensory Temple in Asakusa is a great experience. A market with street food and a beautiful old temple.
Kiddy Land for Japanese toys. This time I discovered the Tsutaya book store through Belstaff, who have exhibition there about all the films they've outfitted called 'Hollywood Rebels' (including Outlaws with David Beckham, which I executive produced, and Falling Up, which I starred in). The store is filled with old books, vintage magazines and even a bar. I got a mini-sized book of Cowboy Kate that I'm so excited about.
Jojakko-ji Temple to see the most beautiful gardens and temples and to leave a wood prayer where you write a message on a small piece of wood and it gets hung on a small tree along with everyone else's prayers.
What is the best restaurant in Tokyo?
There are so many. It would be impossible to decide. I like to pick a food and ask people you trust for their favorite place, like the best noodle shop. Something I love is a simple food you make together on a grill called Okonomiyaki. A very good Kobe beef restaurant is a real luxury.
What is the best thing you've eaten when in Tokyo?
Homemade still warm, Japanese rice crackers.
What have you purchased while in Tokyo?
I obviously did a bit of shopping at Ginza 6, besides lots of Belstaff bits for myself, my family and my team, I came back with two new Tumi suitcases filled with toys and clothes for my children. I had to curb myself at Ginza 6 as it was filled with every designer and conceivable thing —even a Yayoi Kusama pop-up and installation. It was dangerous Oh, and not to mention the L.E.D. waterfall flowing down through the mall floors!
What should people know before traveling to Tokyo?
Be prepared to be very jet-lagged. It's the opposite time. You feel totally turned upside down, but that kind of adds to the trippy colorful experience.
What do you do when traveling on a long flight?
Try to catch up on sleep as much as possible, which is a great luxury for a mother of three.
What was the last movie you watched on a plane?
I watched two documentaries on the flight I just took to Tokyo. One about The Beatles called Eight Days a Week directed by Ron Howard that was brilliant! I loved it and felt I was right there with them and never wanted it to end.
The other film about Sergei Polunin called The Dancer that just blew my mind. I was so in love with him and impressed and it made me cry. He is beautiful and talented, but I really related to his inner torment of being a young child entertainer and needing to discover who you truly are on your own.
Do you have any beauty rituals for a long flight?
Yes, I always bring a good face oil. Wash my face with a hot towel and moisturize and try to drink lots of water and not too much red wine, but usually I just enjoy wine and sleep and watch movies.
What is your go-to travel uniform for a long flight?
Olatz silk pajamas in a gorgeous color. They are the best!
Watch W's top videos, here:
All the Fantastically Unconventional Street Style from Tokyo Fashion Week
All of Tokyo's best street style looks during Tokyo Fashion Week SS '17. Photo by Keisei Arai.

Photo by Keisei Arai at droptokyo.com
All of Tokyo's best street style looks during Tokyo Fashion Week SS '17. Photo by Keisei Arai.

Photo by Keisei Arai at droptokyo.com
All of Tokyo's best street style looks during Tokyo Fashion Week SS '17. Photo by Keisei Arai.

Photo by Keisei Arai at droptokyo.com
All of Tokyo's best street style looks during Tokyo Fashion Week SS '17. Photo by Keisei Arai.

Photo by Keisei Arai at droptokyo.com
All of Tokyo's best street style looks during Tokyo Fashion Week SS '17. Photo by Keisei Arai.

Photo by Keisei Arai at droptokyo.com
All of Tokyo's best street style looks during Tokyo Fashion Week SS '17. Photo by Keisei Arai.

Photo by Keisei Arai at droptokyo.com
All of Tokyo's best street style looks during Tokyo Fashion Week SS '17. Photo by Keisei Arai.

Photo by Keisei Arai at droptokyo.com
All of Tokyo's best street style looks during Tokyo Fashion Week SS '17. Photo by Keisei Arai.

Photo by Keisei Arai at droptokyo.com
All of Tokyo's best street style looks during Tokyo Fashion Week SS '17. Photo by Keisei Arai.

Photo by Keisei Arai at droptokyo.com
All of Tokyo's best street style looks during Tokyo Fashion Week SS '17. Photo by Keisei Arai.

Photo by Keisei Arai at droptokyo.com
All of Tokyo's best street style looks during Tokyo Fashion Week SS '17. Photo by Keisei Arai.

Photo by Keisei Arai at droptokyo.com
All of Tokyo's best street style looks during Tokyo Fashion Week SS '17. Photo by Keisei Arai.

Photo by Keisei Arai at droptokyo.com
All of Tokyo's best street style looks during Tokyo Fashion Week SS '17. Photo by Keisei Arai.

Photo by Keisei Arai at droptokyo.com
All of Tokyo's best street style looks during Tokyo Fashion Week SS '17. Photo by Keisei Arai.

Photo by Keisei Arai at droptokyo.com
All of Tokyo's best street style looks during Tokyo Fashion Week SS '17. Photo by Keisei Arai.

Photo by Keisei Arai at droptokyo.com
All of Tokyo's best street style looks during Tokyo Fashion Week SS '17. Photo by Keisei Arai.

Photo by Keisei Arai at droptokyo.com
All of Tokyo's best street style looks during Tokyo Fashion Week SS '17. Photo by Keisei Arai.

Photo by Keisei Arai at droptokyo.com
All of Tokyo's best street style looks during Tokyo Fashion Week SS '17. Photo by Keisei Arai.

Photo by Keisei Arai at droptokyo.com
All of Tokyo's best street style looks during Tokyo Fashion Week SS '17. Photo by Keisei Arai.

Photo by Keisei Arai at droptokyo.com
All of Tokyo's best street style looks during Tokyo Fashion Week SS '17. Photo by Keisei Arai.

Photo by Keisei Arai at droptokyo.com
All of Tokyo's best street style looks during Tokyo Fashion Week SS '17. Photo by Keisei Arai.

Photo by Keisei Arai at droptokyo.com
All of Tokyo's best street style looks during Tokyo Fashion Week SS '17. Photo by Keisei Arai.

Photo by Keisei Arai at droptokyo.com
All of Tokyo's best street style looks during Tokyo Fashion Week SS '17. Photo by Keisei Arai.

Photo by Keisei Arai at droptokyo.com
All of Tokyo's best street style looks during Tokyo Fashion Week SS '17. Photo by Keisei Arai.

Photo by Keisei Arai at droptokyo.com
All of Tokyo's best street style looks during Tokyo Fashion Week SS '17. Photo by Keisei Arai.

Photo by Keisei Arai at droptokyo.com
All of Tokyo's best street style looks during Tokyo Fashion Week SS '17. Photo by Keisei Arai.

Photo by Keisei Arai at droptokyo.com
All of Tokyo's best street style looks during Tokyo Fashion Week SS '17. Photo by Keisei Arai.

Photo by Keisei Arai at droptokyo.com
All of Tokyo's best street style looks during Tokyo Fashion Week SS '17. Photo by Keisei Arai.

Photo by Keisei Arai at droptokyo.com
Photo by Keisei Arai at droptokyo.com
Photo by Keisei Arai at droptokyo.com