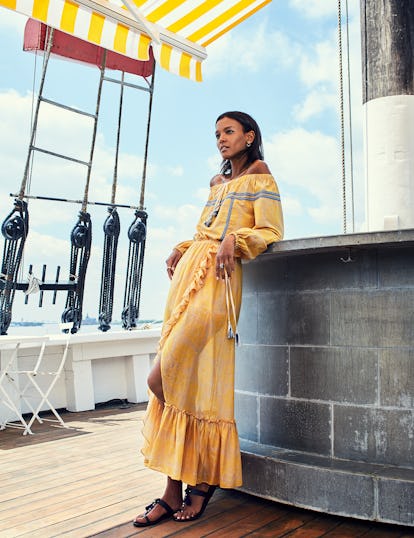 styled by Caroline Grosso. Visual Editor: Biel Parklee. Hair by Kenna at Art Department, makeup by Serge Hodonou for Tom Ford Beauty at Frank Reps. Lighting Technician: Zane Shaffer. Digital Technician: Tadaaki Shibuya. Production Assistant: Alex Hodor-Lee. Special thanks to Grand Banks.
It's a sunny morning in May, and Liya Kebede is perched on a concrete ledge on the Manhattan waterfront. We are right next to Grand Banks, the ever-popular boat-turned-bar that has over the years become the go-to spot for finance guys and downtown girls alike to grab a lazy Sunday drink. But we are not here to talk rose or debate the merits of Navy Point versus Montauk oysters. Quite the opposite, in fact.
"One of the number one killers of women still today is pregnancy and childbirth complications," Kebede begins, emphatically. "These are all things that are all things that are ninety percent preventable and treatable because really they are dying from things that are very simple, and they are dying because they don't have access to any kind of basic medical care or trained nurse or caregiver, really.
Maybe they live really far away, or there is nothing close to them, and by the time they decide they need to get to the hospital, they are in delivery mode. It's all of those things that endanger a mom during those very dangerous moments in life."
Kebede is describing the impetus behind her non-profit organization, the Lemlem Foundation, formerly known as the LK Foundation, which the model founded in 2005 in an effort to help the fight to combat maternal mortality, after years of working as a WHO Goodwill Ambassador.
"We wanted to focus on raising awareness of the issue because it was an issue that had been going on for so long, but not really getting the attention it deserved," said Kebede, who herself is a mother of two. "There was a lot of work to be done around that and letting people know so that it becomes part of the agenda for governments and international donors."
The organization works to help women in African artisan communities—including Ethiopia, where Kebede was born—by promoting access to healthcare and economic opportunities, also working in tandem with leading African non-profit Amref Health Africa.
"They have a goal of training thousands of midwives, which we want to be a part of, so we're helping them with that," Kebede explained. This year, the organization has also launched a new investment to train women artisans and entrepreneurs in technical, business and leadership skills to improve their opportunities within Africa's growing fashion industry.
It only makes sense, then, that working in tandem with the foundation is Lemlem, Kebede's clothing company now entering it's 10th year. Like the foundation itself, the brand came from Kebede's own personal experiences and desire to make a positive change.
"It was really one of those right place, right time, where there was a solution to the problem I was looking at," she said. "I was walking around the city in Ethiopia, and visited all of these incredible weavers who were really struggling to find work or a market for their goods because of Westernization and fast fashion.. I just thought this was a feel-good way of creating a market for them, improving their skill, and bringing a new product to the marketplace for the consumer that has a story and more of a 360 product that is also changing the lives of people and has a lot more levels, and at the same time just something that you really love and are attracted to."
All of Lemlem's offerings, which now include clothing, shoes, accessories, and home goods, are hand-made by artisan studios in Africa, with a focus on expanding production and job opportunities across the continent, as well as keeping the craft of traditional weaving alive. The brand is the foundation's cornerstone donor, providing five percent of all direct sales and proceeds from special collaborations.
What's more, for Mother's Day, the brand has created special tote bags featuring signature handwoven striped fabric accents, currently available for $20 on lemlem.com, with all proceeds going directly to the foundation.
As for Kebede's own Mother's Day plans? "Usually the kids just make me breakfast, which I think is kind of perfect." She pauses. "In bed. Can't forget that part."
Related: Lion Babe's Jillian Hervey Has Made Her Mom Vanessa Williams' Silver Sequined Leotard Her Own
Behind the Scenes With Joan Smalls and Liya Kebede
Working on the weekend with Joan Smalls and Liya Kebede. Photo by Edward Enninful.
Joan Smalls has legs for days. Photo by Edward Enninful.
Last night in Costa Rica with Joan Smalls. Photo by Edward Enninful.
Heading back to the mainland with Liya Kebede. Photo by Edward Enninful.
A small plane with Joan Smalls. Photo by Edward Enninful.
Liya Kebede, Hannah Murray, and the assistants taking a coconut water break in between shots. Photo by Lacey Lennon.
Mikael Jansson, Edward Enninful, and the team having a look at the first few shots of Joan Smalls. Photo by Lacey Lennon.
Edward Enninful and Malcolm Edwards examine an image of Liya Kebede posing in the tree. Photo by Lacey Lennon.