Model Citizen: Liza Golden
W's Bookings Director talks to her favorite new faces.
---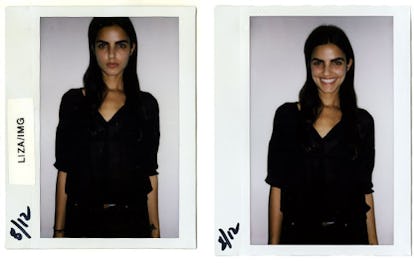 W's Bookings Director talks to her favorite new faces.
Age: 21 Hometown: New Jersey
How did you start modeling? I always had an interest in the fashion industry, but my family encouraged me to go to school. I went to school for nursing. But, my curiosity got the best of me and I opened a models.com account. I modeled in Asia for a bit. Then I got serious and I signed with IMG.
What do you like to do when not modeling? I love to cook! I try to cook all my meals when possible — my favorite is breaded chicken cutlets with potatoes. I know it sounds basic but I add a special secret ingredient that makes all the difference. I can't tell you what it is.
What do you do in your downtime? Hanging out at home with my dogs.
What are you doing today? My first W shoot! It's all so exciting!
What are you doing after the shoot? Castings and fittings. And, I have to rush home to get my dogs out for a walk.
Favorite destinations? I grew up in New Jersey so I went to the Jersey Shore every summer.I also love the Bahamas, Maldives, Mauritius and Goa. Water, sand and sun make me happy.
Who are your favorite designers? I can't say just one. I dress according to my mood like most people I guess. But, if I have to name names: Prabal Gurung, Givenchy, Balenciaga, Celine are just some of them.
Guilty pleasures? Cheese! I'm overly indulgent. I can't even buy it.
Favorite photographers? I would like to shoot with as many photographers as possible. Steven Meisel, Steven Klein, Peter Lindbergh, Ines van Lamsweerde & Vinoodh Matadin. Any would be a dream. I'm thrilled to be working with Emma Summerton for today's shoot.
What or who inspires you? Seeing people beat the odds.
Anything special you're doing to prepare for fashion week? Working out with my new trainer (David Kirsch) three to four times a week. I follow his super healthy diet. I make sure to take care of my skin with moisturizers for face and eyes in the am and pm. And, I drink five liters of water a day.
Plans for the week? Rock out my first fashion week ever.