Lizzy Caplan Married Tom Riley This Weekend in Italy
See photos from the intimate event.
---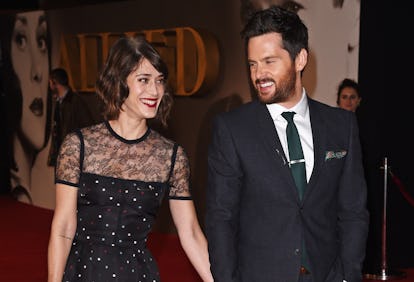 David M. Benett
Lizzy Caplan and Tom Riley tied the knot in Italy over Labor Day weekend, People reports. Riley, an actor and producer, posted a black-and-white photo of the couple at the exciting event on Instagram on Monday, writing, "This one seems fertile. She shall make a satisfactory first wife." In the pic, Caplan and Riley are sitting on the ground and laughing, still in their wedding garb: a slim-fitting suit and patterned tie for Riley and a dreamy, long-sleeved gown and flowery hairpiece for Caplan.
This is far from the first photo Riley has shared of his new wife on Instagram. Earlier this year, he and Caplan attended the Women's March in Washington, D.C., after which he posted photos of the signs they carried, reading "Keep your filthy paws off my silky drawers" and "Not my president (literally)." And in June, in honor of Caplan's 35th birthday, Riley, 36, penned a hilarious note to his then fiancée alongside a photo of the duo holding hands and cracking up on a red carpet. "Happy Birthday to my forever mancrush Monday. A girl whose fake laugh game humbles and inspires me. She was truly miserable in this picture but you would NEVER KNOW and it's that kind of ability to suppress emotion that will serve us well in our life together. #mcm," he wrote.
The pair, who met in early 2015 and made their red carpet debut as a couple in February 2016, got engaged in May 2016, although they didn't confirm the happy news until several months later. And although their proposal and the engagement ring were fairly traditional — Riley popped the question with a round-cut diamond set atop a rose gold band — Caplan has previously said that she has no intention of stepping into the "traditional" role of the stay-at-home mom anytime soon. "I actually romanticize the idea of a stay-at-home dad," she told Elle Canada in 2014. "Partly because I think that's a very sexy thing, but also because if there are two working actors and both of them get a job and they have a baby, the woman is going to stay with the baby. I see it all the time. It just seems unfair. I don't want it to be an assumption that I will be the one to stay home and raise the kids."
The Most Photogenic, Over-the-Top, And Globe-Spanning Weddings of the Year
Hannah Bronfman and Brendan Fallis during their wedding at La Mamounia resort in Marrakech, Morocco, May 2017.

@brendanfallis
Brendan Fallis and Hannah Bronfman celebrate their first day as a married couple in the best way possible—crystal blue pool water and a bright green inflatable lime.

@hannahbronfman
Tommy Hilfiger's wife Dee Ocleppo captured the wedding of her stepdaughter Ally Hilfiger and longtime boyfriend Steve Hash, with whom she already has a daughter, Harley.

@mrshilfiger
An intimate shot of Ally Hilfiger and Steve Hash before their wedding on the private island Mustique.

@allyhilfiger
And for the ceremony itself—she captioned this one "OUI OUI OUI"—Courtin-Clarins opted for a straight-off-the-runway Jacquemus tunic and straw hat, quite the fashion-forward alternative to the classic white wedding dress.

@clairecourtin
Beauty scion Claire Courtin-Clarins celebrated her wedding in Mykonos, Greece, last month.

@clairecourtin
Pippa Middleton and James Matthews after their wedding at St. Mark's Church in Englefield, England, May 2017.

WPA Pool/Getty Images
Kate Middleton, Duchess of Cambridge, leads the pack of children at the ceremony in Englefield, England, May 2017.

Samir Hussein/Getty Images
Tracee Ellis Ross attended the wedding of her 29-year-old brother Ross Naess, June 2017.

@traceeellisross
Ross Naess married girlfriend of 11 years Kimberly Ryan, with whom he was then expecting his second child, at a camping-themed, "shoes optional" ceremony in the woods last month.

Kimberly Ryan / Instagram
Zac Posen designed Arden Wohl's ethereal, antique-looking wedding dress for her wedding to art star Jonah Freedman in Williamsburg, New York, June 2017.

@zacposen
Director Tara Subkoff was also in attendance at Arden Wohl and Jonah Freedman's Williamsburg wedding—and she made sure to document the ceremony.

@tarasubkoff
Domino Kirke poses with sisters Jemima and Lola, both actresses, at her civil ceremony wedding to Penn Badgely in Brooklyn, New York, February 2017.

@lolakirke
Victoria Swarovski, the Austrian singer and heiress to the crystal fortune, married mogul Werner Mürz in Portopiccolo, Italy, wearing a dress designed by Dubai-based designer Michael Cinco, featuring 500,000 Swarovski crystals and a five-meter train.

@victoriaswarovski
Victoria Swarovski at a fitting for her Michael Cinco-designed dress for her wedding to Werner Mürz, June 2017.

@michael5inco
Lucilla Bonaccorsi at her wedding to Filippo Richeri in Sicily, Italy, June 2017.

@lucillabonaccorsi
Actress Fiammetta Cicogna and guests at the wedding of Lucilla Bonaccorsi and Filippo Richeri in Sicily, Italy, June 2017.

@fiammettacicogna
Lucilla Bonaccorsi and Filippo Richeri at their wedding in Sicily, Italy, June 2017.

Filippo Richeri/Instagram
Lucilla Bonaccorsi and Filippo Richeri, newlyweds, ride off into the sunset after their wedding in Sicily, Italy, June 2017.

Filippo Richeri/Instagram
Nina Dobrev and Maude Hirst attend Julianne Hough's wedding to Brooks Laich, the "most fun wedding I've ever been to," according to Dobrev, in Coeur D'Alene, Idaho, July 2017.

@nina
Actress Maude Hirst with newlyweds Julianne Hough and Brooks Laich in Coeur D'Alene, Idaho, July 2017.

@maudehirst
Julianne Hough and Brooks Laich wed in Coeur D'Alene, Idaho, July 2017.

@juleshough
Miranda Kerr with Maria Grazia Chiuri of Christian Dior, who designed her custom couture gown for her wedding to Snapchat CEO Evan Spiegel.

@mirandakerr
Model Miranda Kerr and Snapchat CEO Evan Spiegel on their wedding day—Kerr in a custom Dior couture gownand Spiegel also in Dior.

@mirandakerr
Sarah Staudinger of Staud at the wedding of former DJ Cassie Coane in upstate New York, with fellow bridesmaids Mary-Kate and Ashley Olsen and Harley Viera-Newton, July 2017.

@staud
In another outtake from the same group portrait, Harley Viera-Newton captioned, "We all got married!!!!"

@harleyvnewton
"When your wedding vision is George Harrison finding God in India," Lily Waronker captioned her Instagram from Coane's wedding.

@lilywaronker
Naomi Campbell in Hussein Bazaza for the wedding of Carol Sabbagha in Beirut, Lebanon, July 2017.

@husseinbazaza
Naomi Campbell in Ralph & Russo at the wedding party of Carol Sabbagha in Beirut, Lebanon, July 2017.

@merhebmandy
Sophie Lasry's wedding to Alex Swieca may have been the only one this summer to feature two Clintons, J.Lo, and a real housewife, despite its quotidian location at Cipriani Wall Street.

@selasry
Watch: An Intimate Moment with Ciara, Before Her Wedding to Russell Wilson