Loan Chabanol's Blue Period
The actress-turned-artist talks about her first solo exhibition.
---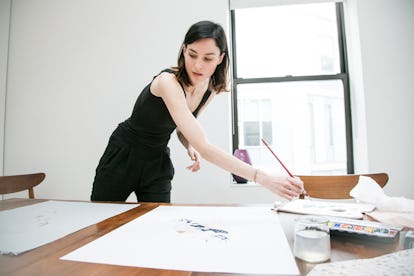 Some actors spend their downtime on movie sets sleeping. Others knit. Loan Chabanol used her free hours while shooting Luc Besson's The Transporter Refueled last year to immerse herself in painting and drawing. "I was playing such an intense female character that I needed a break," says the French-born, Italian-German-Vietnamese former model. "It was a great balance between the movie and the art—it kept me sane."
It also resulted in her first solo exhibit, Born in Blue, on view this Saturday and Sunday at the Lightbox events space in New York City. Produced by CTM Sister Productions and curated by Monica Watkins of Curators for a Cause, Born in Blue is comprised of 11 acrylic and watercolor paintings and a short animated video, with a percentage of proceeds from sales donated to the Shooting Stars Photography Workshops for Teens at Risk.
Chabonal's delicately rendered creatures—whales, dolphins, mermaids—were born out of her sketches of a whale. She began dreaming up her own aquatic animals, which often appear in a state of frenzied movement, with laces and balloons encircling their beings. "It's stuff that is holding them back and that is something we all have in life," she explains. "If we break through our issues, we can fly free and become who we really are."
Chabanol was born in Paris and spent her childhood studying art, most notably with the artist Bernard Bistes. She was discovered by a model scout at 16 and went on to have a successful career before seguing into acting a few years ago. But she never lost her love of art, and especially of animation—hence the short video of a bird that accompanies her paintings. "It's a phoenix, which is my name in Vietnamese," says Chabanol, who will take her show to Beijing later this fall and hopefully, to Paris after that. She finds the mythical bird's ability to rise from the ashes inspiring. "I love to start from scratch," she says. "It's not something that scares me."
"Born in Blue," September 26th and 27th at Lightbox, 339 W 38th St, lightbx.org. Watch the short film from Chabanol's production company Loanimation here:
Photos: Loan Chabanol's Blue Period
Loan Chabanol. Photo by Anderson Zaca.
"Red Ballons" by Red Mermaid. Photo by Anderson Zaca.
"Blue Mermaid" by Red Mermaid. Photo by Anderson Zaca.
"Dancing Dolphins" by Red Mermaid. Photo by Anderson Zaca.
"Killer Whale" by Red Mermaid. Photo by Anderson Zaca.
"Red Mermaid" by Red Mermaid. Photo by Anderson Zaca.