Everyone From Katie Holmes to Adam Driver Shows Up In the Bonkers Logan Lucky Trailer
Steven Soderbergh returns to movie directing with Logan Lucky, and he brought all his famous friends with him.
---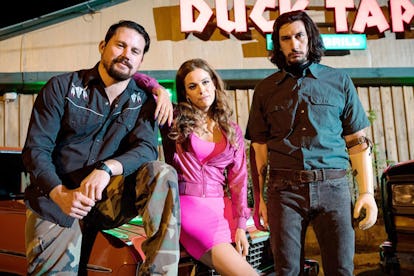 Around five years ago, Steven Soderbergh began openly talking about retiring from directing films. And for a whilem it seemed like he really had. This was not only a loss for cinema, but a loss for its biggest stars. Soderbergh had a knack for taking some of Hollywood's biggest and brightest a bit out of their comfort level, often with dazzling results. Not only did he mastermind the Ocean's 11 series, but he made Channing Tatum a big-screen male stripper in Magic Mike, ushered Julia Roberts to an Oscar with Erin Brockovich, put Matt Damon in a bejeweled speedo for Behind the Candelabra, and gruesomely killed off Gwyneth Paltrow in a particularly unglamorous death scene in Contagion.
The Coen brothers do their part, but they and they alone can't be counted on to do all of the heavy lifting when it comes to successfully casting Hollywood's finest in offbeat but ultimately satisfying parts.
Thankfully, after a four-year hiatus, Soderbergh is back to making films, and he's brought a lot of his famous friends with him.
Indeed, the trailer for Logan Lucky is chocked full of familiar faces. There's Tatum, again, but also Adam Driver, a bleach-blond Daniel Craig, Riley Keough, Katie Holmes, Katherine Waterston, Jerry from Parks & Recreation, and __Seth MacFarlane. Oh, right, the film also marks the big screen return of two-time Oscar winner Hilary Swank, who recently took some time off to care for her ailing father.
Happily, like the hugely successful Ocean's series, the film is a heist flick. Unlike those movies, it doesn't appear to borrow the same glamour and Rat Pack-inspired sophistication.
Rather, this film is decidedly more "red state," and features Driver, Tatum, and Keough as siblings who hatch a plan to pull off an elaborate robbery during a NASCAR race. They enlist Craig's recently jailed explosions expert, named "Joe Bang," along the way. A bevy of NASCAR drivers also make cameos.
In other words, it's the kind of film that only Soderbergh could actually put together, and thankfully it seems he's back to making movies (at least for now). He's also got a film about the Panama papers scandal on the way.
As for Logan Lucky, it will premiere on August 18.
Related: Hilary Swank May Have Just Created the Ideal Athleisure Line
Adam Driver Hates Halloween, But Loves His Dog More than Anything: