Candid Camera
In his latest fashion documentary series, filmmaker Loïc Prigent captures the guts and the glory.
---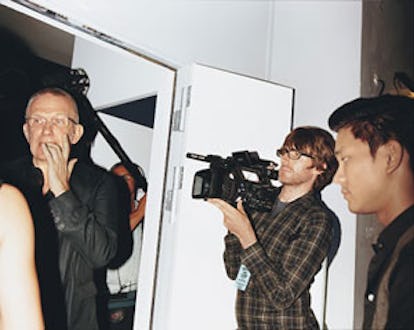 Curiosity about the creative process—along with a saturation of media focused on the catwalk—has compelled more and more television cameras to dive behind the scenes of fashion shows in New York, Milan and Paris. Yet few have captured as much histrionics and hilarity, as well as rare moments of humanity, as Loïc Prigent, a slight, bespectacled Frenchman in a rumpled shirt, whose dry wit, sly charm and irreverent yet intelligent approach always get results.
While perhaps best known for his fast-paced collaborations with wacky Parisian fashion com­men­­tator Mademoiselle Agnès—who likens the moribund economy to the "worst crisis in fashion since the return of the color mustard"—Prigent, 36, is also the director behind more in-depth fare: the 2007 fly-on-the-wall portrait Marc Jacobs & Louis Vuitton, and Signé Chanel, a five-part series documenting Karl Lagerfeld and the fabled house throughout the creation of its fall 2004 couture collection.
Prigent and crew backstage at Gaultier.
For his latest series, The Day Before, made by his production company, Deralf, and airing in September on the Sundance Channel, Prigent tracks four diverse designers in the 36 hours before their clothes appear on the runway, his cameras swallowing delicious footage of a forever fidgeting and philosophizing Sonia Rykiel; the antics of Jojo, a yappy, jumping Prague Ratter pooch belonging to Lazaro Hernandez, one half of Proenza Schouler; the traditional, stress-busting annual employee fashion show at Fendi, this time featuring a man in high heels; and the grumpy, exhausted seamstresses in the run-up to Jean Paul Gaultier's couture show. (Produced in English, the series is subtitled when its various subjects lapse into their native tongue.)
"Messy" and "bloody" are among the words Prigent throws out to describe the backstage world. Yet he's interested more in the characters than the clothes, from hysterical PR minions and overworked interns to the tempestuous designers themselves. The Proenza episode explores the dynamics of duo Hernandez and Jack McCollough; Rykiel's, the delicate dance between the designer and daughter Nathalie; Fendi's, the inner workings of the Roman fashion house, with Lagerfeld pulling the design strings; and Gaultier's, the designer's continuing status as an "enfant terrible" at age 57.
"I want to understand what the process is about," Prigent explains as he nibbles a croissant in an editing suite at Story Box Press, a production company at the edge of Paris, where more than 40 hours of footage for each designer is being whittled down to 51-minute episodes. "It's a circus, but it's an interesting circus."
For fashion newbies, it will no doubt come as a shock that dresses are being sewn and altered right up to the very last minute. At Gaultier, "two hours before the show, only four or five dresses were done," Prigent says. "It's very tense."
From top: Sonia Rykiel (seated) surrounded by assistants and a model; Proenza Schouler fan Kate Bosworth huddles with Jack McCollough and Lazaro Hernandez.
Not to mention expensive. With help from company CEO Shirley Cook, Prigent susses out that Proenza's fall 2009 show, held at a raw space on the outskirts of New York's Chelsea, cost $180,000. Rykiel's, meanwhile, in honor of her house's 40th birthday, rang in at more than a million euros, or about $1.4 million. Mounted in a tent in Paris's Parc de Saint-Cloud, the presentation, for spring 2009, featured a staggering 80 models, 70 hairstyling assistants and a massive LED screen said to be larger than the one used by Madonna on her most recent tour. Though the world financial markets were already roiling, there was no question that the show—which included special tribute looks from Lagerfeld, Gaultier and Martin Margiela—would go on.
"People are kind of obsessed with reality shows, and this is a new take on things: actual reality," reckons McCollough. While Prigent captured plenty of hairy moments chez Proenza, including three tricky velvet dresses that had to be resewn minutes before hitting the catwalk, he is probably kicking himself that he wasn't with them six months earlier. "The season before, the roof collapsed in our studio," says Hernandez, describing thousands of gallons of water pouring into their workrooms—and over a mostly white collection. "There's a lot of crap behind the scenes that happens."
While viewers may hope for footage of designers behaving badly, alas, with these media-savvy subjects, there are virtually no full-on temper tantrums. Instead, the overall mood of each segment is upbeat, and the few ruffled feathers that surface are quickly smoothed. Seeing a young male employee mincing down the Fendi runway in a fur stole during the staff fashion show, for example, Lagerfeld laughs and snaps a photo. In another scene, Nathalie Rykiel, Sonia's daughter and the house president, screams at her show producer one minute only to embrace him later. As Prigent explains, "The camera has a very calming effect." That said, he notes, "They only have 36 hours left; they don't have time to be polite."
Yet Prigent, famous for bloopers showing falling models in Mademoiselle Agnès episodes, edited out the sight of then 78-year-old Sonia Rykiel, in four-inch heels, taking a tumble as she prepares her show space. "Of course," he insists, lumping Rykiel in the same category of sacrosanct Paris icons as the Eiffel Tower, "I didn't want to show her on the floor."
Nathalie Rykiel says she would have had no problem with Prigent including Sonia's fall in the episode. "Loïc is unique in his way of capturing the intensity of fashion and the craziness but at the same time the deepness of it," she says. "He gets feelings and irony."
Lagerfeld, whose fall 2009 Fendi collection Prigent detailed for the new series, lauds the filmmaker's serious yet light approach—and disarming personal style. During the filming of the Chanel documentary, one of the chief seamstresses initially had only contempt for Prigent. "In the end, she was seduced by him. He has a lot of charm," Lagerfeld relates. "He has a sense of humor quite rare today in France."
Indeed, an early cut, from when Prigent was still providing a voiceover, can be uproarious, especially given his heavily French-accented English and slightly nasal voice. Introducing the Proenza designers, he explains, "This is Lazaro, the cute one." Then, panning over to McCollough, he adds, "And this is Jack, the cute one." But mostly he lets the action unfold and the ridiculousness reveal itself. Across several episodes, he shows, for example, how the models are mostly warm and giggly 16-year-olds who, on cue, turn on the icy, blank, don't-mess-with-me expression that passes for cool these days. One, in fact, was on the verge of tears, having just met Lagerfeld at Fendi and being invited to walk for Chanel.
As character studies go, Lagerfeld, whose work ethic, perfectionism and cool never disappoint, is a favorite of Prigent's. "He sketches like he's breathing," Prigent marvels.
Meanwhile, Prigent describes Gaultier as a "hero in France," and he was eager to observe the designer's seamstresses and patternmakers working their magic for the fall 2009 couture show. "The whim is king in haute couture," Prigent says. "I get to see people working all night long."
Born into a farming family in small-town Brittany, Prigent spent his high school years churning out music fanzines. That ultimately led to a freelance reporting gig at the left-leaning daily Libération, for which he penned several articles on fashion. These caught the eye of executives at cable channel Canal+, and he was asked to come on board as a reporter. A few years later they gave him a camcorder and told him to try his hand at shooting stories. His fashion show coverage for the station led, in 2000, to the gig with Mademoiselle Agnès, titled Habillées pour….
Given his success in the increasingly competitive medium of fashion film, and Paris's renown as a city in love with fashion and its creators, one might think Prigent has forged the perfect career. But like most working guys, he has his complaints. French TV programmers, he laments, "don't believe in fashion at all. They think Paco Rabanne is still designing and John Galliano is Italian."
By contrast, Prigent is passionate about fashion and eager to take it all in—with the possible exception of secondhand smoke. While filming the Jacobs documentary, he compiled scenes of the designer firing up innumerable cigarettes into a hilarious 20-second segment. "If I get cancer," he deadpans, "I know who to sue."