Lola Rykiel's Travel Guide to Paris
The Sonia Rykiel PR director tells us where to swim, lunch, and most importantly, where to get the best glass of wine during Paris Fashion Week.
---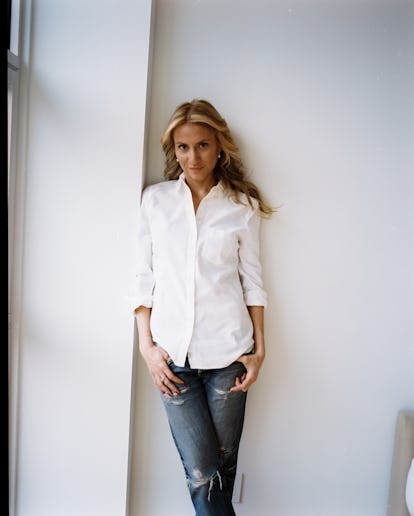 Courtesy of Lola Rykiel.
"Magnetic, quiet, and impressive," are three words Lola Rykiel, the granddaughter of the late designer Sonia Rykiel, would use to describe her hometown of Paris. "I have all my memories there, it is simply home," explains the 30-year-old New York-based PR director for the brand, who makes sure she returns to the City of Lights at least five times a year to catch up with friends, take walks in the Jardin du Luxembourg, and visit the house where she grew up. Just in time to finish out Paris Fashion Week, Rykiel tells us how to do Paris her way, from the best sushi to where to find the best pair of shoes.
Favorite restaurant: There are so many! I go to Caviar Kaspia with my mother and my sisters, Blueberry with my girlfriends, Le George for work dinners, and La Société when I don't know where to go and I am hungry and I have no imagination – it is healthy and they serve you quickly, plus it is fine to go alone.
Favorite art institution: La Fondation Cartier or Le Musée D'Orsay.
Favorite shop: Marie-Helene de Taillac for their beautiful selection of jewelry – I love all the unique, timeless, colorful stones. For a beautiful food shopping experience, I head to La Grande Epicerie du Bon Marché, it has the best food choices with a beautiful layout and design! For shoes I go to Rue de Grenelle, the best shoe store in the world. And of course, Sonia Rykiel! I love wearing all of Julie's designs for the house and the bookstore concept is so unique.
Favorite bar or night club to dance and let loose: L'entrée des Artistes and Le Syndicat.
Favorite fashion week spot: Le Café de Flore, bien sur! You run into everyone and the waiters are so friendly, it's always a welcoming atmosphere. It's right across the street from our boutique so it has been a tradition to lunch there for many years.
Favorite Paris spa-cation: I head to Rituel for Pilates, yoga and a massage. My sister is an instructor at Rasa yoga so I go there to take her class. If I want to swim I go to La Piscine de Pontoise, a huge Art–Deco style swimming facility that is also open at night. It is not luxurious, it is very special and I love it.
Secret spot to escape from the Paris Fashion Week chaos: A very long walk alone in the Jardin du Luxembourg listening to music, or walking alone on Le Pont St-André des Arts. I walk to Cafe de la Garre on Rue du Temple and peep in on the dance classes because this is where I started dance for the first time. It is quite a magical place.
Favorite cafe for an espresso break: Broken Biscuit in the 11eme.
Favorite place to stay: At my mum's!
Spot to grab a glass of wine: La Buvette in the 11 eme.
Favorite arrondissements: The 6eme because I grew up there and it feels like home, the 11eme for all the cool places and restaurant and the atmosphere.