The Future of London Fashion Week Is Online and Gender-Neutral
You won't be seeing any street style stars flexing next season.
---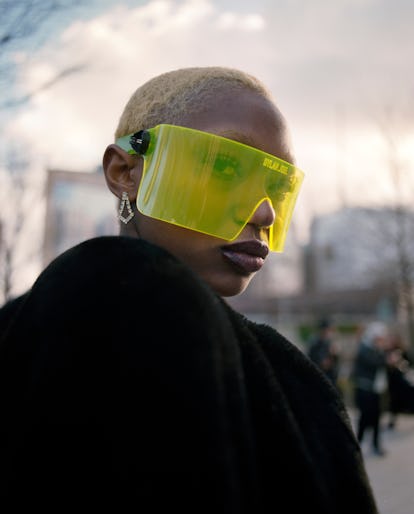 Salvatore Di Gregorio
Even before the coronavirus outbreak, the future of fashion week was looking bleak. And yet, not even a pandemic can stop the British Fashion Council from going forward with London Fashion Week—albeit with some changes. The upcoming spring 2021 shows won't be a "men's" week, or even take place in real life. For the next year, all BFC shows will be gender-neutral. And at least in the case of the shows set for June 12, 13, and 14, they'll also take place entirely online.
On Tuesday, the BFC's chief executive Caroline Rush described its new digital platform as a "global showcase for the future," with "bucketloads" of inspiration. It will "put storytelling at its heart," and host "exclusive multimedia content" like collections, podcasts, and videos made by designers, artists, brands partners, and "creatives." (With a little help from giants like Facebook, Instagram, YouTube, Amazon Launchpad, and Google.)
The move comes as a blow to street style stars, who'll no longer have sidewalks on which to flex. But for the most part, it's the industry's up-and-comers who'll be affected the most. London Fashion Week has long been a hub for emerging talent; its mentorship program and showcase, Fashion East, has been going strong for two decades. And for alums like Gareth Pugh and Simone Rocha—as well as last season's breakout, Gareth Wrighton—shows have been the key to success. They generate interest and publicity, as the rising menswear designer Bianca Saunders recently pointed out to Drapers.
"I've done four presentations before, but no-one's seen me do an actual show, and it was my next brand move for June," Saunders said. Still, the news comes as "a bit of a relief." She's currently without the help of seamstresses, fit models, and interns, and doesn't have access to fabric shops, suppliers, and even her studio.
The fate of the spring 2021 shows, which are set to begin in New York in September, remains uncertain. Here's hoping that at least Milan Fashion Week goes forward; it's hard to imagine waiting any longer for the highly anticipated debut of Miuccia Prada's creative partnership with Raf Simons.
Related: Who Got the Weirdest at London Fashion Week Fall 2020?
The Most Surprising Runway Models at Fashion Week Fall 2020