London Street Style Star Camille Charrière on What's Always in Her Suitcase, Packing Faux Pas, Bathroom #Goals, and More
One of fashion month's chicest fixtures shares her best jetsetting tips: Always travel with earphones, never bring too many shoes, and don't forget to eat ginger chicken udon before leaving the country.
---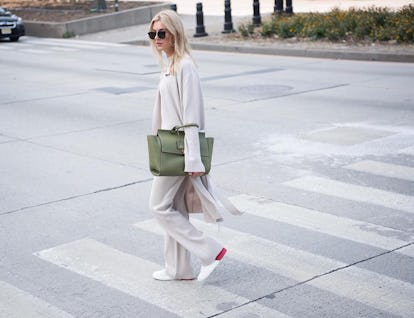 Even if you don't know her name just yet, you've probably seen London-based fashion writer Camille Charrière all over the street style blogs. Originally from Paris, Charrière is a regular on the fashion week circuit and a star on the street style scene in her ever-so-chic ensembles. Here, in between hitting the last of the New York Fashion Week shows and jetting back to Europe for the rest of the fashion month, which kicked off Friday in her hometown, Charrière shares the in's and out's of traveling like the ultimate jetsetter that she is.
Where are you headed this fall? Other than the usual fashion month grand tour, I will be headed to Italy a few times for some weddings and parties. Pasta, burrata and the last of Europe's summer sun, what more can a girl ask for? #Italiansdoitbetter
What are three places on your travel bucket list? Number one is Cuba, same as everyone else right now I guess, which is why I want to go sooner rather than later. I like to discover places before having seen a million posts about them on Instagram. Also, I like the idea of being out of a wifi zone for a bit. Number two is Norway – I am dying to go for a really healthy hiking weekend in the Fjords. Number three is Moscow because I am a real ballet junkie and still haven't been to the Bolshoi. I almost feel like I need to find a special someone to share that with first, though.
Favorite airport lounge or restaurant? Wagamama. Random, but every time I leave the country I feel the urge to eat ginger chicken udon one last time, as you never know when the next time will be…
Best or worst person you have ever been seated next to on a plane? The only good neighbor that springs to mind is gorgeous Josephine Skriver, who I sat next to on my way back from NYFW to London and the plane was delayed by about five hours because of a thunderstorm. We kept each other entertained.
Best freebie you've stolen off a plane? Never stolen anything, but I do get a weird obsession with tomato juice when flying and drink about a liter of it on long haul flights.
Airline with the best or worst food? Turkish Airlines has good food.
Go-to travel outfit? 501 Levi's with a white t-shirt, a comfy knit, and a pair of converse. Easy.
Name five essential pieces of clothing/accessories that are always in your suitcase: One white boyfriend tee, a navy turtleneck, vintage Levi's 501s, white lace-ups of the moment (right now, I am wearing Senso), and a sexy leather skirt (you never know where you will end up).
Name something that always saves you when you are traveling… My earphone. I can't go anywhere without my music.
Best beauty products for travel? La Mer creams.
What's a big packing mistake to avoid? To try and bring to many pairs of shoes. It's very heavy and chances are, just like at home, you will only use two or three pairs max on rotation.
Most luxurious hotel bathroom you've ever seen? I actually love the bathrooms at Ludlow hotel. But that's probably only because they have Maison Martin Margiela bathrobes. #Goals
Best hotel spa treatment in the world? I love the Faceplace facial at The Rosewood in London.
Best hotel gym in the world? I don't really exercise, especially not when am abroad. Sorry (not sorry), I'm French.
What's your favorite hotel in the world? The Bowery. It's cozy, in the middle of a buzzing city (which I love), and just too much fun.
Favorite off-season destination? Copenhagen. Good food, great shopping and outstanding cheekbones at every turn.
What's the greatest travel advice you have ever received? My mum says that travel is and always has been a turbulent affair. We might have quicker and cheaper transport methods nowadays and yet, traveling is still a very uncertain game. You just have to accept that most of the time you need to allow the day for it, especially if trying to make it for something important.