Cult Lingerie Brand Lonely Lends Its Silhouettes to Swim
Selena Gomez and Justin Bieber are both fans of this tomboyish New Zealand swimwear brand.
---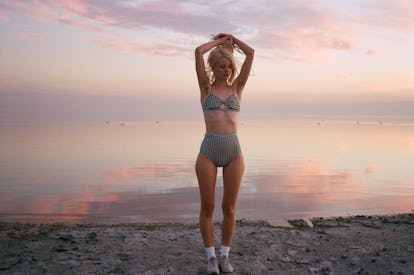 Cult lingerie brand Lonely is known for its for-women, by-women sensibility. Now, the unique silhouettes are being applied to swimwear, offering women of all sizes bikinis and maillots with a distinct, dare we say empowering, point of view. Fit has always been of utmost important for Lonely — and with everyone from Gigi Hadid to Selena Gomez to Lena Dunham wearing the designs, they must be doing something right. The brand is for "women who wear lingerie as a love letter to themselves," muses designer Helene Morris. Here, the Auckland-based Morris speaks about growing up in New Zealand, the one-piece craze, and the brand's Justin Bieber connection.
What made you decide to go into designing swim? We are surrounded by the ocean in Auckland, so swimming and water sports are inevitable. We wanted our customers to be able to wear Lonely-designed pieces in all of their daily activities. The category has similar design aspects to lingerie so it has seemed like a natural progression for us.
What was your particular interest in swimwear? Swimming is such a big part of our lifestyle in New Zealand, I still remember all of my swimsuits from growing up! We would camp every summer and wear swimsuits all day, and still do. It's so great being able to take these years of swim inspiration and ideas and develop our own range and style.
What was it like getting a business off the ground? Mainly really rewarding. It is constantly changing and challenging which is an interesting and exciting place to be.
What were the main pieces you began with? Our Edie swimsuit and bikini tops were some of our first pieces, they have similar bust detailing as one of our bestselling bras. The one-piece features a sporty plastic zip and really flattering waist seam. These pieces have kept their place in the collection as some of our bestsellers and really embody the Lonely aesthetic.
What style do you find is still popular with your customer? The Dita swimsuit is another style that continues to be really popular, it has a really simple scooped front shape and the back has lace up detailing. It's really flattering for many body shapes and sizes which is so important to us.
What swim trends are you seeing among women right now? One-pieces are really popular with our customers, they are really flattering, comfortable and versatile. We also are finding that color and patterned textural designs are really popular for swim fabrics.
When did you feel the label was on the right track? We are in our fifth swim season now, so our voice and design aesthetic is well-refined, but I think we have been clearly identifiable as Lonely swim from the beginning. As we've grown we have been able to go deeper and offer a wider range of styles, from underwired pieces to long-sleeved cover ups.
Introducing Lonely, the Cult Lingerie-Turned-Swimwear Designer You Need to Know
Has there been a favorite moment since you launched? Parris Goebel, the amazing dancer who has taken the world by storm and runs a dance studio from here in Auckland wore, along with her dance troupe, all of our swimsuits for Justin Bieber's recent video "No Sense." It's pretty inspiring seeing fellow New Zealanders doing amazing things on an international stage and so cool for her to support us too!
Let's talk about fit – what does it mean to you, your brand, and how is it important? Fit is so critical for all clothing design, possibly even more so with lingerie and swimwear as it absolutely has to function and be supportive, as well as look great. We spend a lot of time developing our fits with our technical designers, and have a wear testing program where we work with women of various sizes to ensure pieces are performing as they should. Ultimately our aim is to provide swimwear that helps women feel comfortable in their own skin.
What is the key to great fit? Attention to detail and great technical designers.
Is there a certain beach that inspires you? Our local beach Cheltenham is amazingly beautiful, it's a city beach but is never busy. It has amazing white sand, clear water and looks out to Rangitoto volcano, a small, perfectly formed island just offshore.
Where are you excited to travel this summer? We have just traveled to the US, visiting Los Angeles and New York with a road trip to Yosemite at the end — the valley was beyond beautiful and such an amazing place to visit.
If one of your swimsuits could be packed by a style icon and taken anywhere, who would the icon be and where would she go? We are inspired by Chloë Sevigny's independent spirit, and if she came to New Zealand, we would love to show her all of our favorite swimming spots.
Talk to me about your plans for the future. What's next? We are close to opening our third retail store in New Zealand. We'd love to give people our Lonely retail experience in other countries and continue dressing Lonely girls everywhere.
Go behind the scenes of W's Hawaiian "Spirit of Aloha" shoot with Natalie Westling: