Lottie Moss: It Trend, It Girl
Kate's half-sister steps into the spotlight.
---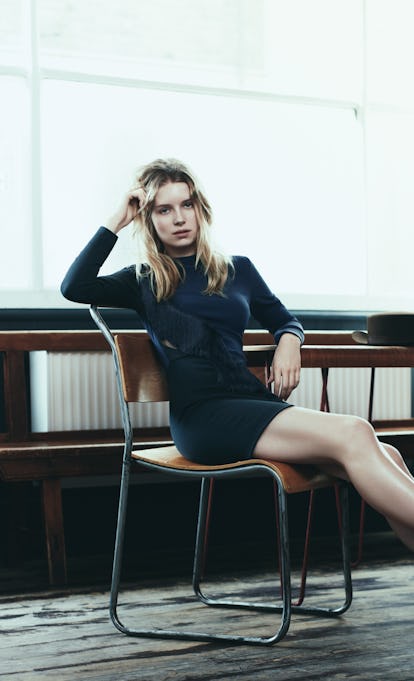 Photographer: Sarah Piantadosi, styled: Felicia Garcia-Rivera
Anyone in search of the next Kate Moss should perhaps look no further than her half-sister, Lottie. Test shots of the 16-year-old Brit beauty bear an eerie resemblance to the images shot by Mario Sorrenti for the 1993 Calvin Klein Obsession campaign that catapulted Kate to supermodeldom. But although Lottie has just signed with Storm Model Management (the same agency that discovered Kate) and recently landed her first editorial, in Dazed & Confused, she feels more at ease in her school uniform than she does in, say, Balmain straight off the runway. "I honestly think about it more as a hobby," says the West Sussex native of modeling, though she does not deny her delight in being in front of the camera. "I like the attention. I love the spotlight."
Lottie first caught many an eye in 2011, when she appeared as a garland-bedecked bridesmaid in Kate's wedding. She's on her way to becoming a London Fashion Week fixture, this season sitting front-row at the Topshop Unique show alongside her sister. But if there are any shoes she'd like to step into, they'd be those of the fashion critic Suzy Menkes. "I want to stay in this industry, and I think journalism is quite a good path for me," she says. Of course, it's nice to know she has something to fall back on. "I hope to model for as long as I can," says Lottie, who has time—and genes—on her side. "We'll see how it goes."
Photos: Lottie Moss: It Trend, It Girl
Stella McCartney dress, $2,095, Stella McCartney, New York, 212.255.1556.

Photographer: Sarah Piantadosi Styled: Felicia Garcia-Rivera
Lanvin necklace, $1,085, Lanvin, New York, 646.439.0380.
10 Crosby Derek Lam top, $1,095, Intermix, New York, 212.966.5303.
Favorite Book
"I love John Green's writing, even though it's quite sad."
Favorite Movie
"I can recite almost every word from Mean Girls—I've seen it 50 times!"
Sonia Rykiel bag, $670, Henri Bendel, New York, 212.247.1100.
Chanel sweater, $2,800, select Chanel stores, 800.550.0005.
Rimmel London Professional Eyebrow Pencil, $4, ulta.com