Lou Doillon Woke Up Like This
Morning coffee with the French singer who has perfected the art of tousled chic.
---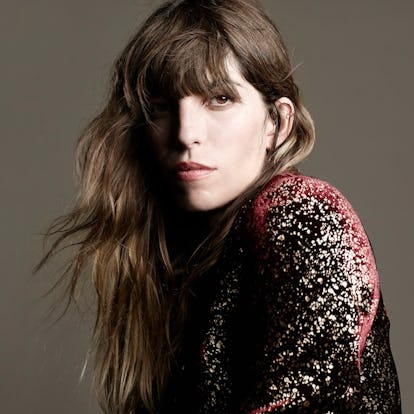 In her mind, Lou Doillon is the type of musician who takes the stage in a proper costume. For her current world tour to promote her sophomore album Lay Low, she commissioned the French label Pallas to design for her three natty tuxedos—black, navy blue, and a "David Bowie mint green," as she described it. "But I can't wear them," the daughter of the fashion icon Jane Birkin lamented. "They're too perfect. They don't go with who I am onstage."
Doillon was seated in an East Village cafe, sipping her second or perhaps third cup of morning coffee. Her hair was messy, her eyes red from too little sleep. She wore jeans, an old t-shirt, and a "raggedy" pair of gold Saint Laurent boots that she considered her lucky shoes. Imperfection is something she does flawlessly. Her music — a croaky, bittersweet mix of American folk and blues — also finds exquisiteness in the raw.
"One, two, three, four, five coffees," she moans on "Weekender Baby," a track off from Lay Low. "No no, he still hasn't called me / Six, seven, eight, nine whiskeys / I know he won't." Pared down and deeply personal, the album draws you in, shuts you up, and asks you to contemplate the messy aspects of your own life. "It's not about listening to my loneliness," she said. "I go deep within myself to find what's common to us all."
She writes wherever and whenever she can find peace. "I've got a kid and a lover and bandmates constantly around me, so I have to run away a lot," she said. The night before, she spent half an hour jotting down thoughts in a ramen restaurant. And she draws constantly. Her figurative sketches are featured on the vinyl version of her new album, as well as on the tour merchandise; eventually, she plans to publish a coffee-table book of them. She is also busy working on a ceramics collection that she promised to discuss further in the fall. Until then, she will be touring, playing shows in Canada, Europe, and the U.S.
"I'm constantly amazed that anyone comes," she said. "But suddenly the room will fill up with people who are moving along and know the songs. They feel like family to me."