Princess Grace's Grandson, Louis Ducruet, Is Engaged
Yet another royal wedding alert.
---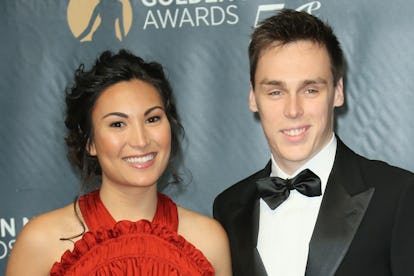 Tony Barson/Getty Images
Time to take note of another wedding involving a European royal—except this time, it's not going to be in a cozy chapel in the British countryside.
Princess Grace's grandson, Louis Ducruet, has announced his engagement to his college sweetheart this week. Per People, Ducruet—who is currently 12th in line to succeed the Monaco throne—met his fiancée, Marie Chevallier, while they were both attending college together at Western Carolina University in North Carolina. While Chevallier pursued a course of study in marketing, Ducruet favored a sports management degree, and he's now a recruiter of the popular soccer team AS Monaco after attending business school in France. Meanwhile, Chevallier works as a coordinator at the ritzy Hotel Hermitage, where she frequently handles guest relations and events. They both intend to keep their careers in motion after the nuptials, as Louis will likely never come close to ascending the throne.
Though, he still certainly lives a charmed life. The couple were traveling through Vietnam when Ducruet popped the question beachside. The couple shared engagement photos on Instagram.
Princess Stéphanie, who is Princess Grace's daughter, expressed "joy" about the engagement in a statement, as this is her first child to be engaged. (Specifically, Louis is her oldest child with her ex-husband Daniel Ducruet. The two have remained on cordial terms, and have two other children, according to ˆPeople.) A wedding date, venue, and all of those tidbits have yet to be revealed.
So, who exactly is Louis Ducruet? Despite the occasional appearance in the glamorous European tabloids when he attends official state functions or fundraisers, the royal has been frequently hailed as a polite, normal young man who generally avoids being the center of attention in his home country. Still, when you're a European Nobel and Grace Kelly's grandson, your engagement is going to warrant some public notice.
Related: Meet Camille Gottlieb, Grace Kelly's 19-Year-Old Look-Alike Granddaughter
See Stunning Vintage Photos of Grace Kelly, On-Set and Off
Grace Kelly in To Catch A Thief, 1955. Photo courtesy of Everett Collection.

Courtesy Everett Collection
Grace Kelly in To Catch A Thief with Cary Grant, 1955. Photo courtesy of Everett Collection.

Courtesy Everett Collection
Grace Kelly in Dial M for Murder, 1954. Photo courtesy of Everett Collection.

Courtesy Everett Collection
Grace Kelly with director Alfred Hitchcock on the set of Dial M For Murder, 1954. Photo courtesy of Everett Collection.

Courtesy Everett Collection
Grace Kelly in Mogambo with Clark Gable, 1953. Photo courtesy of Everett Collection.

Courtesy Everett Collection
Grace Kelly in To Catch A Thief with Jon Williams, 1955. Photo courtesy of Everett Collection.

Courtesy Everett Collection
Grace Kelly in High Society, 1956. Photo courtesy of Everett Collection.

Courtesy Everett Collection
Grace Kelly is joined by Marlon Brando with her Academy Award for Country Girl, 1955. Photo courtesy of Everett Collection.

Courtesy Everett Collection
Grace Kelly on the set of High Society, 1956. Photo courtesy of Everett Collection.

Courtesy Everett Collection
Grace Kelly in To Catch A Thief, 1955. Photo courtesy of Everett Collection.

Courtesy Everett Collection
Grace Kelly on the set of Green Fire, 1954. Photo courtesy of Everett Collection.

Courtesy Everett Collection
A portrait of Grace Kelly. Photo courtesy of Everett Collection.

Courtesy Everett Collection
Grace Kelly at Palm Canyon, 1955. Photo courtesy of Everett Collection.

Courtesy Everett Collection
A portrait of Grace Kelly, 1954. Photo courtesy of Everett Collection.

Courtesy Everett Collection
Grace Kelly and her dog, 1954. Photo courtesy of Everett Collection.

Courtesy Everett Collection