Last Laugh: Rue de Commerce
Luxury may have been given a bad name in this recession, but, the Countess argues, quality will never go out of style.
---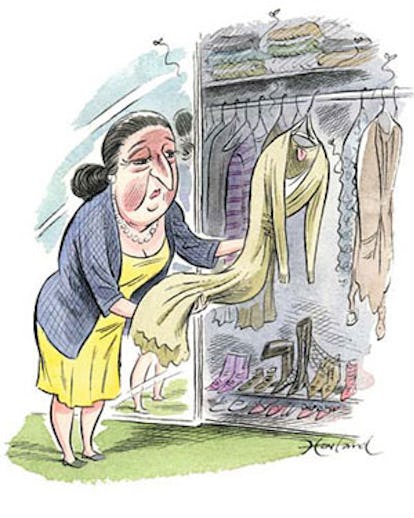 As the New Year kicks off, I feel that we are chasing our tails—in more ways than one.
I suppose the idea came from the problems in Afghanistan and Pakistan, which seem intractable. But one New Year's resolution I've made is to not obsess about politics (although we'll see how long I keep it). All the troubles have made me almost glad 2009 is over and we can now start afresh, sort of.
So if we don't talk politics, what else is there? Well, fashion, for one. One of the depressing things that occurred late last year was Christian Lacroix's struggle to survive and the eventual shuttering of all parts of the fashion house save the licensing business. It says to me that creative fashion à la Lacroix, whether you like it or not, can't exist on genius alone. The trouble with Monsieur Lacroix was that he didn't do what Coco Chanel taught—create clothes everyone can wear. He, like many designers, tripped over his creative ego.
But the problem is generally the reverse: When big companies take over in fashion, most stifle the creative spirit. That's understandable; they have to make money. And since when has anyone not worried about making money?
Still, in these days gone bust, it doesn't seem to be the era of creativity except when it comes to the Internet, ways to fire people, military weapons and investing money with dubious financial handlers. Of course, as you know, I live in the past, and as I sit in my schloss looking out at the snow-covered mountains and sipping a slivovitz, I can't help but fondly recall those halcyon days of Yves Saint Laurent in what seemed a more innocent and creative era, the Sixties. (By the way, Letters to Yves, a book on Saint Laurent by his partner in crime and in love, Pierre Bergé, will be published in February.)
Even someone as talented as Saint Laurent needed cash, however. The real story is that Saint Laurent started on a shoestring, and it wasn't until used-car dealer J. Mack Robinson of Georgia bankrolled him that things stabilized. Why or how Saint Laurent and Bergé got Robinson to fund their company, I still don't know. Without used-car sales, however, Saint Laurent would never have blazed his way to the top.
But everything has its downside. While his couture took off, Saint Laurent had a tough time making his Rive Gauche ready-to-wear collection a success in the beginning. He was one of the truly great visionaries of fashion, though, just like Chanel, Cristóbal Balenciaga and Christian Dior (who, incidentally, sold hardly any ready-to-wear in the power days of the house and who also had a backer, Marcel Boussac, otherwise known as the King of Cotton).
While Saint Laurent may have needed his used-car dealer, at least Robinson left him alone. Saint Laurent was an astute businessman, though Bergé always got the credit. Backers now are much more meddling and know-it-all; just look at the revolving door of designers at such firms as Emanuel Ungaro and Nina Ricci.
Fashion today is like rolling craps in Vegas—and even if you come up sevens, there's no certainty of winning.
There are designers who maintain their relative independence, but even they are backed by corporations. Marc Jacobs and John Gal­liano continue to exercise their creativity thanks to Bernard Arnault and LVMH Moët Hennessy Louis Vuitton (which launched Lacroix). Azzedine Alaïa operates in his own quiet way thanks to Richemont, and the rarely seen Martin Margiela had backing from Renzo Rosso of Diesel—that is, until Margiela retired from fashion as invisibly as he entered it.
They are rarities, though. What it comes down to is that in fashion, as in politics, the powers that be have to constantly sell themselves (sometimes I feel as if President Obama were running a fashion business). It's all about hype, megastores and megamarketing. But what the fashion moguls should realize is that if all they're selling is the same old same old, all that's left is body coverings—garments with no imagination. Here's hoping fashion's creative spirit never wanes and women get tired of the clothes in their closets. Penny-pinching has its limits, after all, and the temptation of fashion will always be there.