Louise's D.C. Dictum
The Countess believes our new president has what it takes to be commander in chic.
---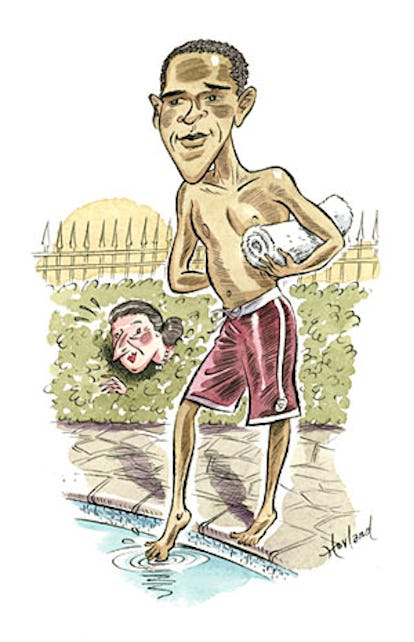 The U.S. has a new, good-looking, different president. At last! And when I spotted him on the beach in Hawaii through the telephoto lens, I thought, Hot-cha-cha! That body! My heart raced.
But those Bermuda bathing trunks? Oh, please! Monsieur le Président, you need something peppier than that.
Of course, it really isn't my place, as a plump (but pleasantly so) Austrian countess, to criticize any world leader. But please, let's do something about those dreary Democrats—and, indeed, Republicans. Everyone is wearing funereal solid-colored suits with sad-sack silk ties and white shirts. How absolutely boring!
With all that's going on in the world, I suppose some might consider it proper to dress that way. But a leader's appearance can lift the spirits. And that's why the new president needs a touch of chic. He's got everything going for him—the looks, the bod—so why does he have to dress like all the other gray politicians who look like old, unshined apples?
While delivering his speech on his economic plan, he seemed to be getting the hint with a jazzier necktie—although one that was still gray. There's nothing like a colorful tie to add oomph.
We want America's president to look better than Nicolas Sarkozy of France, Silvio Berlusconi of Italy or even Vladimir Putin of Russia. And he should definitely look chicer than former British Prime Minister Tony Blair, who always had a necktie like a bib hanging out of his suit jacket, or current Prime Minister Gordon Brown, who looks like a bear just emerged from hibernation. Sarkozy, meanwhile, bounces around so quickly that I haven't been able to track him as much lately, but I assume his beautiful first lady, Carla Bruni, has already zipped him up in the latest looks.
So how should Monsieur le Président—which for some reason sounds better to me than Mr. President or President Barack or even President Obama—pep things up? Well, let's start with the fit of his suits. While there's nothing wrong with going American with Hart Schaffner Marx, Coco Chanel is turning over in her grave at the construction of the shoulders. And when Obama lovingly embraces his female Cabinet appointees, the suit jackets hitch up.
If he can look superelegant in a bathing suit, why can't he look even better in a real one? It's great that he's gone for the more modern two-button jacket, but it should be tapered to show off his lean physique. And why not double vents? After all, he's got the figure for it. And let's drop the double pleats perfect for George Bush—and I mean the older one. Go with flat-front trousers, obviously without cuffs. As for color, why not gray flannel with a pale blue oxford shirt in Egyptian cotton, a blue knit tie from Charvet in Paris and brown, not black, shoes? Or perhaps a tweed suit?
He really looks cool in sports clothes, and he'd be cooler still with his hair a bit longer. Why shouldn't this young and handsome president be cool?
In short, think more Savile Row than Seventh Avenue. The president is the president of the world and has the right to dress internationally—as does the first lady. So why not throw in a bit of Kiton, Zegna, Paul Smith, Anderson & Sheppard or Richard James?
Face it, first ladies aren't the only ones who can have fashion allure. Think of Franklin Delano Roosevelt, who even sitting down looked like a grand monsieur, with his cigarette holder or a scarf wrapped around his neck. Or John F. Kennedy and Robert F. Kennedy, with their sportif American elegance as they played touch football in Hyannis Port. And we should be proud that America has the icon of all icons—the cowboy. Think of Ronald Reagan on horseback with his cowboy hat, or in his brown suit, dashing in that Hollywood way.
Mark Twain once said: "Clothes make the man. Naked people have little or no influence on society." In most cases, that holds true (and, frankly, there are no politicians of any party I want to see naked). But it's a new day and these are desperate times, and in le Président Barack Obama's case, he should make the clothes and not let the clothes make him. Enough of doomsday: We need him to cheer us up.