Louise in the Real World
Egged on by a reader, the Countess dines out in a Manhattan pizzeria—and has a rollicking time.
---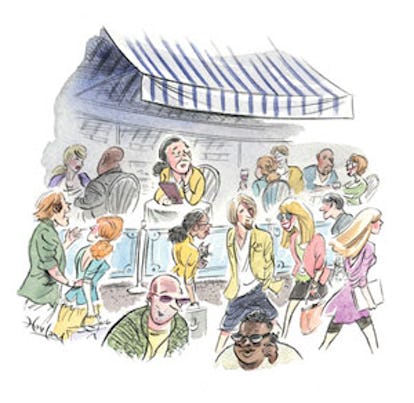 I've had a letter written directly to me, the Countess, saying that I should be fired and that I don't know what's going on in the world.
Well, what's wrong with a little constructive criticism now and then—especially if you can answer back? I love a good fight. But I decided that anybody who takes the time to critique something you've written could perhaps have a point—even a little one.
So on a recent Sunday evening, I thought I'd see what's going on in the real world out there—or at least the Upper East Side part of it. As usual, the taxi ride up First Avenue to our destination—Mezzaluna, a pizza place on Third Avenue and 74th Street—was a thrill on a roller coaster. We'd called ahead to make a reservation, only to be told none were accepted. I really am naive to think I have to make a reservation to get a pizza, I thought. Besides, the charming woman at the restaurant had said things were quiet.
What a joke.
There was a street fair. The street was filled with litter, and the sidewalks were packed with young, zippy people. Shorts and bright colors clearly are the rage. For a moment I thought I might become a fashion designer, because it looked like there was no fashion in New York. The fair was winding down, but folks were still wandering from stall to stall grabbing foods of all kinds. Other stands were selling every­thing from smelly perfumes and outrageous T-shirts to afghan coats. Many people were carrying shopping bags from Barneys, Prada, Bergdorf's and other stores. Bad economy? Not in these parts.
As for Mezzaluna—we couldn't even make it past the door. The din within was far greater than the street noise. In front, separated from the sidewalk by a thin iron railing, were three metal tables squeezed into an area the size of a large Sub-Zero refrigerator. One was empty, so we claimed it. The paper tablecloth was clipped to the table so it wouldn't blow away in the wind, but the napkins were wonderful stiff linen. The young people at the table next to ours were practically sitting in our laps, but I had no choice other than to cuddle closer to them: If I leaned too far away, I would have fallen over the railing and into the street.
Suddenly, crack! I jumped. It sounded like a gun had gone off. No one around us batted an eye. Turns out the street cleaners were smashing all the plastic bottles lying around. Yet another lesson for me.
Two young women sat to one side of us. "Do you know it's better to take the Ambassador jitney service to the Hamptons? There are fewer people, and it's so much quicker. It's worth the extra money," one said.
"Oh, I had a wonderful weekend," her friend responded. "But a man who is getting a divorce was after me the whole time…. He was attractive, though."
Crack! I started again.
At another table, a woman sat stroking her hair over and over while her friend ate a salad and said, "Shall we order more white wine?" The hair stroker looked at her watch, jumped up and departed. Her friend looked at her own watch, put on lipstick, combed her hair and dabbed her arms with perfume. Then a man in a canary yellow sweater appeared and plopped down opposite her.
Another observation: There seems to be a lot of double- and triple-dating in New York these days—girl-girl, girl-boy, girl-girl-boy, boy-boy-girl and endless other permutations.
Mr. Canary announced that he had just finished performing in some sort of fashion show during which he wore all leather, top and bottom.
"Really?" his female companion exclaimed, her eyes widening in excitement. "How cool!"
The evening wore on. The pizza Margherita was delicious, the service splendid and the Pinot Noir warming. Everyone was having a wonderful time. It was like being at a family dinner party, except we didn't know the family. I decided that this was New York: bustling, noisy, alive—and the young making fashion in their very own way.
I was glad I'd gotten out of my comfort zone. There was no sadness in the Big Apple that night—and it was the Age of Enlightenment for me.