Lourdes Leon Choreographed Her First Fashion Campaign for Adidas by Stella McCartney
The 23-year-old budding style icon just choreographed and co-directed her first fashion campaign for a Stella McCartney and Adidas capsule collection.
---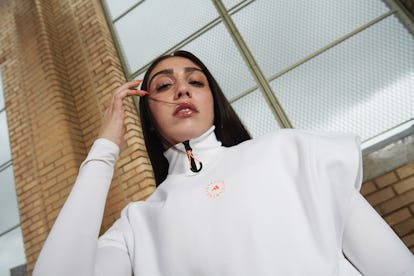 Image courtesy of Stella McCartney and adidas.
Lourdes Leon may be fashion's quietest It Girl, but she is letting her work do the talking. She stars in the latest campaign for the Adidas and Stella McCartney collaboration—the Fall/Winter 2020 Workout Wardrobe and Winter Capsule collection—which aims to have a minimal impact on the environment.
"My generation is sensitive to the needs of each other and the planet, and the state of the world affects us," Leon said in an official statement for the campaign. "I have known Stella my whole life, and trust her sustainable vision for this versatile new performance collection with adidas."
This is far from Leon's first fashion campaign—she appeared in a campaign for Jean Paul Gaultier last year (unlike her mom, this one was sans cone bras), she's been a Miu Miu girl, and after becoming something of a New York Fashion Week front row fixture, she made her runway debut for Gypsy Sport in 2018. But it seems that this particular Stella McCartney capsule collection marks a first for Leon not because the collection is incredibly sporty, but because the campaign star is involved as both a co-director and a choreographer. Leon majored in Dance at the University of Michigan after all.
The 23-year-old budding style icon co-directed the campaign with Anna Pollack, and selected artists, performance artists, dancers and drummers to join her for the shoot. "It's great because, for the campaign, Anna and I had the freedom to create something that reflects that authenticity, working with a collective of friends who support us and share our values – dancing and moving in harmony in the wild wetlands just outside of New York City," Leon said. Uzumaki Cepeda, Oumou Traore, Henry Chesley, Lynnette Paz, and Anysia Kym Batts were part of Leon's cohort.
Though Lourdes' foray into fashion choreography is new, this is not the first time one of Madonna's children has starred in a campaign with Adidas,—in 2016 her son and Leon's brother, Rocco Ritchie, joined the #WangSquad as part of Alexander Wang's collaboration with Adidas Originals. We can only hope that some sort of sneaker campaign for the musician's soccer star kid, David Banda, is next.
Related: Lourdes Leon Looked Fantastic in Her Mask During Madonna's 62nd Birthday