A First Look Inside the Spectacular New $650 Million Louvre Abu Dhabi, Designed by Jean Nouvel
The first satellite of the Paris institution opens, and it looks as expensive as its price.
---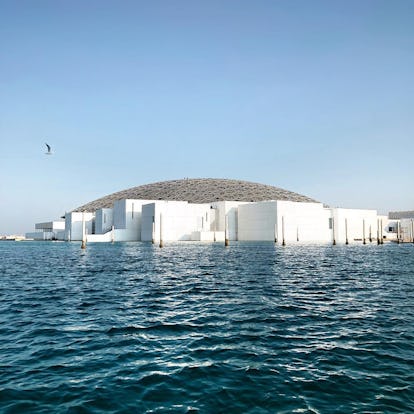 Courtesy of @nooora91
The cultural arms race in the Middle East is really heating up. This week, the long-awaited $650 million Louvre Abu Dhabi, designed by the Pritzker Prize-winning French starchitect Jean Nouvel with a showstopper 7,500-ton domed roof, finally opened to the public after five years of construction delays and controversial reports about poor labor conditions for workers.
All week, international VIPs and the Emirati elite have been Instagramming the museum's moon-like canopy of metallic latticework, which hangs glittering over a lagoon off Abu Dhabi from the tourist hub of Saadiyat Island. The grandiose among them approached by boats that take visitors literally onto the steps of the museum, which has water running throughout its interior like so many playboy gigamansions these days.
Once inside, though, most of the art they found was not of its place. In 2007, the Louvre in Paris signed an unprecedented deal that paid them $520 million to allow the Louvre name to be used in Abu Dhabi for more than 30 years, plus an additional $750 million for ongoing expertise and loans of art by the French government's cultural arm. That's well over $1 billion for what is essentially an annotated bibliography of France's cultural holdings—17 French institutions shipped 300 art works to Abu Dhabi this year—displaced into a shiny new status symbol in the oil-rich Persian Gulf.
There are certainly worldly treasures to be seen. Visitors have been lingering in front of Leonardo da Vinci's self portrait, loaned from Paris's Musée d'Orsay, as well as the iconic American painting Whistler's Mother, and Jacques-Louis David's famous portrait Napoléon Bonaparte, First Consul, Crossing the Alps at Mont Saint Bernard on May 20, 1800," borrowed from Versailles. There's also a new commission of text art by Jenny Holzer, the text being in cuneiform, Arabic, and French.
This over-the-top Louvre branding exercise follows on the heels of I.M. Pei's Museum of Islamic Art in Doha, which opened in 2008 and is a sublime translation of Arab tradition into a modern status museum, and precedes the even more bombastic Guggenheim Abu Dhabi, which was planned over a decade ago and may not actually see the light of day. Given the inhumane conditions of laborers in the Emirates these days, that might be a PR disaster avoided.
Related: It's Jean Nouvel's World, We're Just Living in It
See W's most popular videos: