A Family Affair
Director Ira Sachs celebrates the premiere of his new film Love Is Strange.
---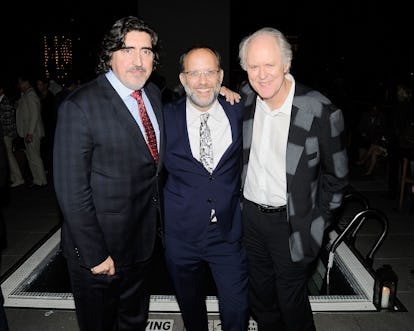 What: The Cinema Society and Grey Goose's screening of director Ira Sachs's new indie romance Love Is Strange starring Alfred Molina and John Lithgow.
When: Monday, August 18th.
Where: The screening was held at the Tribeca Grand Hotel followed by an after-party on the rooftop of The James Hotel.
Who: Sachs was joined by the stars of the film, including Molina, Lithgow, and Marisa Tomei, as well as actors like Sami Gayle, Parker Posey, and Edward Hibbert.
Why: After watching Sachs's New-York-centric film, guests couldn't help but feel a heightened sense of appreciation for the glowing city views, especially on such a perfect late-summer night. The presence of the director's family including his 102-year-old grandmother added to the intimacy of the occasion—and made the movie seem all the more personal.
Alfred Molina and John Lithgow. © PatrickMcMullan.com
Marisa Tomei. © PatrickMcMullan.com
Ira Sachs with his grandmother. © PatrickMcMullan.com
Tommy Tune and Parker Posey with guest. ©PatrickMcMullan.com
Edward Hibbert. © PatrickMcMullan.com