Lovelace: Behind the Scenes
The new biopic about Deep Throat's leading lady starring Amanda Seyfried lays bare the life of America's first porn star.
---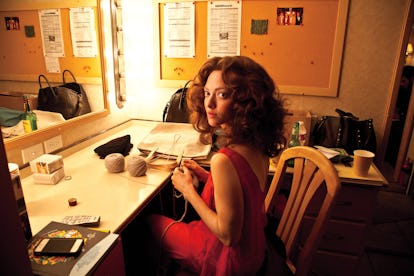 In terms of memorable sex, 1972 was a banner year: The Joy of Sex was published, then banned from many libraries; Marlon Brando starred in the X-rated film Last Tango in Paris; and John Waters's comedy Pink Flamingos acquainted audiences with the intricacies of incest. And then there was Deep Throat, a porn movie that turned an unknown young woman into a pop culture icon, seemingly overnight. Linda Lovelace played an orgasm-starved vixen with a special physical feature—her clitoris could be reached only through her mouth. "She embodied the sexual revolution of the time," explains Rob Epstein, who with Jeffrey Friedman directed Lovelace, starring Amanda Seyfried as the harlot starlet.
Their film captures both Lovelace's giddy rise to fame and the relationship with her abusive husband, Chuck Traynor (Peter Sarsgaard). "That's the great tragedy of Linda's life," Epstein says. "She was never able to transcend her victimhood"—not even after reinventing herself as a feminist author. Until her death in 2002, she relentlessly chased the public's approval. "Were she still alive, I'm sure she would be on Dancing With the Stars. She would be a reality star."
Amanda Seyfried as Linda Lovelace in Lovelace
Amanda Seyfried and Peter Sarsgaard
"We were shooting a scene of a gala that Linda attended at the height of her fame," Epstein says. "It was 3 a.m.; everyone was exhausted. So Amanda and Peter woke up the crew—and 100 extras—by running naked out of the theater. That won't be in the film."
Photographs by Gillian Laub