Amarah-Jae St. Aubyn on Black Joy, Reggae, and Her Debut With Steve McQueen
Between working restaurant shifts, Amarah-Jae St. Aubyn studies the stage and the screen—and is the breakout star from the "Small Axe" anthology.
---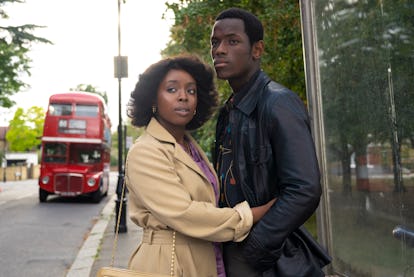 Photographed by Parisa Taghizedeh / Amazon Prime Video.
The day after Amarah-Jae St. Aubyn's on-screen debut, Lovers Rock, released in the UK, the breakout actress spent her entire morning listening to old reggae tunes, singing her heart out. "We can breathe now," she says on a Zoom call from her home in London, where she's taking a quick break from the music. "We did it, and our story is out in the world."
It's only apt that reggae is her genre of choice when it comes to celebrating: lovers rock is a subset of reggae which lends itself to the name of the film and the essence of the story. Lovers Rock, airing on BBC One and Amazon Prime, is one of five films that comprise Steve McQueen's Small Axe, an anthology that elevates and rejoices in London's West Indian community from the late 1960s to the early 1980s. In the film, 26-year-old St. Aubyn plays Martha, and stars opposite Micheal Ward, or Franklyn—two Black Londoners who meet each other at a blues house party and, in the course of one night, fall in love. McQueen, who is best known for the Academy Award-winning 12 Years A Slave, intertwined music and dance to create a deeply sentimental portrait of romance and community for Lovers Rock. And the movie has garnered major acclaim throughout the United Kingdom just 24 hours after its release (it will come out for American audiences on November 27).
"Our film has everything to do with celebrating Black culture," says St. Aubyn. "It's about the power of the Black community celebrating each other, and finding power in one another at a time of segregation."
St. Aubyn is no stranger to performing, and her passion for her craft is palpable. The actress graduated from the Brit School, a performing arts and technology institution, and soon dabbled in London-based theater thereafter—she joined the West End cast of Harry Potter and the Cursed Child in 2018. On the side, she works at a restaurant, and says that each of her shifts with her loving "work family" is something she looks forward to. "It's also the most humbling thing, to do a shoot one day and be serving food the next." But she says she has tunnel vision: she knows acting is her calling in every sense of the word, and she's doing everything possible to fulfill that vision.
With Lovers Rock, she is carving a place for herself on screen. McQueen, whom St. Aubyn describes as a "genius," provided her with the space to grow while filming. "I would have moments of doubt but this genius of a director trusted me with his work," she says. "He and Micheal really helped me progress my craft and I can only hope to work with talented people like them again." The entire film was shot in two weeks last September, helping to replicate the essence of events that had just 24 hours to unfold. "Steve would tell me to just enjoy it, feel the moment, and stick to the vision of the story. He allowed me to know: I got this."
The love story is the only film in the anthology which wasn't inspired by true events, but St. Aubyn explains that this doesn't make the story any less of a reality. "This is what happened," she says. "People fell in love at these parties and then came together, starting to create families. And it wasn't just meeting and dancing—for them, it was a release and a way to work off all the struggles of their weeks."
This is the soul of the film: the house party molds itself as an escape for the immigrants who faced racial injustice and strife in their daily lives. To Londoners in the late 1970s, lovers rock was characterized by its romantic lyrics and undertones, its influence deeply rooted in Jamaica. It is at once political, and emblematic of the Jamaican diaspora: the music captured the soul of the Carribean population in the United Kingdom. Today, the likes of Rihanna and Estelle have sought out the sounds of lovers rock as a foundation for their contemporary pop productions.
For St. Aubyn, too, reggae has played an undeniable role in her life: her father was a reggae artist himself, and her entire family would listen to the music during car rides and dinners at home. And in what was a purely coincidental moment, a photograph of her father was included as a part of the mood board on set. "I remember seeing it and telling everyone, 'That's my dad!'" St. Aubyn laughs.
The story itself relates to the lives of her parents and so many others. Her family, she says, recalled certain moments of their own pasts after seeing the film: memories of dance, setting up massive sound systems, and transforming homes into places of joy. "It's definitely emotional in that sense," she says. "I saw the look on my dad's face as we watched the film together, and it was like he'd seen it all. My parents had these very experiences. While they watched it, they would say, 'Do you remember this?'"
The anthology has been in the making for almost 12 years, St. Aubyn notes, but it was through fate that the films were released during a revolutionary year that has thrust racial discourse and the Black Lives Matter movement into the spotlight. She believes the films are important not just for Black youth, but for the population as a whole. Each story is a slice of "truth for the world," a collection of untold narratives that will now uplift a community.
"I never thought I would be the lead in a love story," she says. "I hope it inspires other Black girls and shows them that they can do the same."