LPA, New Cool-Girl Label to Know, Launches in Los Angeles
Off-White's Virgil Abloh, Los Angeles Laker Jordan Clarkson, Erin Wasson and Emily Ratajkowski all turned out in Los Angeles for the launch of clothing label LPA.
---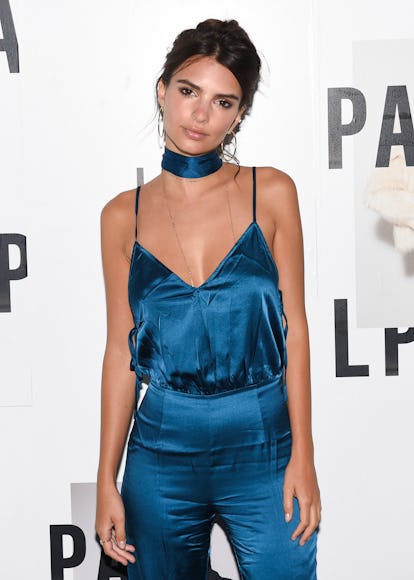 Billy Farrell/BFA.com
"Diplo's here," echoed the crowd in the early hours of Friday morning on a warehouse rooftop in downtown LA – the setting for the launch party for LPA, Lara Pia Arrobio's debut line.
Soon, the DJ got behind the booth for an impromptu set, Arrobio not far behind, capturing the moment the only way our generation knows how – Snapchat and Instagram. "When Diplo takes over your party," she later captioned a video, where they mouthed the words to Soulja Boy's "Crack That".
"I feel like this is literally my wedding," said Arrobio earlier in the night.
If the 29-year-old designer – who goes by Pia – is celebrating a union, it's with Revolve Clothing, the wildly successful e-commerce retailer that backed LPA, which ranges from $58 to $1,300. With its 70s California-meets-skater vibe, it's already rapidly gaining traction (Kim Kardashian recently made a visit to the showroom).
As Arrobio, a Pasadena native who spent five years as designer for Reformation, explains it, she was offered a job abroad for Zara, when Revolve got word and snagged her.
"I didn't want my ideas to be cycled," she said. "I wanted to be in an environment where I could do kind of whatever I wanted, and I knew at Revolve I could do that, and that's what's happened. It's all family."
A slew of models, skaters and streetwear cool kids came out in support, as did Off-White's Virgil Abloh, Los Angeles Laker Jordan Clarkson, Erin Wasson and Emily Ratajkowski.
"Pia is a good friend of mine, and I've been a longtime friend of Revolve," said Ratajkowski, who was letting loose on the dancefloor. "I'm just so happy to see the collaboration come to its full fruition."
The line is available online on Revolve and the brand's own e-commerce site. Come holiday, Arrobio will launch jewelry, and plans to release bags and shoes next summer.
LPA, New Cool-Girl Label to Know, Launches in Los Angeles
Diplo, Pia Arrobio, Virgil Abloh

Billy Farrell/BFA.com
Pia Arrobio, Emily Ratajkowski

Billy Farrell/BFA.com