ARTIST IN RESIDENCE: LUCAS SAMARAS
An ongoing series in which we invite ourselves over to see where artists work.
---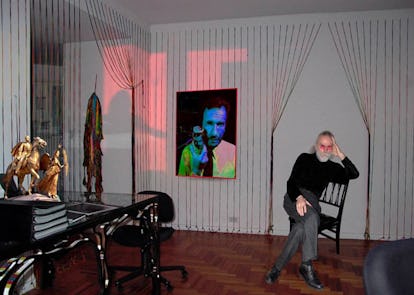 An ongoing series in which we invite ourselves over to see where artists work.
Lucas Samaras resides high over Manhattan, in a mostly anonymous midtown tower a few blocks from Central Park. The artist, who represented his native Greece in the 2009 Venice Biennale, is now 76, yet he hurtles toward new creative realms as relentlessly as when he started making art over a half century ago. His latest body of work—entitled XYZ, the exhibition opens tonight—will christen a third West 25th St. branch of Pace Gallery, his longtime dealer.
Up in his 62nd-floor aerie, Samaras lives and works alone in a warren of rooms marked by his love of vivid, psychedelic colors. Each room has a version of the rainbow color wheel (which he jokes the gay community appropriated from him). "I couldn't live without color," he told me when I visited him at his apartment two weeks ago. And yet, for two decades, he has ably lived—and thrived, artistically—without, for the most part, people. His reputation is that of a recluse, an art world shadow figure creating sui generis work in an unseen studio in the sky. Work, to Samaras, is everything: he's worn the rest of his life down around its always-throbbing root. Quotidian living concerns exist as placeholders between the long sessions of art-making—dinner, for example, is unwaveringly taken in the mid-afternoon and almost always consists of soup. He holds to these and other routines for the same reasons Steve Jobs never deviated from the same black turtleneck and blue jeans for years—because it doesn't distract from constant innovation. "It's just easier this way," he explained.
When I arrived at four in the afternoon, Samaras had already eaten dinner and the shades were drawn against the sun. With his long graying beard and small sharp eyes, Samaras sat in his darkened studio with a glowing computer screen like a wizard with a magic orb, holed up in a castle in the clouds. "When I moved here 20 years ago," he announced, "I decided to get rid of all the people I knew." Then, in case I somehow misunderstood, he added, "I didn't kill them—I just didn't see them anymore." He had his reasons: friends died, or committed suicide; people, and conversations, ceased to be of interest. And of course, it was easier to be exclusive to the art if you've renounced your ties to society and its wide world of alternate pleasures.
"After I chased all the people away, I became a father to this machine," Samaras said, sliding his chair over to his newish Mac desktop. Ever since Marc Glimcher, the president of Pace, convinced him to buy a computer in 1996, much of his work has been done via Photoshop. "Every morning, I run to see if the baby's still here," Samaras said. "For me, this is life. I guess that's why I put human elements in my work."
XYZ, which consists of four series of prints depicting surreally abstract and figurative scenes altered or created entirely on Photoshop, shows visible traces of Samaras's early groundbreaking art—perhaps not so much the famous Happenings he took part in during the Sixties with Claes Oldenburg and Allan Kaprow, but certainly his well-known manipulated Polaroids; his sliced-up slivers of color; his mirrored room; and his famous nude photographs of fellow artists and, later on, exposed self-portraits. But these new digital creations are of another world. They possess the otherness of extraterrestrial life.
"Look at this," he said, clicking on an image of a wild, liquid-like abstraction on the computer screen. "It's like the birth of a star or something." But even in these psychedelic environments, there is humanity to the way some of Samaras's anthropomorphic creatures—which, in the breakthrough series "Razor Cuts," evolve solely from Samaras's mind and his constant clicks on a mouse pad—move across the worlds he created for them. He beckoned me closer to demonstrate how he used the mirroring tool in Photoshop to create a Rorschach effect. "From these effects, you can extrapolate the entire human condition," he told me, pointedly—as if to say, How can I possibly be lonely with all these terrifically complex beings hanging around?
"This can be comedy, or it can be tragedy, but's a complete scene," he continued. "A real drama, you know?" He smiled. "And I don't even need people."
Lucas Samaras: XYZ runs from September 28 – October 27, 2012, at Pace Gallery, 508 West 25th Street, New York.
Images: courtesy of the artist