Lucy Chadwick's London List
If you're heading to Frieze, here's where to go.
---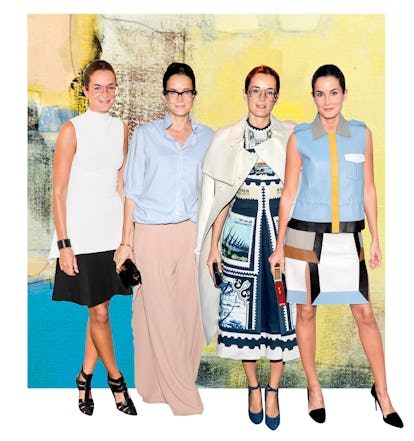 Lucy Chadwick, the director of Gavin Brown's Enterprise, may be based in Brooklyn, but the London-born gallerist and best-dressed list fixture hasn't lost her British cool. As she gears up for Frieze London 2013, Chadwick shares her favorite hometown spots:
Camden Arts Centre The program of exhibitions, residencies and artists' projects is internationally acclaimed. And the building, a former library, is itself pretty fantastic.
Regent's Park Rose Garden – Queen Mary's Gardens I was born a stone's throw from the park so I spent much of my childhood here. The roses are amongst the most beautiful I've seen. I never visit London without paying a visit.
London Zoo Aviary Designed by visionary architect Cedric Price in collaboration with photographer Lord Snowdon and engineer Frank Newby, the Aviary is one of the most elegant structures of its kind and has always felt like a drawing in space to me in the most beautiful and weightless way.
Breakfast at The Wolseley A London classic and consistently delicious.
Isokon Building, Hampstead Built in 1934, the Bauhaus-inspired structure was designed by Wells Coates as an experiment in communal living. Once home to the likes of Agatha Christie and Moholy-Nagy, and regularly frequented by Henry Moore and Barbara Hepworth, the Isokon had a legendary 'Isobar' on the ground floor designed by Marcel Breuer. It was neglected for many years, but has been rejuvenated and is now home to local workers, including many teachers. It's a great example of socially engaged architecture.
The London EDITION A beautiful new hotel in Fitzrovia, courtesy of Ian Schrager, it's everything you could want in a hotel: fantastic food, design and people. It looks to be the mecca for all after-hours events during Frieze to boot.
Rochelle Canteen at Frieze London The incredible Melanie Arnold and Margot Henderson have set up an outpost of their delicious Rochelle Canteen in the Frieze VIP lounge.
The Honest Sausage A hidden cafe in Regent's Park, serving basic, but very good, English classics, it's a good place to run to for lunch during Frieze.
Liberty of London Founded in 1875, Liberty is my favorite department store. Their collections of beautiful fabrics and accessories are entirely unique and their womenswear department stocks some of my favorite designers. The Tudor revival building adds to the magic of the store: it was built using the timbers from 2 naval ships, HMS Impregnable and HMS Hindustan.
Church's Footwear, Regent Street A British classic, Church's has some of the best-made shoes in London, with each pair taking 8 weeks produce. The Regent Street store has a great selection; I particularly love the monk-strap brogues and velvet slippers.
Sir John Soane's Museum The best time to visit is at night, when the gloriously labyrinthine collection is lit only by candles. Don't miss Hogarth's "A Rake's Progress."
23 Women: Dressed to Thrill
Screen Provocateur Marine Vacth
Marline Vacth wears a Jil Sander dress; Petit Bateau T-shirt; Saint Laurent by Hedi Slimane bracelet; stylist's own necklace.
Art Star
Lucy Chadwick
The director of Gavin Brown's Enterprise in New York is not known to take an antiseptic white-cube approach to anything—least of all her attire. She is a piece of work in the best possible way: The eccentric Brit will go from a Mary Katrantzou stamp-print cocktail frock (above, third from left) to a graphic Fendi leather dress (above, far right), often topping it all off with vintage aviator specs.
The Dark Horse
Amber Heard
A blonde bombshell with a proclivity for racy getups, the 27-year-old star of this fall's action thriller Machete Kills could have been easily written off early in her career as a fashion tart. But even before Johnny Depp set his sights on her, the openly bisexual Texan caught our attention for her rather elegant off-duty style: belted maxi skirts paired with pretty blouses; a trenchcoat tossed over a simple black dress. More recently, Heard has been wearing chic pantsuits by day and majorly glamorous gowns by night. Of course, having Depp on her arm hasn't hurt.
High Notes
Say Lou Lou
Taking style cues from Charlotte Rampling and David Bowie and culling clothes from vintage stores, the Swedish-Australian twins Miranda and Elektra Kilbey (from left) deftly infuse androgynous suit dressing with a breezy '70s style. The result is a retro elegance that, combined with their spectacular cheekbones, is entirely mesmerizing.
High Notes
Rita Ora
Since stepping into the spotlight in 2011, the Albanian-born Brit has proved to be a shrewd fashionista. Whether it's a Jeremy Scott sweatsuit paired with Air Jordans or a Moschino coat worn with Jimmy Choo gladiator sandals (left), the Jay-Z protégée knows her designers and pulls the looks off like a pro.
High Notes
Liza Thorn
The American singer in the musical duo Starred describes her style as "bag lady"—a rather accurate assessment given the provenance of her clothes (mostly Goodwill). Yet there is a glam rock appeal to her disordered mélange of fur coats, kimonos, and beaded gowns that has seduced the fashion crowd—particularly Hedi Slimane, who used her music for his fall 2013 Saint Laurent show and has shot her endlessly. Not that Thorn has seen any sartorial rewards. "I think my gift bag got stuck in the mail," she says, laughing.
Wardrobe Mistresses
Ece Sukan
This Turkish stylist and former vintage-shop owner (left) is not the kind of girl who carefully plans her outfits. The self-proclaimed procrastinator takes a spontaneous approach to dressing, even for big events, and as a result, her style—a mix of colors and periods, couture and thrift— is perpetually unexpected. "One day I'll wear '80s biker Mugler—the next I'm a gypsy in Givenchy." However, when it comes to shopping, Sükan, who is moving to New York this fall, is highly prepared. Topping her wish list: an Hermès midlength skirt, an oversize coat from Céline, and a leather pantsuit from Trussardi—whose fall collection was the last designed by her fiancé, Umit Benan.
Wardrobe Mistresses
Samantha Traina
The oldest sister in the San Francisco style dynasty lives up to the family name in the latest from Balenciaga, Proenza Schouler, and Céline.
Wardrobe Mistresses
Valentine Fillol-Cordier
Whether she's dressed in vintage frocks with statement shoes or wide- leg jeans with a Chanel jacket, the London-based Parisian (above) defines her look as "bourgeois homeless."
Brit Pack Corset Crew From left:Andrea Riseborough, Tamzin Merchant, Jessica Brown-Findlay, Kaya Scodelario
In London, starlets who made their name in period dramas are now running around town in a neo-Victorian rat pack. And there's nary a bonnet in the bunch. Andrea Riseborough (W.E.), 31, is a lithe chameleon who surprises with wildly different looks. Tamzin Merchant (Pride & Prejudice), 26, plays up her '40s redhead glamour. Jessica Brown-Findlay (Downton Abbey), 24, is the resident classicist. And Kaya Scodelario (Wuthering Heights), 21, is thrift shop cool by day, sophisticated by night.
Brand Names From left: Alicia Vikander, Naomie Harris, Vittoria Puccini, Melanie Laurent, Alma Jodorowsky
Designer Darlings
It's easy to make a best-dressed list when you have a big-name fashion house picking out your clothes. Still, these girls work their designer looks with considerably more panache than most.
Class Acts
Red-Carpet Renegades
Considering the amount of scrutiny their public appearances generate, it's no wonder that so many actresses resort to the safety of mermaid attire. So let's applaud this quartet for exhibiting some personal style. The Ukrainian stunner Olga Kurylenko exudes the right amount of sizzle in thigh-skimming Balmain. The French beauty Louise Bourgoin adds an undone lightness to ballgown skirts. The wide-eyed Australian Bella Heathcote loves patterns—whether by Mary Katrantzou or Andrew Gn. And the British newcomer Gabriella Wilde wears ultrasexy Gucci dresses as if they were a second skin.