Allow Lucy Hale to Make You Feel Better About Your Baking Attempts
Like many of us, the "Katy Keene" actress has gotten into kitchen improvisation—this time, with a modified banana bread recipe she found on Pinterest.
---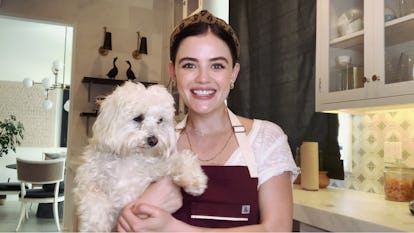 Since the advent of nationwide stay-at-home orders, many of us have turned to baking in a bid to dissolve our stress in piles of butter, flour, sugar, and eggs. So many, in fact, that "quarantine baking" has become a sort of cliché: There are sourdough memes on Twitter, piles of shortbread cookies all over Instagram, and fragrant loaves of banana bread cooling on kitchen counters across America.
Lucy Hale, the star of the CW series Katy Keene (the season finale airs this Thursday night) has embraced the habit wholeheartedly, approaching the finicky science with a confident, improvisational spirit. Which, she's since learned, can be a bit of a risk. From her home in Los Angeles, Hale shared a video with W of her attempt at baking a keto-friendly banana bread recipe she found on Pinterest, which she's adapted to be "not low carb and not keto-friendly" at all. For anyone struggling to master perfectly styled, photo shoot-worthy baked goods, the less-than-photogenic results are actually pretty reassuring.
"I used to bake all the time. I love it, I think it's really therapeutic," Hale told us on the phone this week from her house, where she's been hanging out with her dog, Elvis. "But when I started getting busy, I stopped cooking completely. It's kind of hard to cook when you're single, since you're one person, and if you bake, then you eat it all."
Her other quarantine activities include walking around with Elvis to discover new parts of her neighborhood, playing a keyboard that just arrived in the mail, organizing her house and teaching herself how to cross stitch. (To get into character as Katy Keene, a seamstress and aspiring fashion designer, she had to learn how to use a sewing machine, a new skill she hopes to improve upon even more.)
She's also cooked bolognese using a friend's secret recipe, which she said is the best thing she's made so far. "There are a couple of secret ingredients in it that are a little strange, but it's truly the best bolognese I've ever had," she said. "It has chicken livers and nutmeg…and then I can't say the third one, because she'd be mad."
The banana bread was on the other end of the spectrum. After taking a quick nap to wait for it to cool after removing it from the oven, she returned to the kitchen: "I have no words for what I just walked into," she said. "It's a fail." But was it tasty? Apparently, yes.
You can watch Hale's whole baking process in the video below. It's far from perfect, but she does have a lot of fun.
Related: Robert Pattinson's Quarantine Seems To Be Going…Well?